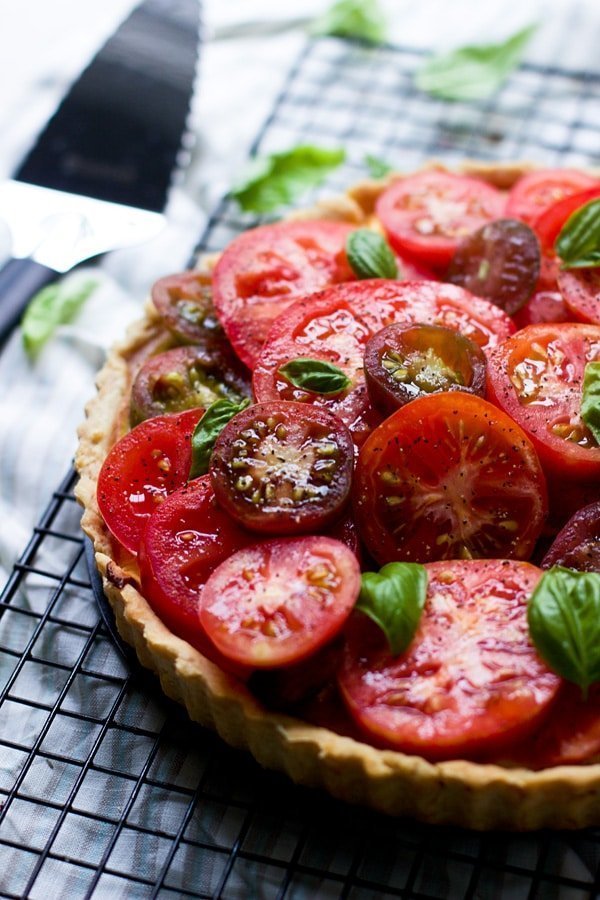 Summer how I love you.
Almost everywhere I turn I see funky looking heirloom tomatoes, the most perfect vibrant red strawberries, plump blueberries (in fact, I went old-school blueberry picking just last week), and for the first time in the three years we've lived in our house, my basil is growing like a weed.
Glory hallelujah.
Although I'm quite stingy with the pretty green leaves, I feel like if I cut them and use them, the anomaly plant might disappear, even though I know the key to keeping the growth going is to cut them down every once in a while. I've given myself a deadline of the end of the week to bite the bullet and cut off a majority of the leaves to make a pesto of some sort…we'll see if I can bear the very first butchering…
This Ricotta and Heirloom Tomato tart is my first official tomato love letter to summer, and also my inaugural homemade pastry crust of the season.
I'm not really sure why so many people have such a tough time with crusts, because if someone like myself, who doesn't bake frequently (once or twice a month maybe??) can crank out a perfect pie crust, anyone can. My trick is to do it old-school, like our grandmothers did — completely by hand….with the addition of vodka…
Supposedly the liquor in vodka acts as a sort of facilitator in keeping the crust tender and flaky, I'm not sure where I first heard it, but if you tell me liquor makes something better, I'm going to believe you. I've been adding it to my pastry crusts ever since.
Of course as most pastries go, we start with all-purpose flour and a good amount of salt (about a teaspoon). I like to use a mixture of vegetable shortening for flakiness and butter for flavor, I find that it's the perfect combination, and even though vegetable shortening gets kind of a bad rap, for me, it's essential to the perfect crust.
Instead of cutting the fat in with a pastry cutter or fork, I like to use my hands, but you have to work quickly. I start by adding in the shortening, since that doesn't need to remain cold, once that's incorporated, the butter gets added in, and working quickly I blend it in until most of it is blended in but there are still a few nice chunks of butter. At this point, I add in a few tablespoons of ice-cold water and one tablespoon of ice-cold vodka.
Once the dough is shaggy, but comes together when you press it between your fingers, it's done. I wrap it plastic, pop it in the fridge to rest for 30 minutes and start on the filling.
The filling could't be simpler. Whole-milk ricotta. Eggs. Salt. Basil. All blended together in a food processor and then dumped into the partially baked crust. It's popped into the oven for 30-40 minutes until it's golden brown on top.
I toyed with the idea of cooking the tomatoes, but after tasting one, I knew I wanted to leave them raw and dress them with just a touch of olive oil, salt and pepper. So once the ricotta filling and crust cooled off, I layered the sliced tomatoes on top and did just that.
A final sprinkling of tiny basil leaves finished it off….
Have I told you how much I love summer???
Ricotta and Heirloom Tomato Tart
Flaky pastry crust, a ricotta and basil filling and fresh heirloom tomatoes make up this summer tart.
Ingredients
Crust
2 cups flour
½ teaspoon salt
4 tablespoons vegetable shortening
5 tablespoons cold butter, cut into small pieces
1 tablespoon ice cold vodka
3-4 tablespoons ice cold water
Filling
2 cups ricotta cheese
1 teaspoons salt
3 tablespoons roughly chopped basil, plus more basil leaves for garnish
2 eggs
3 pounds heirlooms tomatoes
Olive oil for drizzling.
Instructions
Preheat oven to 350 degrees. Butter a 10-inch tart pan.
In a bowl combine flour and salt.
Add in vegetable shortening. Using fingers, blend the shortening into the flour.
Add the butter pieces in, working very quickly, use your fingers to blend the butter in, once there are several small chunks left, but the majority is blended in, stop.
Start by adding in three tablespoons of cold water and the vodka in to the dough. Use a fork to mix. Once the dough is shaggy, but comes together when you press a ball of it together the dough it done. If it still falls apart, add another tablespoon of ice water.
Gently knead the dough just until it comes together. Form into a flat circle and chill for 30 minutes.
When dough is ready roll out to the size of your tart pan. Place dough gently in pan, cut off excess.
Put foil over dough and cover with dry beans.
Bake for 10-15 minutes until slightly golden brown. Cool.
While crust is baking, through ricotta, eggs, salt and basil into the food processor. Blend until smooth.
Pour filling into pie crust. Bake for 35-40 minutes until golden brown. Cool.
Layer with tomatoes and basil. Drizzle with olive oil. Season with salt and pepper.