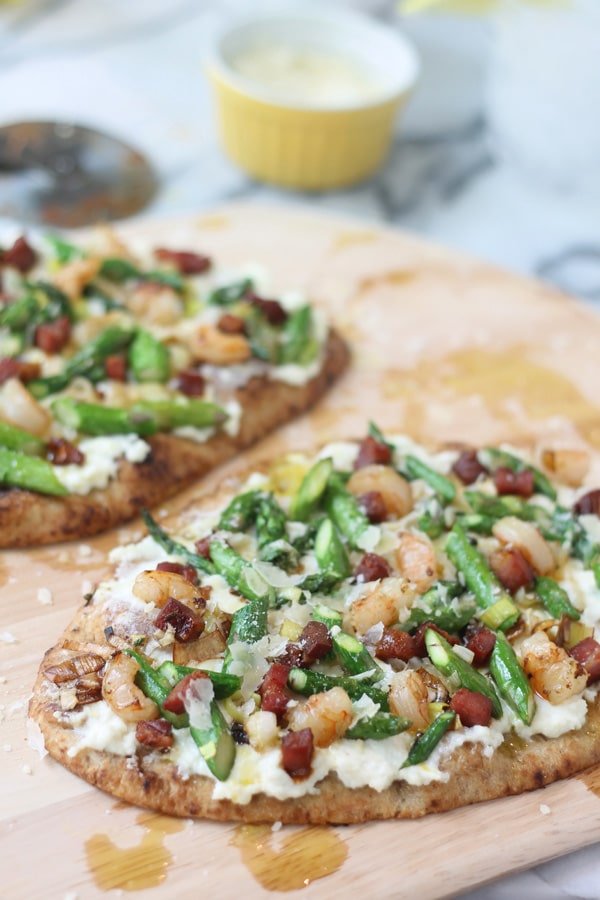 Today marks the third installment of Monday's homemade ricotta. In my homemade ricotta journey, I've brainstormed a million different ways to utilize it in creative ways; a necessity since I might otherwise be sucked into it eating it straight from the bowl day after day.
I went the straightforward approach with ricotta, lemon zest and fried rosemary as a spread for crostini; I also went the traditional route with ricotta stuffed ravioli; and today, we're going off the beaten path a little bit and using ricotta as a base for pizza instead of sauce in what might be one my favorite pizzas of all time. Actually, it's probably a tie for my favorite pizza of all time – an even split between today's ricotta pizza, the classic margarita pizza and this butternut squash ravioli pizza.
I wanted to keep with the "spring" theme and use up some of the leftover veggies I had from Wednesday's ravioli, so I came up with these super simple individual pizzas on whole-wheat Naan bread. For those of you that aren't familiar with Naan, it's an Indian flat bread equivalent to Mediterranean pita bread (and better in my opinion). It's baked in a screaming hot tandoori oven and used as a side for most Indian meals – it's great to soak up their rich sauces or to just nibble on by its lonesome, or to use for PIZZA!
I slather the ricotta generously across the bread, and then top it with crispy cubes of pancetta, bright green asparagus, sautéed leeks, and a little bit of chopped shrimp. Each guy is tossed into a scorching oven set at 500 degrees and baked quickly, about five minutes until the cheese is hot, creamy and the asparagus has a slight char. Drizzle each pizza with a little bit of olive oil and top with ridiculous amounts of parmesan cheese. Pizza in a pinch.
Here's a little tip: Heat a pizza stone in the oven for about twenty minutes before baking. This works on pre-made crusts and fresh pizza dough alike – you're guaranteed a SUPER crisp crust every time.
Ricotta Pizza with Crispy Pancetta, Asparagus and Shrimp
Author:
Nicole-Cooking for Keeps
Ingredients
1 leek, sliced
¾ chopped asparagus
2-3 ounces pancetta, in ¼ inch slice
7 small shrimp
¾ fresh ricotta ( https://www.cookingforkeeps.com/2013/05/06/homemade-ricotta-with-lemon-zest-crispy-rosemary-and-chargrilled-ciabatta/ )
2 Naan flatbreads
Parmesan Cheese
Instructions
Preheat oven to 500 degrees. Place pizza stone in oven while you prepare the pizzas.
In a medium saucepan over a medium heat, crisp up pancetta. The process is the same as cooking bacon. Start in a cold pan and slowly render the fat. When the pancetta is crisp, remove with a slotted spoon and drain on a paper towel. Drain all but ½ tablespoon of grease.
Toss asparagus and leeks into the same pan. Sauté until bright green, about 2-3 minutes. Season with salt. Remove from pan. Add shrimp (if there is no grease left use a little olive oil). Sauté shrimp until just pink, about 30 seconds per side.
Spread half of ricotta on each flatbread. Top with pancetta, asparagus, leeks, and shrimp. Bake for 5-7 minutes until bread is crisp and asparagus is slightly charred.
Remove from oven and sprinkle with parmesan cheese and drizzle with olive oil.