If you're looking for a cozy winter pasta that won't weigh you down, a way to impress loved ones, or a simple date-night in dish to make together, look no further than our Rigatoni Vodka. This classic creamy tomato-based pasta is kicked up a notch with the addition of salty Italian sausage and hearty spinach for an extra dose of veggies. From start to finish, it takes about 30 minutes to throw together, so don't feel like you need to wait for a special occasion to whip up this cozy classic.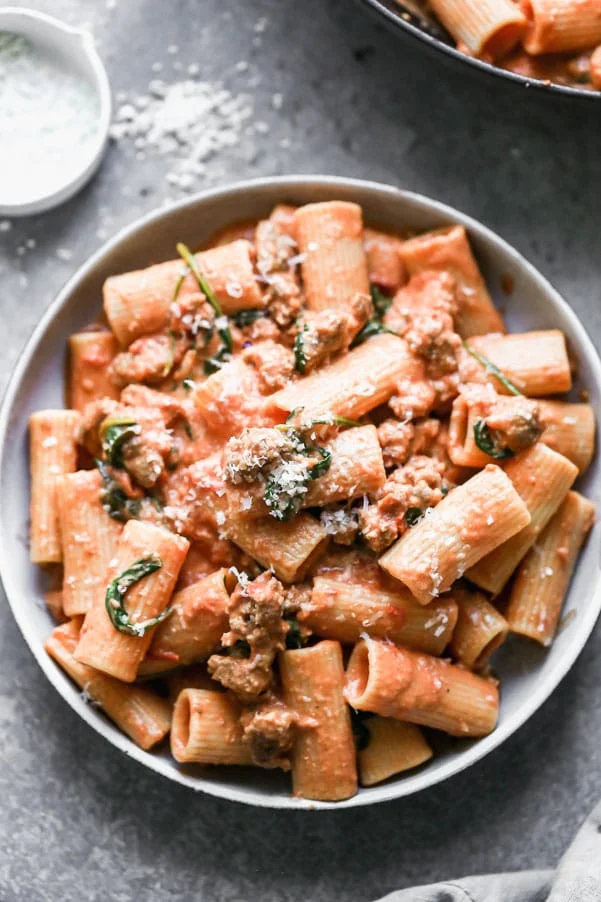 Rigatoni Vodka
I can count on one hand the meals which make a repeat appearance on our dinner table. It's a hazard of this wild job we call food blogging.
Of course, most of the repeat items we eat are recipes from the website, seeing as this is the space where I share exactly what we eat day to day. Among some of the repeat offenders are these Classic Peanut Lettuce Wraps and this Thai Salmon – all items we eat a few times a month. However, the one meal we tend to go back to more than any other, didn't have a place in the archives…until today. While this dish is new to the blog, I'm sure the two of you have already met in the past. Meet: Rigatoni Vodka.
I was hesitant to add Rigatoni Vodka to the repertoire for the simple reason that it's been done before. Many times. In fact, when it comes to classic Italian American dishes, I suspect Spaghetti and Meatballs may be the only pasta dish to trump it in popularity.
If you're not familiar with Rigatoni Vodka, gosh, you're in for a treat. This creamy tomato-based sauce meets all of the requirements of a cozy winter pasta. It's comforting, but doesn't weigh you down. The luxurious sauce coats aldnete rigatoni noodles perfectly so there's a burst of flavor in each bite, but you aren't left with an obscene amount of sauce left on your plate. Just enough to swirl crusty bread around to soak up every last drop.
Our version also includes salty Italian sausage and a few handfuls of spinach for an extra kick of veggies. It's the perfect all-in-one meal, and a definite contender for a date-night in.
Let's get started!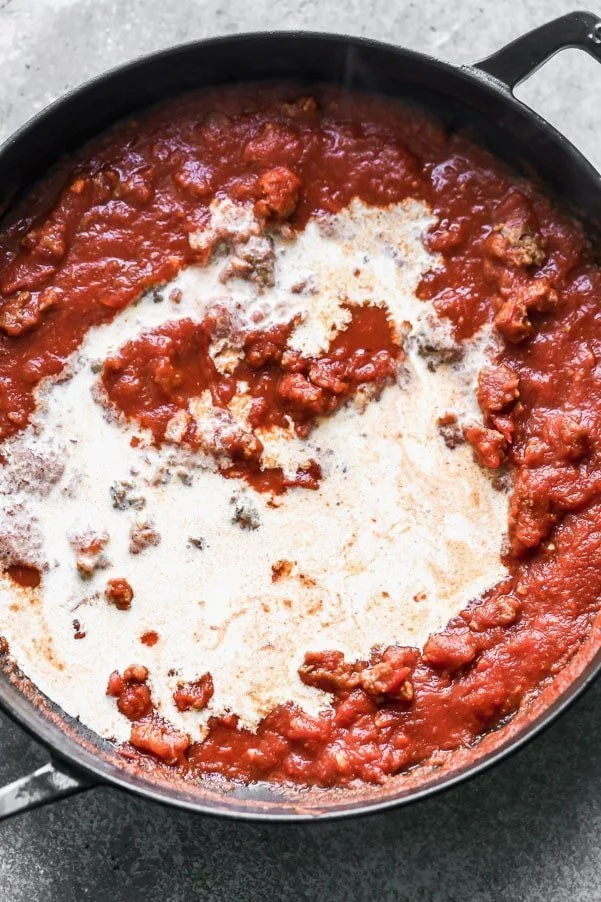 Ingredients in Rigatoni Vodka
Sausage. Traditionally Rigatoni Vodka or pasta alla vodka is simply sauce and noodles, but we like to add a little more sustenance to our version. Today we're using mild Italian sausage. Not only does it add a little more heft to the sauce, but after the sausage browns and simmers in the sauce, it adds a really lovely extra layer of flavor you wouldn't get without it.
My kiddos don't tolerate high levels of spice, so we opt for mild or sweet Italian sausage, but if you want a little kick in your rigatoni vodka, use spicy.
Garlic. Even though there is garlic in the Italian sausage, I like to add quite a bit extra – four cloves to be exact.
Tomato paste. Occasionally, I'll use only tomato paste + water or cream for the base of the sauce, but this time, I'm only adding a few tablespoons of tomato paste as a thickener and to add a super concentrated tomato flavor to the sauce.
Vodka. You can use pretty much any kind of vodka here. We drink Tito's, so that's our poison of choice.
Tomato puree. Make sure to use good-quality pureed tomatoes. You'll need a whole 28-ounce can. You can also use crushed tomatoes as well, but the sauce consistency won't be as smooth. It will taste the same.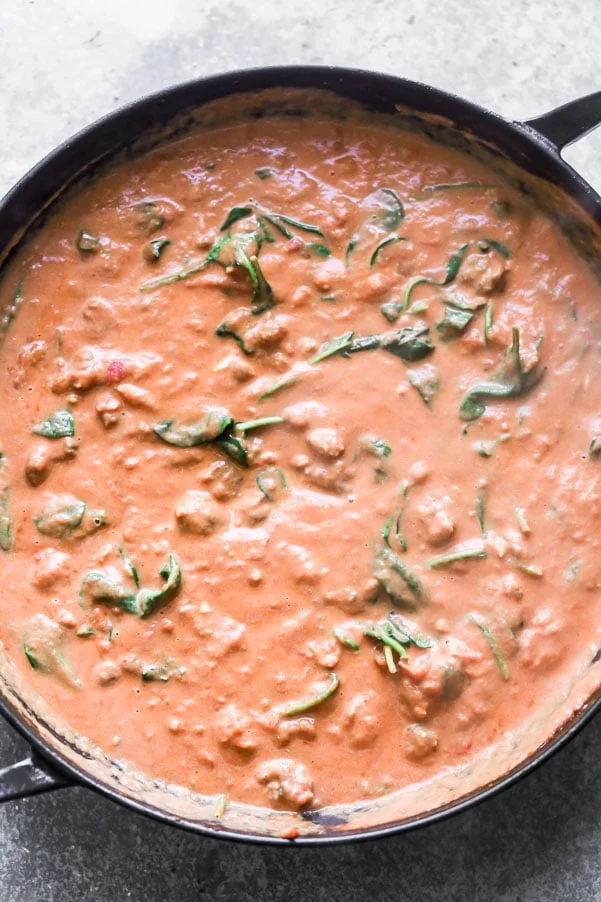 Sugar. I always like to add a little sweetness to my tomatoes sauces to balance out the acid. You could even use honey or brown sugar if you don't have regular sugar on hand.
Pasta. Traditionally pasta alla vodka is made with penne, but I like the sturdy, large shape of rigatoni. The one nugget of advice I'll give when it comes to rigatoni is to make sure you don't overcook it. Once it gets past the point of aldente, it sort of collapse on itself and you're left with flat noodles.
Cream. While a vodka sauce is a tomato sauce at heart, the true luxuriousness lies in the cream. Every bit of one cup is needed to achieve that velvety smooth texture that makes rigatoni vodka so irresistible.
Cheese. You'll need a good-quality freshly grated parmesan cheese here. If you can, buy Parmigiano-Reggiano.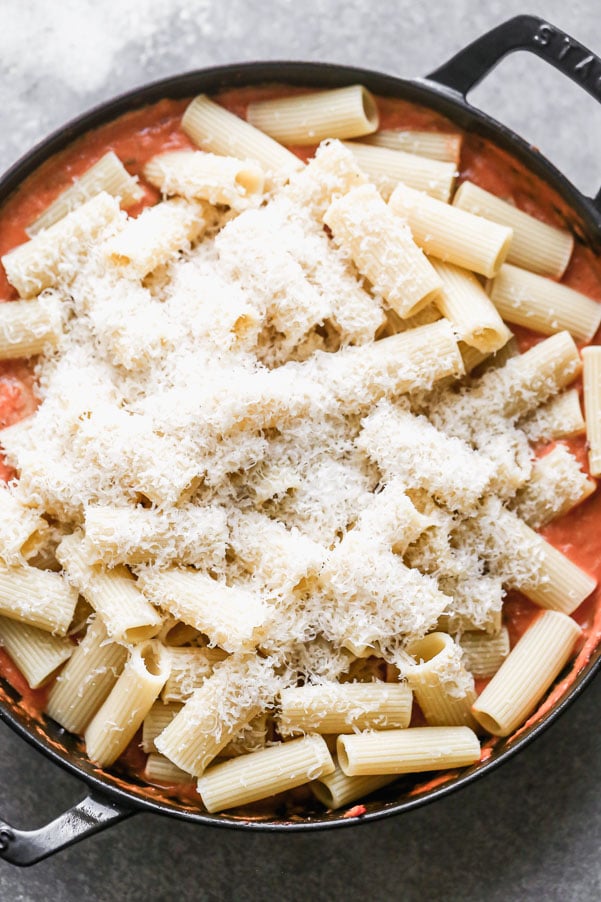 Let's make Rigatoni Vodka
Boil the water. Bring a LARGE pot of water to a rolling boil. Season the water generously with salt. I make mine taste as salty as the sea.
Cook the sausage. Brown the sausage in a large skillet. I love this Staub Skillet. Use a wooden spoon to break up the sausage as you go. Once the sausage is brown, throw in the garlic and cook for another minute or two.
Make the sauce. Stir the tomato paste into the garlic and sausage. Cook for a minute or two. We do this to start the process of cooking the tomato paste. Toasting it in the dry pan helps to intensify the flavor of the tomato.
Stir in the the vodka, tomato puree, sugar, and salt. Bring to a boil and reduce to a simmer. Cover and let the sauce simmer for about five minutes before dropping the pasta into the boiling water.
Cook the pasta. Again, once the sauce has simmered for about five minutes, drop the rigatoni into the boiling water. Give it a good stir so the noodles don't stick to the bottom of the pan or each other. Let the rigatoni cook for about six to seven minutes until it's just UNDER aldente.
It's very VERY important to only cook the rigatoni until it's under aldente because it will continue to cook in the sauce when you finish everything off. As I mentioned prior, when rigatoni overcooks, it tends to flatten and collapse on itself. You want the rigatoni to retain their pretty open circular shape, and cooking it just under aldente will help to achieve that.
Finish! When the rigatoni is a few minutes shy of being done, stir the cream and spinach into the sauce. Continue to stir until the spinach wilts.
Use a slotted spoon to transfer all of the rigatoni noodles to the pasta sauce. Sprinkle the parmesan cheese on top of the hot noodles. Toss everything together. I can almost guarantee you will need about 1/4 to 1/2 cup of starchy pasta water to loosen the sauce up. Just use a ladle to transfer the hot pasta water to the sauce and rigatoni. Toss again. Continue to toss until everything is coated.
Season! Once everything is combined, season to taste with salt and pepper. Garnish with parmesan cheese.
Substitutions and Tips and Tricks for Recipe Success
Okay, I know this is the third time I've mentioned this, but be sure to cook the pasta just under aldente. This is important!
Use tomato puree or crushed tomatoes. Both work great.
Mild, sweet, or spicy Italian sausage are all great options. You could also use ground beef, ground turkey sausage, or even shredded chicken for the protein. You could also leave the meat out altogether.
Use pecorino or Romano cheese in place of parmesan.
For an extra cheese sauce, double up on the cheese.
For more texture, add in thinly sliced onions while you cook the Italian sausage.
Ingredients
1/2

lb

mild or sweet italian sausage

4

large

cloves garlic, minced

2

tbsp

tomato paste

28

oz

tomato puree

1/2

cup

vodka

1

tsp

kosher salt

2

tsp

sugar

``

3/4

cup

heavy cream

1

lb

rigatoni

2

cups

baby spinach

1/2

cup

parmesan cheese

1/2

cup

pasta water
Instructions
Bring a large pot of water to a rolling boil. Season with salt. It should taste as salty as the sea.

Heat a large skillet to a medium-high heat. Add the sausage. Use a wooden spoon to break the sausage up as it browns.

Once the sausage is brown, add the garlic cloves. Saute for 1 minute. Stir in tomato paste. Cook for another 1-2 minutes. Stir in tomato puree, vodka, sugar, and salt. Bring to a boil and reduce to a simmer. Cover.

While the sauce simmers, drop the pasta into the boiling water. Stir. Cook until the pasta is just UNDER aldente. It will finish cooking in the sauce.

When the pasta is about 1 minute shy of cooked, stir the cream and spinach into the tomato sauce. Continue to stir and simmer until the spinach has wilted. Use a slotted spoon to transfer the rigatoni to the sauce. Reserve pasta water.

Sprinkle cheese on top of pasta, and gently toss the noodles and cheese with the sauce. Add 1/4-1/2 cup of starchy pasta water to loosen up the sauce. Continue to toss until all the noodles are coated. Season to taste with salt and pepper. Garnish with more parmesan cheese.
Nutrition Information
Serving:
1
serving
,
Calories:
655
kcal
(33%)
,
Carbohydrates:
72
g
(24%)
,
Protein:
22
g
(44%)
,
Fat:
26
g
(40%)
,
Saturated Fat:
13
g
(81%)
,
Cholesterol:
75
mg
(25%)
,
Sodium:
902
mg
(39%)
,
Potassium:
985
mg
(28%)
,
Fiber:
5
g
(21%)
,
Sugar:
11
g
(12%)
,
Vitamin A:
2196
IU
(44%)
,
Vitamin C:
19
mg
(23%)
,
Calcium:
176
mg
(18%)
,
Iron:
4
mg
(22%)