Salmon en papillote
It just sounds so refined, doesn't it?
Like maybe it's prepared solely in fine French restaurants or only perfectly executed by professionally trained chefs. But rest assured, neither of the aforementioned need be the case. Just because the French try to intimidate weary home cooks with their sophisticated words that lead us to believe their dishes are overly complicated and unapproachable doesn't mean they all are.
Take a look at Julia Child's, The Art of French Cooking, and you'll see quite a few recipes that are actually relatively simple with few ingredients. Although don't curse me when the first chapter you turn to is solely dedicated to gelée or pâté. Keep turning the page and you'll see something that spikes your interest.

My favorite meals when I was in Paris were all incredibly simple — perfectly seared steak au poivre with frites (steak with black peppercorns and french fries); feathery greens drizzled with Dijon and olive oil and then topped with thick and crisp bacon lardons; steamed mussels with a broth so flavorful you'd think there was a thousand ingredients, but only consisted of cream, white wine and saffron. Those are the French meals I relish in – simple and not overly fussy.
At it simplest form all en papillote really translates to is "in parchment," so salmon en papillote is basically just salmon cooked in parchment paper. Variations range from classic with lemon slices and herbs to Asian-inspired with soy and sesame. I've stuck with more of a traditional preparation here, but have thrown in a few kalamata olives for an extra burst of salt and brininess.
Thinly sliced lemons and fennel are layered on the bottom of the parchment and then topped with the salmon filet, layered with a few more lemon slices, and dotted with cherry tomatoes and kalamata olives. A little bit of sherry is poured into the package to steam the veggies and keep the fish extra moist. It's all topped off with just a smudge of butter to create a velvety sauce in the end.
I have to say, this is one of the best "simple" meals I've made in a long time. Not only is it a cinch to put together, but the flavors are so incredible — I was literally spooning the sauce out after I finished eating the salmon and veggies, like it was soup or something. So velvety, but light and bright at the same time.
Perfect for this odd transition from winter to spring.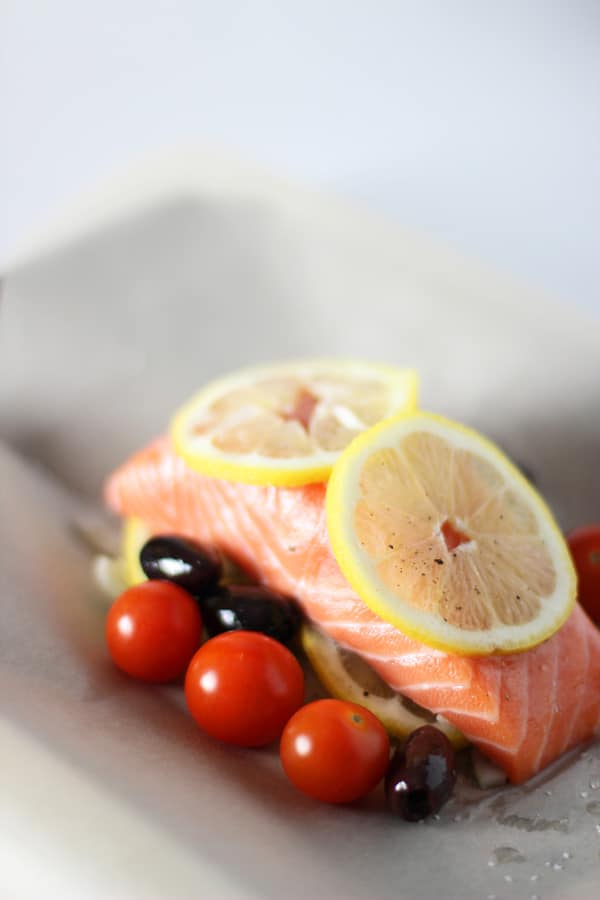 Salmon en Papillote with Cherry Tomatoes, Fennel and Kalamata Olives
Author:
Nicole ~ Cooking for Keeps
Ingredients
4 center-cut salmon filets
1 fennel bulb, thinly slices (reserve fennel fronds)
2 cups cherry tomatoes
4 garlic cloves, thinly slices
2 lemons, thinly sliced
1 cup kalamata olives
8 teaspoons dry sherry
4 teaspoons unsalted butter, divided
Parchment Paper
Instructions
Preheat oven to 450 degrees.
Cut out 4 - 15 inch squares out of parchment. Fold in half and draw a large half heart, starting at the folded side. Cut out heart, and open up.
Place ¼ of the sliced fennel on one side of the heart, sprinkle with a bit of salt and pepper. Top with three lemon slices.
Place salmon on top of lemon and fennel, season with salt and pepper.
Place 2 more lemon slices on top of salmon and top with 1 teaspoon of butter.
Sprinkle kalamata olives and cherry tomatoes on top of or next to salmon filet.
Pour two teaspoons of dry sherry over salmon.
Fold the other half of the heart over the fish and starting from the pointy end, start folding the ends in, overlapping as you go, to create an airtight package. Twist the ends if necessary to keep steam from escaping. (See tutorial, here)
Repeat with remaining hearts
Place parchment packages on a large baking sheet (you may need two), and bake for 10 minutes.
Using a knife, cut up the middle of the parchment and let the steam escape. Sprinkle with a little bit of fennel fronds. Transfer to a plate and eat straight from the parchment.