It's the simple things in life that make that make you feel all warm and fuzzy inside. Am I right?
Things like lazy Sunday mornings
Watching my trashy (but awesome) Real Housewives shows
Getting off work at four on Fridays
Getting a close parking spot at Trader Joe's when there's no spot to be had (what's up with that?)
Unexpectedly warm days (like this coming Friday)
A perfectly made bed (just about the only thing I try to keep perfectly tidy)
An ice-cold pool on a blazing hot summer day (a raft is a necessity)
The list goes on and on.
I think the same things can be said about food as well. There's nothing as uncomplicated or satisfying as a perfectly crisp piece of toast with butter and jam, a piping hot slice of New York style cheese pizza, or a big scoop of vanilla ice cream with hot fudge sauce and peanuts.
I've been trying to live by the mentality (food-wise) less is more, but more times than not I find myself complicating things more than they should be. Not that there's anything wrong with that, it just shouldn't always be that way.
This dish is the perfect example of simplicity at its finest. Fuss-free blood orange vinaigrette is drizzled over a perfectly crispy portion of salmon and then topped with buttery avocado, anise flavored fennel, and blood orange segments. It's refreshing, crisp, and super healthy, yet feels slightly decedent from the monounsaturated (good) fats inherently buried in the avocado and salmon.
No need to wait until spring has sprung to make this at home.  Blood oranges are still readily available (but won't be for long), and avocados are surprisingly ripe — even over here in Kansas.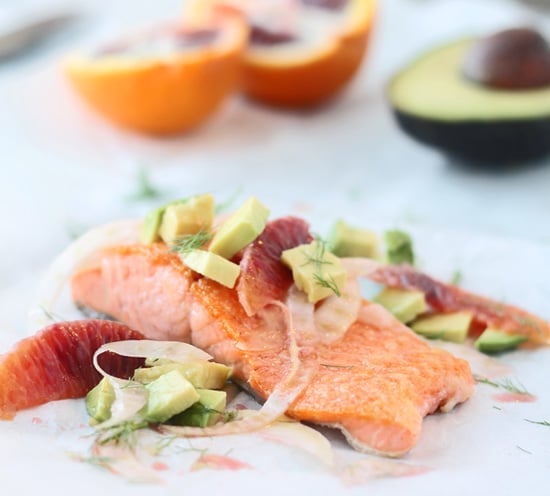 Salmon with Fennel, Avocado & Blood Orange Vinaigrette
Author:
Nicole-Cooking for Keeps
Ingredients
2 tablespoons olive oil
4 four ounce salmon filets
½ cup thinly sliced fennel
1 small avocado cut in small cubes
1 blood orange, peeled and sectioned
Salt and pepper
Vinaigrette:
2 tablespoons + 2 teaspoons blood orange juice
1 teaspoon apple cider vinegar
½ teaspoon Dijon mustard
½ teaspoon sugar
2 tablespoons extra virgin olive oil
Pinch of salt and pepper
Instructions
Assemble vinaigrette: Whisk orange juice, vinegar, mustard, and sugar in a small bowl. Slowly whisk in olive oil. Season to taste with salt and pepper. Set aside.
Season salmon liberally with salt. Heat olive in a large non-stick pan over a medium-high heat.
Cook salmon about four minutes each side until cooked through. A little bit less if you like your salmon medium or medium-rare. Once salmon is cooked plate and
Top with a quarter of the sliced fennel, quarter of the avocado, and a quarter of the oranges. Drizzle with vinaigrette. Season with a little salt and pepper if necessary.