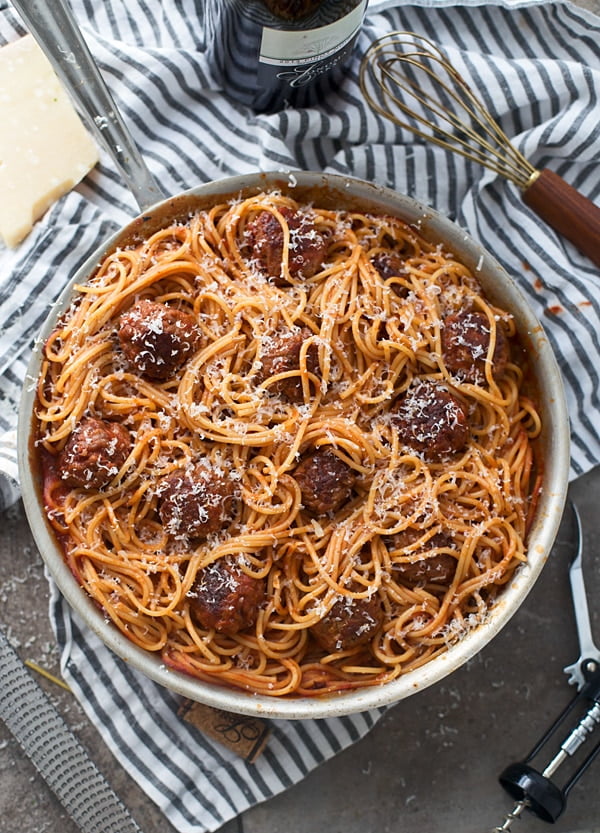 I love all food. Clearly, I run a food blog. However, my love for Italian food knows no bounds, so when I'm asked what food I like to cook and eat the most, it's hands down, my answer. When I'm asked more specifically, what exact dish is my favorite, I'm at a loss, because it depends on where I'm eating, what kind of mood I'm in, and if I'm really willing to throw caution to the wind when it comes to calories and carbs (Hint: I usually am.).
If I'm at my favorite old school, Italian restaurant, where they play Frank Sinatra, keep the lights low, and the tables close, I can't leave without ordering the fettuccine alfredo, and veal saltimbocca. If I'm at my favorite northern, upscale Italian restaurant, where the noise is loud, parmesan is grated tableside, and wine is $15 a glass, I'll cry if homemade ravioli isn't on the menu for the evening. And if I'm at our little neighborhood Italian deli, where you order at the front, grab your own table, and wine is $5 a glass, I have to order a slice of cheese pizza with a side rigatoni alla vodka.
I'm not sure if you noticed or not, but in all of my orders, there seems to be one classic Italian dish that's not present – spaghetti and meatballs. And actually, if I really rack my brain at the moment, I can't recollect a time when I've ever ordered spaghetti and meatballs out at a restaurant.
While the lack of a spaghetti and meatballs order isn't exactly noteworthy, it is sort of ironic that I have not one, not two, but three different spaghetti and meatball recipes on the blog, yet I overlook it in other situations. That fact alone clearly depicts a slight infatuation with the classic pasta dish, but it's just not something I order in restaurants. At first, I wasn't sure why, but when I really think about it, I know it's because I grew up eating the most delicious spaghetti and meatballs straight from my mother's kitchen, and any time I've tried any other version, I've been less than impressed. So I make spaghetti and meatballs at home, and that's where it stays.
Of course nothing compares to the original version, but it does have quite a few ingredients, so I've been on a mission to create a recipe that's a little bit more approachable, but still just as tasty.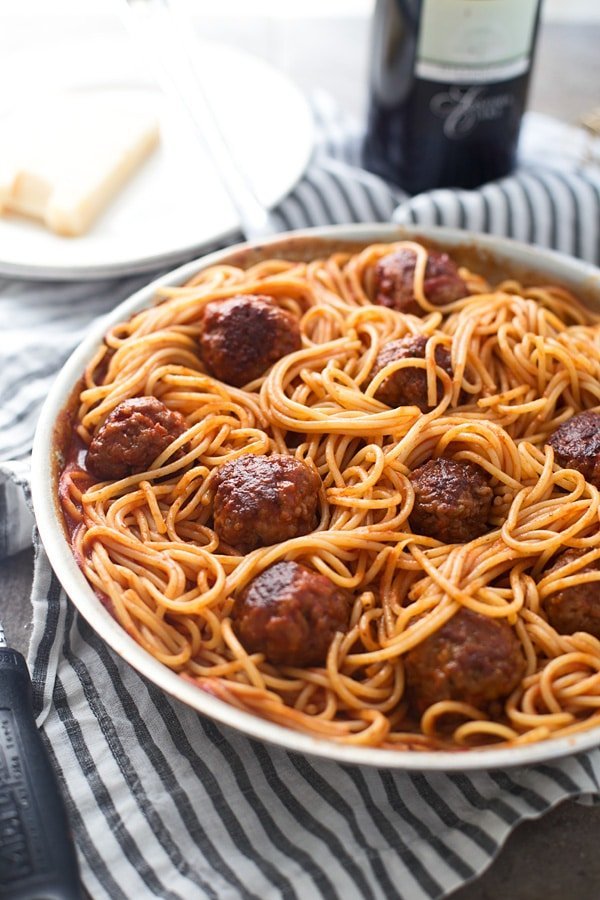 I originally wanted this recipe to only include five ingredients, but after my first round of testing, I realized I couldn't get by without adding in sugar – a component I thought I may be able to omit because of the amount of sugar in red wine – so this five ingredient meal becomes six (well, seven if you want to sprinkle with copious amounts of parmesan cheese in the end).
When creating a limited ingredient recipe, you have to be smart. So instead of using just ground beef and omitting virtually every other ingredient for the meatball, I decided to buy bulk Italian sausage, since it already has an array of seasoning built directly into the meat. What's also great about using Italian sausage is that since it already has quite a bit of fat in it, you don't need to use any oil to brown the meatballs up, and post browning the meatballs, you're left with all these great brown bits to infuse even more flavor into the sauce.
When the meatballs brown up, they're transferred to a plate, the pan is de-glazed with a heavy hand of red wine, it's reduced, and then a can of tomato paste is whisked in. From there, a little bit of water is added in, along with some Italian seasoning, and a couple teaspoons of sugar to balance out the acid in the tomatoes.
Once the sauce comes together, the meatballs go back in to finish cooking, and then everything is tossed with just under aldente pasta.
My pastas aren't complete without a dusting of parmesan cheese, but if you want to stay true to six ingredients, you can skip it — something tells me, you won't.
Six Ingredient Spaghetti and Meatballs
This Six Ingredient Spaghetti and Meatballs is the cheater version of a classic, and still has just as much flavor as any Italian grandmother's spaghetti and meatballs.
Author:
Nicole ~ Cooking for Keeps
Ingredients
1 lb bulk mild Italian sausage
1 ¼ cup red wine (I used pinot noir)
6 ounces tomato paste
½ tsp. kosher salt
½ tsp. Italian seasoning
2 tsp. sugar
14 oz. spaghetti
Parmesan (optional)
Instructions
Bring a large pot of water to a rolling boil. Season with salt. It should taste as salty as the sea.
Form sausage into 16 meatballs.
Heat a large skillet to a medium heat. Add meatballs. Cook until brown on top and bottom, about 2-3 minutes per side. Do not try to move the meatballs until they easily flip over. Transfer meatballs to a small plate.
Add wine to the pan, cook until reduced by half, about 1-2 minutes. Whisk in tomato paste, cook 1 minute. Add 1 cup water, salt, italian seasoning, and sugar. Bring to a boil and reduce to a simmer. Add meatballs back to the pan and simmer until cooked through, another 5-6 minutes.
Cook spaghetti until just shy of aldente, about 7 minutes.
Remove meatballs from pan again, and add spaghetti. Cook another 1-2 minutes until pasta has absorbed sauce and spaghetti is aldente. Add meatballs back to pan. Toss. Serve with parmesan.