Word to the wise.
If you're cooking with whiskey during the middle of the day while your husband is at work, remember to put the cap back on and return it to the liquor cabinet before he gets home so he doesn't think you were boozing all day in your pajamas while singing Ed Sheeran's "Thinking Outloud" on repeat and drooling over Rachel Bilson's outfits in old Hart of Dixie episodes.
I honestly didn't drink the whiskey, but I won't lie, it may have crossed my mind to have a little Mad Men moment….just for a second.
I can't promise the other three events didn't happen.
I used to be a total wine and vodka girl, but these days, I don't really discriminate. In fact, I find myself ordering bourbon and whiskey drinks quite regularly, which is pretty funny considering a few years ago, you couldn't pay me to sip on anything with bourbon in it. I don't know if my taste buds have changed, I've finally recovered from all the gross whiskey shots I took in college or I've just matured as a drinker, but there's something about getting along with bourbon that makes me feel like I'm finally a real grownup.
Even though I've only recently begun to enjoy whiskey in cocktail form, I've always appreciated it laced in different foods, hello bourbon mac and cheese, bourbon glazed salmon and bourbon bread pudding.
Currently enjoying: Slow-Cooker Bourbon Brown Sugar Pulled Chicken Sandwiches with Bacon and Brusslels Sprout Corn Slaw.
Goodness.
Quite the wordy title, but 100% necessary to depict the deliciousness that's going on in this sandwich.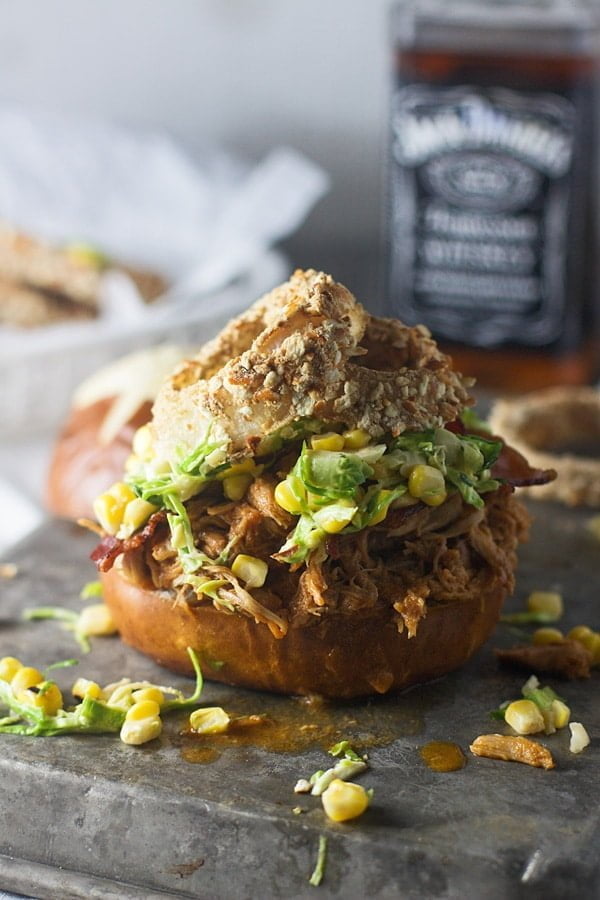 So technically I didn't use bourbon in the sauce, I used whiskey but only because
Kevin is purely a bourbon and whiskey drinker when it comes to hard liquor, and while we have our fair share of options to choose from at home, if I even touch the "good stuff" for cooking he kind of flips out. So, Jack it was.
I was a little worried the whiskey flavor wouldn't be turn out as nicely as a real bourbon would, but honestly after the long, slow cooking process you can't really tell the difference. If you or your partner isn't stingy with their bourbon, go ahead and use the good stuff.
The obvious bulk of the flavor in the pulled chicken comes from a liberal pour of whiskey and brown sugar, but the remaining ingredients include all the usual suspects in a traditional barbecue sauce – ketchup, garlic, onion powder, apple cider vinegar, worcestershire sauce and tomato paste. I also threw in a few tablespoons of Dijon mustard for a tangy kick, dark molasses to compliment the brown sugar and a pretty copious sprinkling of crushed red pepper for spice.
The sauce is whisked together, and poured over bone-in, skinless chicken thighs, set on high and cooked until the meat is falling off the bone, about 3.5 hours. If you're setting this and going to work or leaving, just turn it on low and cook for 6-7 hours.
I like to use a bone-in chicken thigh so the meat doesn't dry up, but I remove the skin, just so there isn't an excess amount of fat to fish out of the sauce. Once the meat is cooked, I shred the meat, put it all back in the sauce, give it a stir and it's ready to go.
Although before you're tempted to slap the meat on a bun and call it a day, make the slaw; because to me, a barbecue sandwich isn't complete unless it's dressed up with a slaw of some sort, even if it's not in the most traditional sense. Here, brussels sprouts and corn are sort of an odd, but perfect combination.
The slaw is only a few ingredients and all items you probably have in your pantry at the moment aside from the corn and Brussels sprouts. Low-fat mayo, apple cider vinegar (which you have to use anyways for the chicken), sirracha and sugar. Super simple.
Sorry in advance for slathering it over a couple future recipes.
Also, if you feel like upping the crunch factor slightly and making the cooking process a touch more complicated and high-maintenance, put an onion ring on it. We did, and I could have gone with or without it, so I'm not even going to include the recipe, but if you want it, just shoot me an email. Also, you could just buy frozen onion rings and those would suffice just fine, you already made pulled chicken and slaw from scratch so no judgments here.
Doesn't this just scream summer???

Slow-Cooker Bourbon Brown Sugar Pulled Chicken Sandwiches with Bacon and Brussels Sprout Corn Slaw
These easy bourbon brown sugar chicken sandwiches are the perfect no-fuss meal for a crazy weeknight or weekend barbecue!
Ingredients
4 pounds bone-in, skinless chicken thighs (I had to remove the skin myself)
¾ cup bourbon or good-quality whiskey
1 tablespoon tomato paste
1 garlic clove, grated
¾ cup ketchup
2 teaspoons dark molasses
1 tablespoons worscestire sauce
¼ cup + ⅛ cup packed dark brown sugar (light will work if you don't have dark on hand)
1 tablespoon Dijon mustard
2 tablespoons apple cider vinegar
1 teaspoon onion powder
½ teaspoon red pepper flakes
For the slaw
2 cups shredded Brussels sprouts
2 ears of corn
4 tablespoons low-fat mayo
3 teaspoons apple cider vinegar
½ teaspoon sugar
½ teaspoon sirracha (1 teaspoon if you like it on the spicy side)
¼ teaspoon salt.
Assembly:
6 pretzel buns
12 slices cooked bacon
Instructions
For the chicken:
Place the chicken in the slow-cooker.
In a bowl, whisk the remaining ingredients together until smooth. Pour over chicken. Toss chicken in the sauce. Secure the lid and cook on high for 3 ½ to 4 hours until chicken is fork-tender and falling off the bone, or cook on low for 7 hours until chicken in falling off of the bone.
When the chicken is done, use a spoon to scoop the grease off the top of the sauce. Remove chicken from the sauce and shred the meat. Discard any bits left in the sauce.
Return the shredded chicken back into the sauce. Set on warm until ready to serve or let cool and place in an airtight container.
For the slaw:
Grill corn on an outdoor grill, indoor grill pan or over a gas burner until slightly charred. Cut from the cob and let cool.
Toss the Brussels sprouts and the corn together.
In a small bowl, combine the mayo, vinegar, sugar, sirracha and salt. Toss with sprouts and corn. Season to taste with salt, pepper and sirracha.
Place a generous portion of chicken on bun, top with bacon followed by slaw.