I'm obsessed with Lifetime movies. You know the horrible-but-can't-stop-watching movies, where someone has cheated on their spouse with the spouses' best friend, one woman steals another woman's baby, a poor lonely man is seduced by a gold digging murderer, or my personal favorite, The Craigslist Killer…
At this very moment I'm three hours deep into the 1992 timeless classic, A Woman Scorned: The Betty Broderick Story. Riveting stuff. There's betrayal, murder and more drama than the most scandalous episode of Real Housewives of New Jersey – and I LOVE it.
Kev will sometimes wake up at 2am, look over at me, look at the TV, and then shake his head, because I'm seriously engrossed in some terrible movie.
I need.help.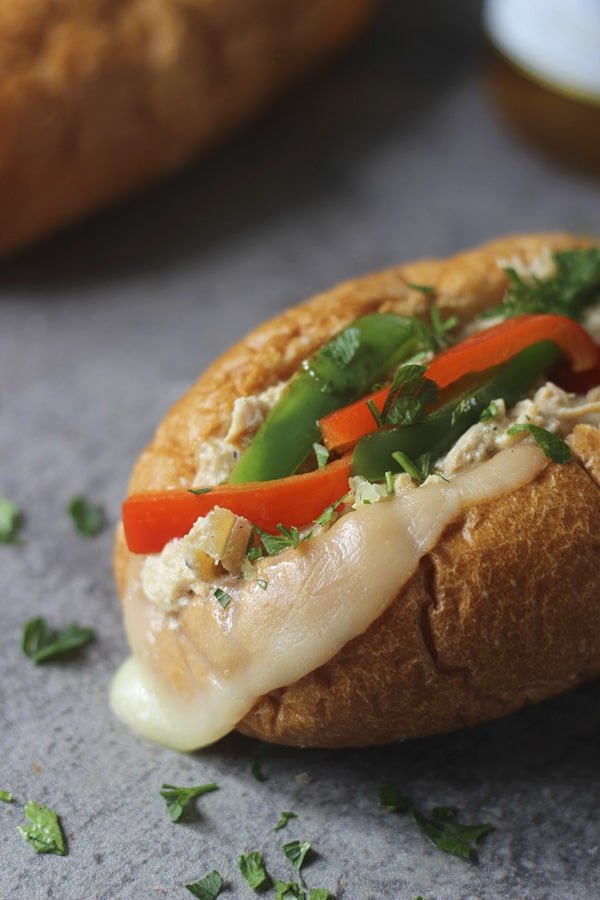 This sandwich is kind of like a Lifetime movie. Err, ok it's not, but I don't have a clever segway into talking about it, sooo it's a lifetime movie also full of betrayal, murder and drama. Duh duh duhhhhh…
No?
The thing about this sandwich is, it was kind of an accident. I originally planned on making these into a healthier philly cheesesteak, but ended up letting the chicken cook too long and added waaayyy too much liquid. I improvised and threw half a ranch packet in for a little instant flavor and a good amount of sour cream to thicken it up and called her a sloppy joe.
I know ranch isn't exactly a "homemade" ingredient, but I always have it on hand when I'm in a pinch. It adds instant flavor to soups, casseroles, dips and sometimes, I'll even sprinkle it on chicken or fish if I'm lacking inspiration or short on time. Lifesaver.
Who needs phillys when you've got one of these bad boys??? Not I.
Slow-Cooker Chicken Ranch Sloppy Joes
Author:
Nicole ~ Cooking for Keeps
Ingredients
2 pounds boneless skinless chicken thighs
½ cup beef stock
1 onion, sliced thin
1 teaspoon salt
1 teaspoon dijon
1 garlic cloved, grated
1 teaspoon italian seasoning
1 green pepper, sliced thin
1 red pepper, sliced thin
½ packet ranch seasoning
¾ cup light sour cream
8 slices provolone cheese
4 hoagie rolls, split and toasted
Instructions
In the bottom of a slow-cooker, combine, chicken, beef stock, salt and onion. Turn the heat on low and cook for five hours.
After five hours, shred meat and add sliced peppers, ranch seasoning and sour cream. Cook another hour.
Place two piece of cheese in split hoagie and pile slow-cooker chicken inside.