Have you ever been so tired you can't even think? This happens to me pretty much every single time I go to write a post past 6pm. It's like my brain just completely shuts off, and all I can manage to get out is, "This is good." So, this time, instead of staring at my computer screen for the better part of an hour willing the words to come out like poetry, I uploaded the pictures and recipe (which I'm sure are all most of you care about anyways), hit schedule, shut my computer screen and settled into bed for a Fixer Upper marathon.
I don't regret it at all.
This morning, I'm refreshed, alert, and ready to talk about soft pretzels with the most luscious, gooey, cheesy, perfectly fall-worthy fondue.
Kevin has been practically begging me to make homemade soft pretzels for months, but because I had a slight obsession with them a few years ago – evidenced here, here, and here – I wasn't super excited or inspired to make them again. However, when he asked me very sweetly for what seemed like the hundredth time, I couldn't say no.
Since I haven't really incorporated pumpkin into many blog posts much this season, I knew I wanted to have some sort of pumpkin element in there. When I stumbled upon pumpkin ale I bought and never got to drink before I found out I was pregnant, I knew it would be the perfect pumpkin element in a cheesy dipping sauce for the pretzels.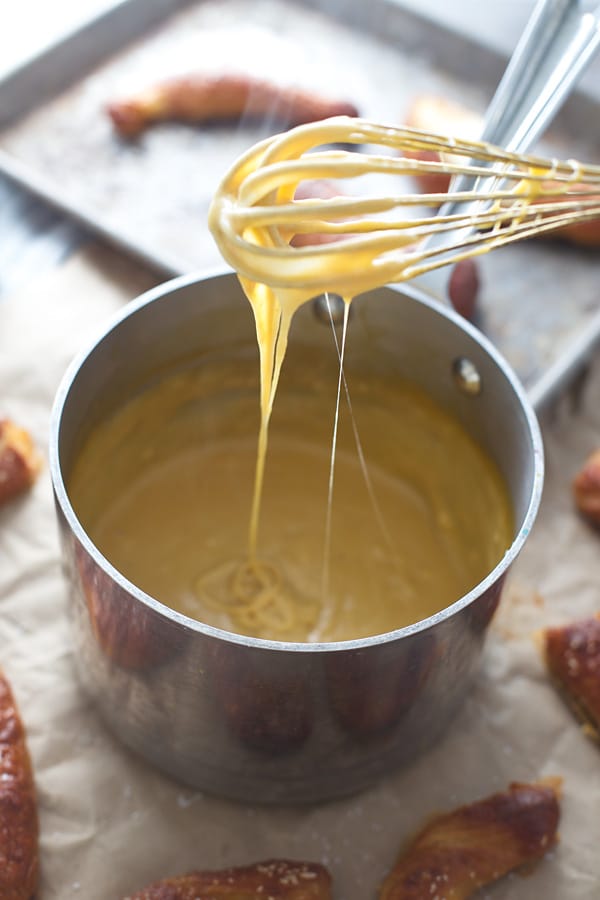 The "sauce" though, isn't really a sauce at all; it's a thick, stringy, irresistibly cheesy fondue. I learned to make fondue years ago, by watching the waiters at The Melting Pot, and I remember being completely mesmerized by how fast it came together – and of course, how delicious it was.
First, a little bit of oil and garlic are cooked together, and in a classic fondue, a little bit of dry white wine is poured in and reduced, but here, we used that pumpkin ale, which lends a more bitter, savory taste. From there, a little bit of pumpkin puree gets whisked in, and then shredded fontina and emmental cheese coated in a little bit of flour, is slowly added in to the liquid. I like to add the cheese in three batches, just to ensure the cheese melts smoothly, if you add it in too quickly, you risk the cheese becoming on clumpy, unappetizing mess. Once the cheese has melted, it gets seasoned with a touch of salt and nutmeg and it's ready for dipping.
Because a fondue has so much cheese, and has a tendency to solidify pretty quickly, it's best to serve it in an actual fondue pot over a flame, or in one of those handy little crockpots.
Now, for the pretzels. If you haven't made homemade pretzels before, let me assure you, they're one of the easiest yeast-based breads to perfect. There are quite a few, but simple steps to getting the perfect soft pretzel, but the yield is somewhere around 16 pretzel sticks, making the process worth every bit of effort.
I won't go into all of the nitty-gritty details of pretzel making, as I've detailed it in the recipe, but I do want to note that when you are forming your pretzels, keep in mind, that they expand, so while they may look too skinny at first, they plump up nicely in the baking soda and water.
They're best served immediately out of the oven, but if you want to make them ahead of time, you can do so, and just pop them back into the oven just before serving.
Soft Pretzel Sticks with Pumpkin Beer Fondue
Author:
Nicole ~ Cooking for Keeps
Serves:
16 pretzel sticks
Ingredients
Pretzels
1 package active dry yeast
1 ½ cups warm water
1 tablespoon sugar
2 teaspoons kosher salt
4 ½ cups all-purpose flour
4 tablespoons unsalted butter
12 cups water
Heaping ⅔ cup baking soda
1 egg
1 tablespoon water
Pumpkin fondue
1 tsp. olive oil
3 large garlic cloves, minced
1 (12 oz) bottle of pumpkin ale
¼ cup pumpkin puree
8 oz. shredded fontina cheese
1 Tlbs flour
⅛ tsp nutmeg
½ tsp salt
8 oz. shredded emmental
Instructions
Pretzels
Preheat oven to 450 degrees.
In the bottom of a stand mixer, combine water and sugar. Sprinkle yeast over, whisk. Let set for 5 minutes until foamy. Add in salt, flour and melted butter. Using the dough hook, mix the dough until combined on a low speed, Increase the speed to medium and mix for 5-7 minutes until dough becomes smooth and pulls away from the sides of the bowl.
Rinse bowl off and then grease with canola oil. Place dough in bowl, cover with a kitchen towel and place in a warm place (I like to put it on top of my oven). Let rise for 1 hour.
Once the dough has risen, cut dough into 16 equal pieces. Roll dough into a rope ¾-inch thick.
Bring a large stock pot to a rolling boil. Add baking soda. Working in batches,, add pretzels to the boiling water. Cook for 1 minute, flipping halfway through. Remove from water and pat off excess moisture.
Transfer pretzels to a greased baking sheet. Whisk egg and water together in a small bowl. Brush pretzels with egg wash and then sprinkle with pretzel or kosher salt.
Bake until golden brown, about 12-13 minutes.
For the fondue
Heat a medium saucepan to a medium heat. Add olive oil and garlic. Sauté for 1-2 minutes. Add beer, bring to a boil and reduce to a simmer. Simmer for 5 minutes.
While beer simmers, toss cheese with flour.
Whisk pumpkin into beer and garlic. Slowly whisk cheese into mixture in three batches, whisk until cheese is melted before adding the next batch. Add salt and nutmeg. Pour into serving bowl or fondue pot. You can also use a mini crockpot.