That title is a bold statement, but honestly, these really are Best Spaghetti and Meatballs There Ever Was. Just read the dozens of reader comments below!
We LOVE spaghetti and meatballs in our family, and while these are in fact, the "best," be sure to check out these Five Ingredient Spaghetti and Meatballs, these Lighter Spaghetti and Meatballs, and these One Pot Healthier Spaghetti and Meatballs.
The Best Spaghetti and Meatballs
Spaghetti and Meatballs – the ultimate of all comfort foods, right? Would you believe me if I told you this is the best spaghetti and meatballs you'll ever have? Well, it is.
I wish I could take credit for it, but all the glory for the best spaghetti and meatballs goes to my Mom. She's made these (almost) exact spaghetti and meatballs my entire life, and now, it's something my family will grow up eating. God's honest truth, we have yet to go to a restaurant or home kitchen where the meatballs were superior to hers. Call it bias, call it favoritism, call it what you want, but it's true – you won't find a spaghetti and meatball recipe as good as this one.
These are tender, but firm, packed with flavor and drenched in the most delicious red wine tomato sauce. Of course they're served with aldente spaghetti, and our version is also packed with lots of onion and bell peppers.
How to make the best spaghetti and meatballs
When I was in college I tried to come up with my own "best" spaghetti and meatballs because I was very into making every single recipe my own (establishing my independence… or something like that), but mine never turned out as delicious as hers. I perfected the soft meatball, but hers were slightly denser with more texture. I used expensive San Marzano tomatoes, but my sauce was always lacking depth of flavor and the smooth, thick consistency of her sauce. After five or six failed attempts, I had to waive the white flag of defeat and call her up to figure out what her secret was.
Secret ingredients
saltine cracker crumbs: This adds flavor, texture AND moisture all at the same time.
ground beef and Italian sausage combination. The combination of these two meats, for me, is the perfect combination of flavors.
red wine. A must! This is what makes the sauce taste so delicious. It adds this warmth, and subtle sweetness you can't get with any other ingredient. Any drinkable red wine will work.
tomato paste. This is what gives the sauce the perfect consistency. Because tomato paste is so concentrated in flavor, you don't need to use a ton to get that rich tomato flavor we all crave in the best spaghetti and meatballs. I also like a pretty smooth sauce when it comes to the best spaghetti and meatballs, and canned or even pureed tomatoes won't give that to you.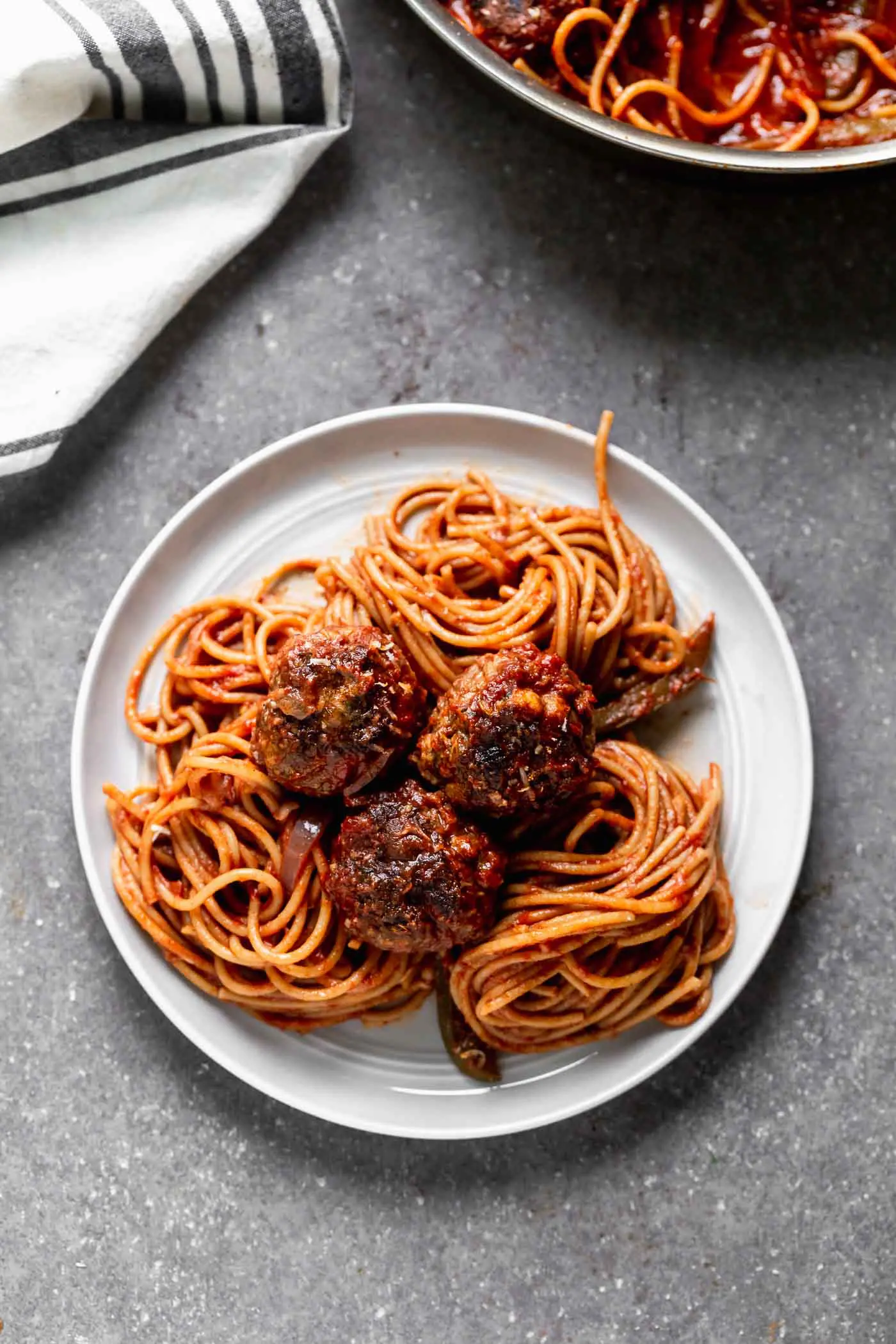 How to make tender meatballs
Of course there's ground beef, but what makes these meatballs extra special is the addition of Italian sausage and saltine cracker crumbs. The Italian sausage adds flavor you just can't get anywhere else and the cracker crumbs aid in a softer, but still toothsome meatball.
You'll also find the typical seasoning mix you'd find in a meatball recipe – onion, garlic, Italian seasoning, salt and pepper – as well as a little bit parmesan cheese and an egg. The only thing I do differently than my Mom, is add in a little bit of grated yellow onion for added moisture and flavor. (Which is something I also do in all of my burger and meatloaf recipes.)
Mix everything together with your hands, but be sure you don't over mix. The quicker you can mix the ingredients together, the lighter the meatballs will be.
After you mix the ingredients, form them into meatballs. In our family, the meatballs are huge – I find the bigger they are, the more likely they are to stay moist. A little pro tip for ya. After all of the meatballs formed, brown them in a good amount of olive oil – about 1/4 cup. Make sure to brown them on ALL sides, and don't worry about cooking them through, they will finish cooking in the sauce later.
Warning: At this point your house will start to smell absoltely divine…Try to refrain from eating raw meatballs…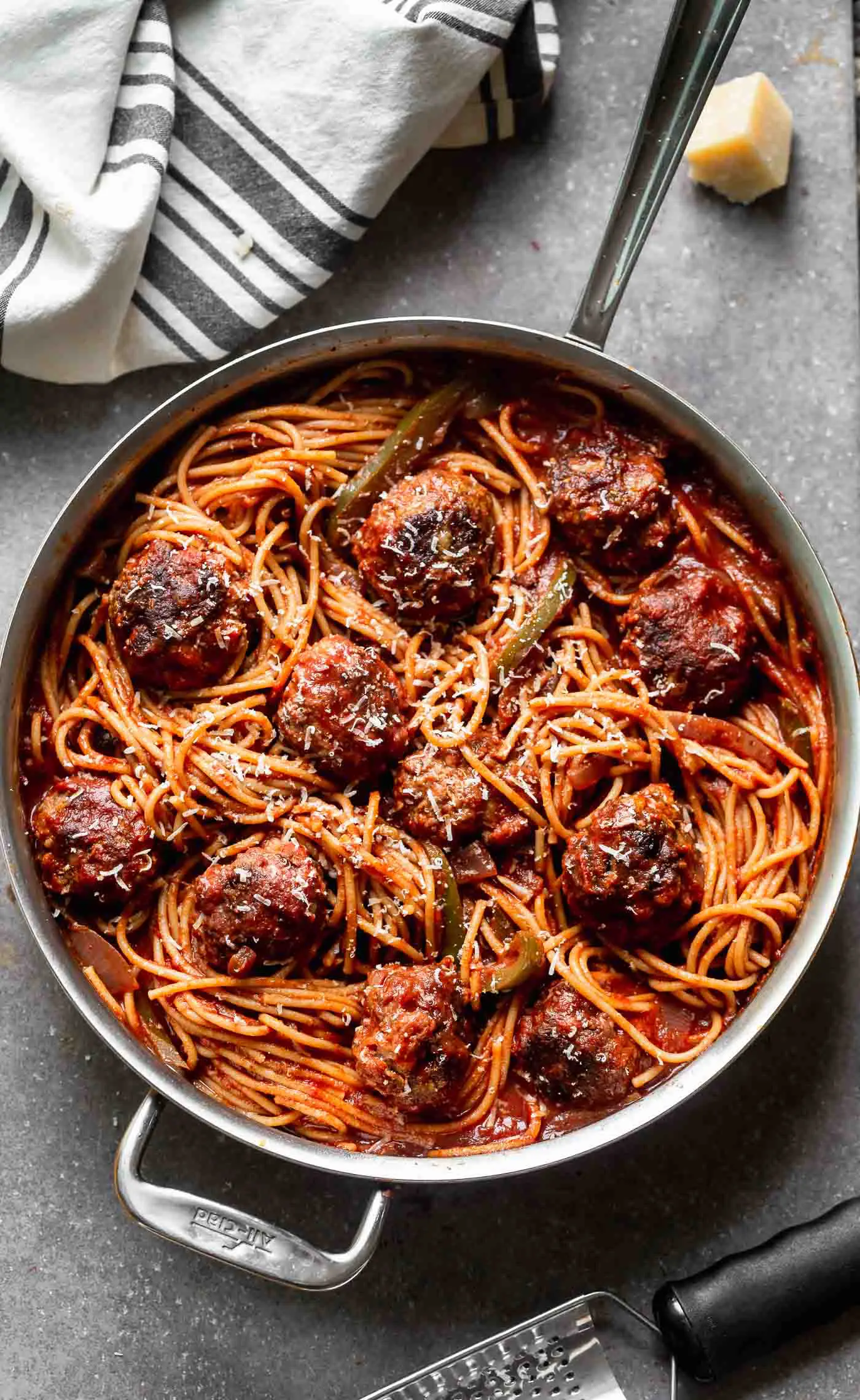 How to make the red sauce
The sauce was always where my main problem was. I could never get it to the right flavor or consistency, and after talking to my Mom and re-making it her way, I found out it was because I wasn't using red wine and I was using whole canned tomatoes instead of tomato paste, which was making for a slightly watery, less flavorful sauce.
Now, I use tomato paste in almost all of my sauces – pizza sauce, marina sauce, soups, stews – the depth of flavor it adds is unbelievable, almost like you've been letting it cook for hours and hours. Of course you don't have to let people know that wasn't the case.
Once the meatballs are done browning, transfer them to a plate and throw the sliced onions and peppers into the pan. Let them sweat a bit, then deglaze with a healthy dose of red wine. Add in your tomato paste, water, sugar, salt, Italian seasoning and garlic powder, then give it a quick stir. Transfer your meatballs (along with all those juices!) back into the tomato sauce and simmer until the meatballs are cooked through, the sauce is thick and your house smells like an Italian grandma's kitchen.
And there you have it…the best spaghetti and meatballs there ever was… the end.
Substitutions and Tips for Success
It's important to remember to just mix the meat until it's combined. Overworked meatballs = tough meatballs.
Do not move the meatballs until they're ready to turn over! Once the meatballs are perfectly brown, they will easily release from the pan.
Of course the best spaghetti and meatballs isn't completely without a big glass of vino. Choose a wine that you would like to drink, cook with it, and then drink the rest.
Save a little bit of pasta water in case you need to loosen the sauce up a little bit. I always need a little bit.
Sub out the parmesan for pecorino or your favorite cheese to grate.
Recipes similar to the Best Spaghetti and Meatballs
If you love meatballs, obviously you love meatloaf! This version is simple, and so delish!
These coconut curry meatballs are the perfect spin on a classic. Serve them with rice, whole wheat noodles, or a big serving of veggies.
These Mini Meatball Subs are perfect for entertaining! We take all of the classic flavors of today's recipe and condense them into miniature meatball bites – so delicious!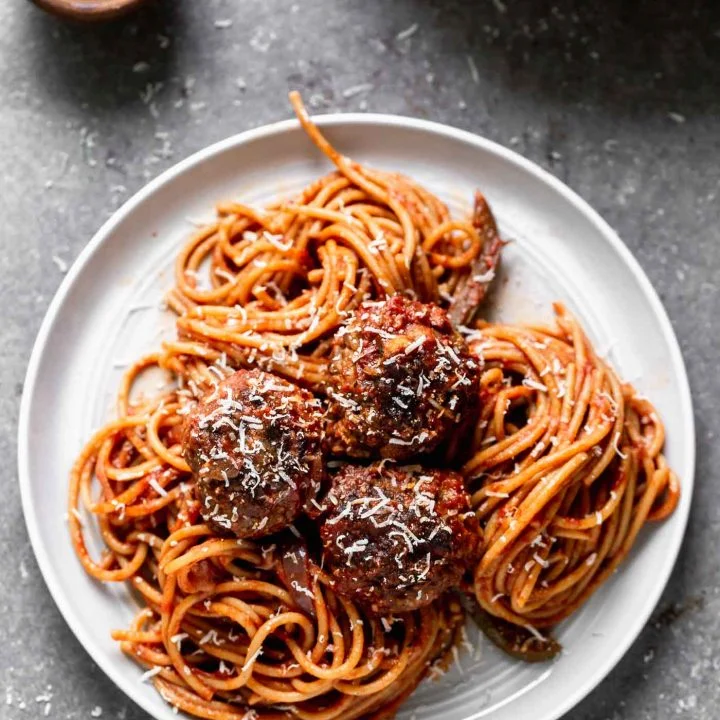 The Best Spaghetti and Meatballs There Ever Was
These are the BEST Spaghetti and Meatballs you'll ever make! Promise. The meatballs are packed with ground beef, Italian sausage, parmesan cheese, and crushed saltine crackers (the secret to tender, perfect meatballs). They're then simmered in the easiest, most delicious red wine and tomato sauce.
Ingredients
Meatballs:
1 pound ground beef
1 egg
2 Italian sausage links, removed from casing
1 cup saltine cracker crumbs (crush by hand)
1 teaspoon salt
⅛ teaspoon black pepper
1 teaspoon Italian seasoning
½ small onion, finely diced
½ small onion, grated
1 large garlic clove, grated
2 tablespoons parmesan
Sauce:
1 cup red wine
1 green pepper sliced thin
2 - 6-ounce cans tomato paste
1 small onion sliced thin
4 cans water, plus more if needed (tomato paste can)
2 teaspoon Italian seasoning
1 teaspoon salt
2 teaspoon sugar
2 teaspoon garlic powder
1 pound spaghetti
1/4 cup olive oil
Instructions
For the meatballs: Using your hands combine, ground beef, italian sausage, egg, cracker crumbs, salt, black pepper, Italian seasoning, diced onion, grated onion, garlic and parmesan. Form into 12-15 meatballs. In a large skillet, heat 2 tbsp olive oil over a medium-high heat. Brown meatballs on all sides, remove from skillet.
Reduce heat to medium, and add in sliced onion and peppers, cook for two to three minutes until slightly wilted. Deglaze pan with red wine, scraping up brown bits as you go. Reduce heat to a simmer and cook until reduced by half. Whisk in tomato paste, cook for 1-2 minutes. Add in water, Italian seasoning, sugar, salt and garlic powder. Stir. Add meatballs back into the sauce and simmer for 30 minutes, until meatballs are cooked through and sauce is thickened. If needed add a little bit more water. Season with salt, pepper and sugar.
While the sauce is simmering bring a large stock pot of water to a boil. Add a small handful of kosher salt. Cook spaghetti until aldente.
Serve with grated parmesan cheese and chopped parsley.
Nutrition Information:
Yield:

6
Serving Size:

1
Amount Per Serving:
Calories:

568
Total Fat:

23g
Saturated Fat:

8g
Trans Fat:

1g
Unsaturated Fat:

13g
Cholesterol:

114mg
Sodium:

1142mg
Carbohydrates:

49g
Fiber:

4g
Sugar:

12g
Protein:

35g