Would you just look at those beauties?? It's like Christmas in wing form!
My husband loves wings. Like love love LOVES them. I never really understood it; they're messy, they're on a bone, and they're hard to eat…not to mention they're soo bad for you, especially the boneless kind that I, naturally, prefer. But I make them because he loves them, and because I believe it's my wifely duty to give him what he wants – in moderation of course… And let's be honest he can't be too terribly fond of my incessant use of brown butter and fussed up normally simple dishes that he prefers.
With all that said, a funny thing has happened over the years; I have actually kind of taken a liking to wings – of all kinds. I like wings deep-fried and smothered in Franks hot sauce, I like wings smoked, and then baked in the oven like my Dad makes, and I like wings plain, simply dusted with a little bit of salt, pepper and cayenne. I've even gone as far as to propose eating at Buffalo Wild Wings, which I NEVER would have suggested four or five years ago.
And although I'd love to give him wings all the time, making them can be a challenge. For one, he prefers them deep-fried; and two, the deep-frying tends to perfume the whole house for days – and not in a good way.
Last weekend when I proposed wings, and let Kevin know that I was not going to be making his beloved deep-fried Franks wings, and instead was planning on baking them AND fancifing them, he gave a slight eyebrow raise, and ended with a, "Sounds great!" Even though I know he probably was thinking, "Why must she ALWAYS mess with my favorite things??" Poor guy… Good thing he loves me.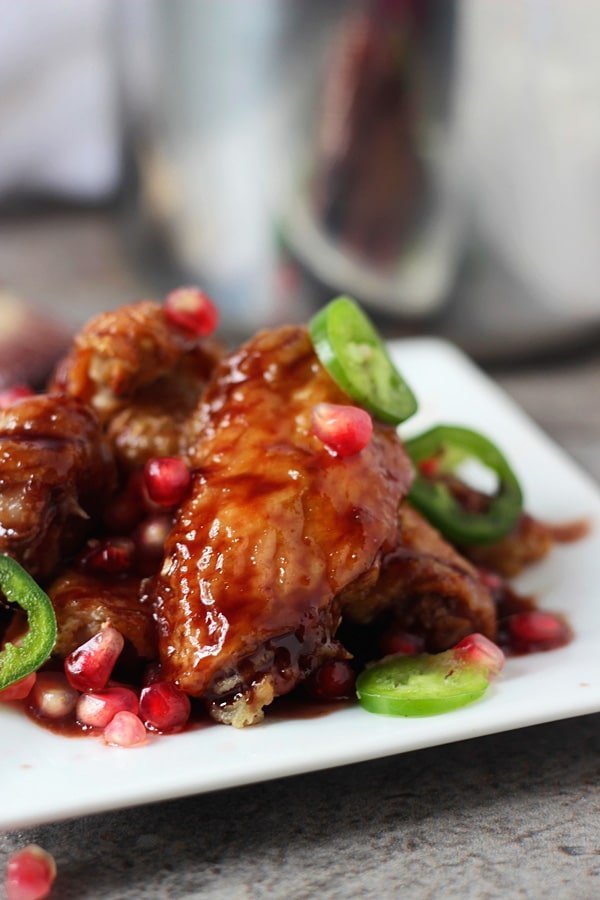 Thank the lord jesus that these turned out perfect, because the, "Sounds great!" might have turned into a, "Don't even think about it," the next time I tried to pull a fast one on a favorite food of his. And when I say they were perfect, I'm mean it, they were pure perfection. Crunchy, sweet, tangy, spicy perfection.
I'm even going to go out on a limb here and say that I will never be deep frying wings again…ever…
Instead of saucing them beforehand, I coated each wing in seasoned flour like I normally do, lined them on a greased cookie rack (skin side up) on top of a baking sheet, sprayed them with a little bit of coconut oil spray and popped them into a VERY hot oven.
Straight from the oven they were ridiculously crispy, seriously moist and juicy. Once sauced, they were still ridiculously crispy, seriously moist and juicy. Even the next day when reheated in the oven they were still ridiculously crispy, seriously moist and juicy. They were just so crispy. Even Kevin relented and confirmed that he no longer required wings deep-fried.
Baking was the healthified change, now we can talk about the fancified change. (How many words do you think I can put an ified on?)
Sweet and spicy pomegranate glaze, instead of butter and hot sauce. Oh my gosshhh.. So so good.
While the wings were getting all crispy in the oven, I was working on the aforementioned glaze which was simple. Pomegranate juice, loads of honey, garlic, onion, sirracha, balsamic vinegar and Dijon. I threw everything in a pot, turned the heat on and let her simmer away until the mixture was thick, sticky and perfuming the entire house – and in a good way this time.
Once the wings were done cooking, I poured the glaze over them while still hot, tossed it all together and then loaded them up with pretty garnishes like pomegranate seeds and thinly sliced jalapeno.
These were seriously some of the best wings I've had in my short lifetime of being a wing enthusiast. Sweet, but not too sweet. The perfect level of spice where you don't taste it immediately, but then slowly creeps up your throat after the first bite. Super crunchy skin, and perfectly juicy meat. And they're pretty gorgeous to look at too, which is always a win in my book.
Everything wonderful about wings.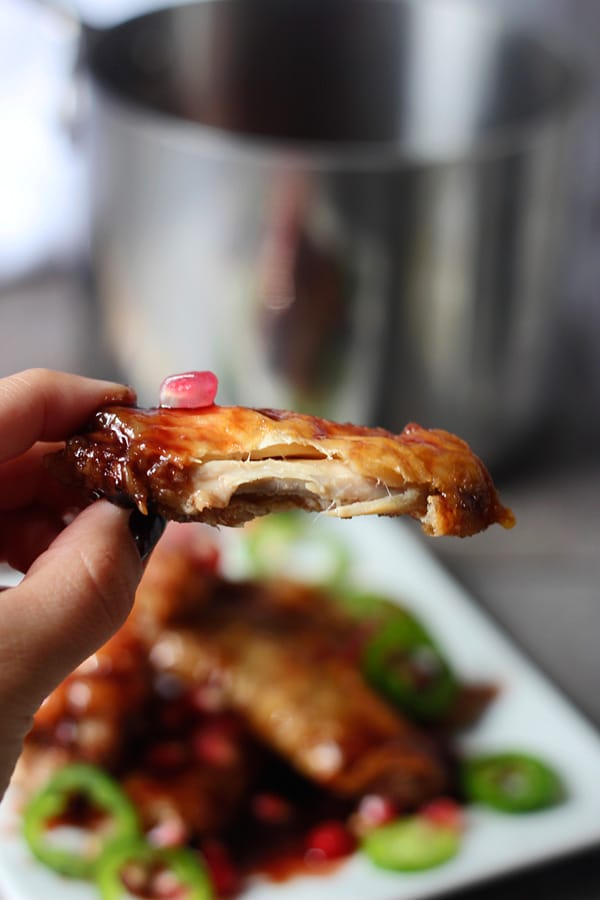 Sticky Baked Chicken Wings with Spicy Pomegranate Glaze
Author:
Nicole ~ Cooking for Keeps
Serves:
Approximately 1½ dozen
Ingredients
2 pounds chicken wings
1 cup flour
1½ teaspoons garlic powder
2 teaspoons salt
¼ teaspoon black pepper
1 teaspoon (or less if you prefer) cayenne pepper
1½ cups pomegranate juice
¾ cup honey
1¼ teaspoons sriracha
2¼ teaspoons dijon mustard
2 teaspoon balsamic vinegar
½ onion, left whole
2 garlic cloves, smashed
Sliced jalapeño and pomegranate seeds for garnish
Instructions
Preheat oven to 400 degrees.
Place a cookie cooling rack over a sheet pan. Spray rack with olive oil cooking spray or coconut oil spray.
In a large plastic bag, combine flour, garlic powder, salt, pepper and cayenne. Add chicken wings in batches and shake bag. Remove wing from bag, shaking off all excess flour. Place on rack, skin side up. Bake for about 45 minutes until crispy and cooked through.
While the wings are baking, make glaze. Whisk together pomegranate juice through balsamic vinegar. Throw in half onion and garlic cloves. Bring mixture to a boil and then reduce to a simmer until thickened and reduced by almost half, about 20 minutes. Remove onion and garlic. Set aside.
Once wings are crisp and cooked through, remove from oven and toss with glaze and sprinkle with pomegranate seeds and sliced jalapeño.