So apparently I missed National Hot Dog day this week? I'm always so behind on these food holidays. It's kind of like a repeat of middle school, when everyone would start wearing the same brand of Abercrombie jeans, shorts, shirts etc. except for me. I was kind of clueless in middle school, so by the time I figured it out, begged my Mom to buy me the $80 jeans, and she caved, everyone was already on to a new trend. I like to think I'm generally on point with the fashion scene now, but clearly I'm still lacking in the food department.
I guess a day or two late is better than never right?
While I'm technically sharing a hot dog recipe today, the actual recipe is for the relish, and is part of a project I've been working on with Vlasic® Farmer's Garden pickles. I don't know if you remember, but a while back I did another big project with them, so I was beyond thrilled when they asked me on board again. Plus, I got oodles and oodles of free pickles – yippee!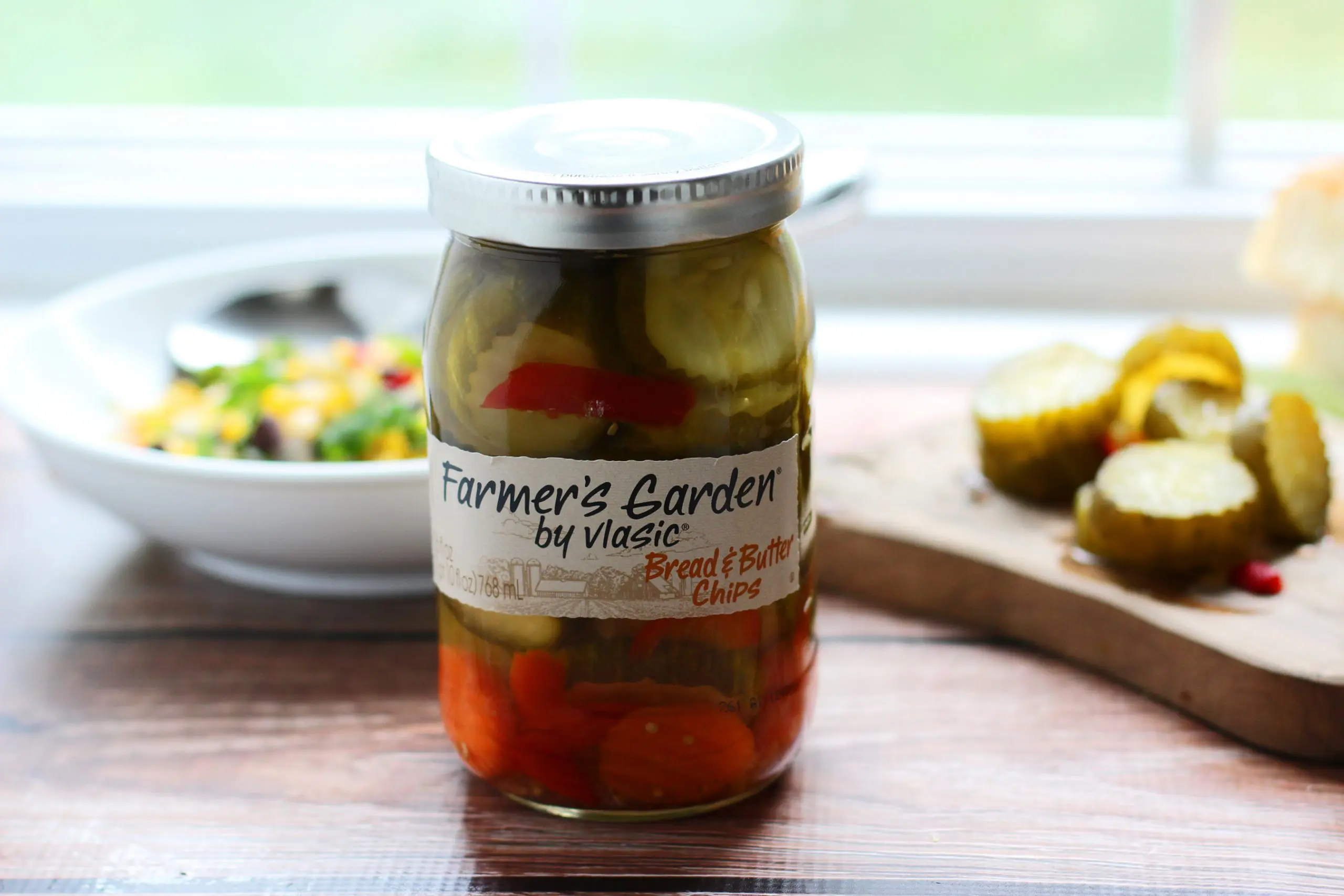 Today is part one of a four part series with Farmer's Garden pickles; in the next two weeks I'll be posting three other super yummy recipes that incorporate pickles in some way, shape or form. There are five delicious varieties of Farmer's Garden by Vlasic pickles: Zesty Garlic Chips, Bread & Butter Chips, Kosher Dill Spears, Kosher Dill Halves and Dill Chips.
The pickles we used in the relish today are the bread and butter chips, which have turned me into a bread and butter lovin' freak! I always stuck my nose up at bread and butter pickles, I didn't like anything about them, but these, these are different, they're sweet, but still tangy, which I love.
I think my love for these guys also stems from the process in which they come to be. Farmer's Garden™ by Vlasic® pickles are artisanal-quality, premium pickles, made with honest ingredients and no artificial flavors. They're also made with the finest, specially selected ingredients – deliciously ripe cucumbers, whole garlic cloves (love!), slices of red bell pepper, rounds of carrots and fresh herbs and spices – harvested at the peak of freshness.
What I love about this relish, is it's a cinch to make, coming together in about five minutes flat and uses ingredients most of us already have sitting around in the pantry. And while here, I slathered it all over a juicy all-beef hot dog, this would also be perfect smothered over grilled chicken or steak; and even be the perfect condiment to a batch of fish or shrimp tacos – the options are endless!
Check the recipe out here!
Also, as part of the Savor Simplicity Campaign, Farmer's Garden™ by Vlasic® will be offering the Savor Simplicity Sweepstakes, which offers consumers the chance to receive a custom prize pack to help savor life's simple joys. Enter to win here, and don't forget to check out the different varieties of pickles and mouth-watering recipes to go along with them!