These Teriyaki Chicken Rice Bowls are packed with sweet and spicy tropical-inspired teriyaki chicken, diced pineapple, shredded carrots, and creamy avocado. Filling, healthy, and so delicious.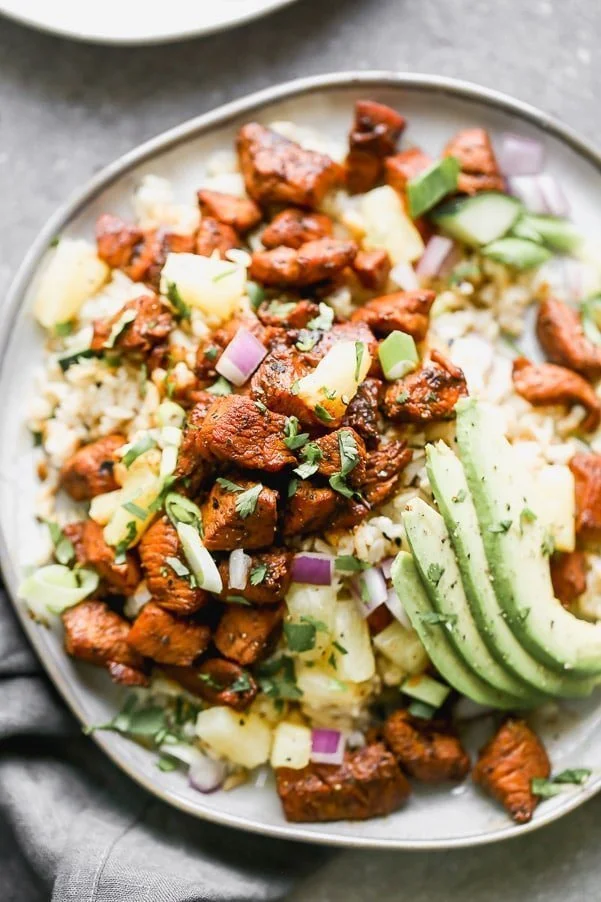 Teriyaki Chicken Rice Bowl
If you could dream up a Hawaiian meets Chinese meets Chipotle bowl, it would be these Teriyaki Chicken Rice Bowls. We've taken the same idea as a burrito bowl aka piling as many goodies on top of steaming rice, and turned it into a sort of tropical version we can't get enough of.
What we have in this particular teriyaki chicken rice bowl is, of course, teriyaki chicken, but with a twist. Instead of your standard soy, brown sugar, etc. combination of ingredients, I've thrown in lots of sweet pineapple juice, tons of grated ginger, and plenty of spicy sriracha for a significant kick of heat.
But, just like a classic Chipotle burrito bowl, the buck doesn't stop with simply rice and teriyaki chicken. To compliment the pineapple juice in the marinade, we top these bowls with plenty of diced pineapple (there's that tropical flair again), red and green onions, shaved carrots, creamy avocado, and lots of chopped cilantro.
Ingredients in Teriyaki Chicken Rice Bowls
Teriyaki Chicken Rice Bowls allow you to be the chef! While I've listed my suggested toppings, you can add whatever you want. Love black beans? Throw them in. Need a little bit of extra crunch? Sprinkle in some chopped cashews or peanuts. (We've done that and loved it.)
The teriyaki chicken
Chicken. To ensure the chicken is extra tender, I like to use chicken tenders. They're, as implied, the most tender part of the chicken breast and it's almost always what I use when the chicken is chopped upanyways.
Tamari. These days I almost always use tamari in place of soy sauce. Tamari is a little bit thicker, less salty, and richer than your average soy sauce. Of course, if you already have soy sauce on hand, go ahead and use that.
Pineapple juice and brown sugar. I love the combination of pineapple juice with brown sugar. While the pineapple juice adds a subtle sweetness and tropical flair, the brown sugar adds a more molasses-like sweetness and helps to thicken the sauce.
Ginger. You can either use freshly chopped or grated ginger, or you can also buy grated ginger in a tube. Both work great, I used the tube version for these teriyaki chicken rice bowls.
Garlic. Grated on a microplane is my preferred way to add garlic, but you can also mince it up really finely as well.
Sriracha. That kick of heat we need!
Chicken stock. You need a little bit of chicken stock to thin out the sauce, if you don't have it, you can use water.
The bowls
Brown rice. You can use whatever you want as the base of these teriyaki chicken rice bowls, but obviously my favorite item to use is rice, brown rice. We actually prefer brown rice to white rice, and I love the added fiber and nuttiness it adds to these bowls. You could also you faro, quinoa, or even chopped romaine instead.
Pineapple. Normally I'd suggest buying fresh pineapple, but since the recipe also uses pineapple juice, I like to be canned diced pineapple. Just make sure you're buying pineapple that's in 100% juice and not in a sugary syrup.
Red and green onions. Chopped fine.
Cilantro. I personally think the cilantro is mandatory, but if it's not your thing, you can swap it out for flat-leaf parsley.
Avocado. I use about half of an avocado per serving of the teriyaki chicken rice bowls. Just a little PSA. My favorite way to cut and slice an avocado is this: First, cut the avocado in half like you would normally. Twist and gently remove the seed. Instead of cutting the avocado in the skin, gently peel the skin off. Then you an lay the avocado flat, slice it as thin as you want and then fan it out.
Nuts. When I photographed these teriyaki chicken rice bowls, I left out the nuts! Whoops. When we had them leftover (They were delicious leftover by the way.), we sprinkled them with spicy chopped cashews, but any cashew, peanut or even macadamia nuts will work great.
How to Make Teriyaki Chicken Rice Bowls
Cook the rice. When I want that sticky rice consistency that mimics a restaurant, I always use my rice maker. It's a pretty compact tool, and seems unnecessary, but I promise, once you've tried rice from a rice cooker, you want want to go back! Brown rice takes about 45 minutes to cook, so just keep that in mind when you're prepping dinner.
Marinate the chicken. When the rice is about 20 minutes shy of being done, add the tamari, pineapple juice, garlic, and ginger to a medium bowl. Add the chicken. Toss until combined. Let it marinate for 10-30 minutes.
Cook the chicken. Heat a large skillet or wok to a high heat. Add a little bit of sesame oil to the bottom of the pan. Add chicken to the hot oil, stir fry until cooked through, about 3-4 minutes. If needed, work, in two batches so you don't overcrowd the pan. When the chicken is done cooking, add the chicken stock and the rest of the sriracha.
Assemble the bowls. While the chicken cooks, prep all your ingredients. Spoon rice into bowls. Top with chicken, onions, cilantro, pineapple, carrots and avocado.
Can Chicken Teriyaki Rice Bowls be made in advance?
Yes! I eat these cold right about the fridge. Make everything ahead of time and store in the fridge. You can store everything separately or go ahead and make the bowls and pull them out to eat for lunch.
Substitutions and Tips and Tricks for Recipe Success
These Teriyaki Chicken Rice Bowls would also be great with shrimp.
Add in your favorite nuts. Spicy cashews, salty peanuts, or macadamia nuts would be my preference.
Swap out the brown rice for quinoa, lettuce, or faro.
Other great additions would be black beans, edamame, or even scrambled egg.
If you're into these bowls, check out these other similar recipes!
Teriyaki Chicken Rice Bowls
These Teriyaki Chicken Rice Bowls are packed with sweet and spicy tropical-inspired teriyaki chicken, diced pineapple, shredded carrots, and creamy avocado. Filling, healthy, and so delicious.
Marinating time
15
minutes
Total Time
1
hour
5
minutes
Ingredients
2

cups

cooked brown rice

1 1/4

lb

chicken tenders, cut into bite-sized pieces

10

oz

pineapple chunks in 100% juice

2

tsp

brown sugar

1

tsp

minced ginger

1

large

garlic clove, grated

2

tsp

ketchup

2

tbsp

soy sauce

1/4

tsp

fish sauce

1

tbsp

sesame oil

1/2

cup

chicken stock

2

tsp

sriracha

1/2

cup

diced red onion

2

green onions, sliced

2

avocados, sliced

1/4

cup

chopped cilantro

3/4

cup

shredded carrots

1/4

cup

cashews, roughly chopped
Instructions
If you need to cook your rice, do so first.

Whisk 1/4 cup of the pineapple juice from the can, brown sugar, ginger, garlic, ketchup, soy sauce, and fish sauce together. Season the chicken with salt and pepper. Add to the marinade. Marinate for 10-15 minutes while the rice cooks.

Heat a large skillet or wok to a medium-high heat. Once the skillet is hot, add the chicken. (If needed, work in batches so you don't overcrowd the pan.) Stir-fry the chicken until brown and cooked through, about 3-4 minutes. If working in batches, repeat with remaining chicken. Once the chicken is cooked, add it all back to the pan and pour in the chicken stock. Use a spoon to pick up any brown bits at the bottom of the pan. Add the sriracha. Toss to combine. Season chicken with salt and pepper.

To assemble the bowls, spoon about 1/2 cup of rice into the bowl. Evenly divide chicken between bowls. Sprinkle the onions, pineapple, cilantro, and nuts on top. Fan out avocado on the side. Dig in!
Nutrition Facts
Teriyaki Chicken Rice Bowls
Amount Per Serving (1 bowl)
Calories 464
Calories from Fat 189
% Daily Value*
Fat 21g32%
Cholesterol 73mg24%
Sodium 674mg29%
Potassium 1077mg31%
Carbohydrates 40g13%
Protein 31g62%
Vitamin A 3402IU68%
Vitamin C 39mg47%
Calcium 39mg4%
Iron 2mg11%
* Percent Daily Values are based on a 2000 calorie diet.
(Visited 2,220 times, 1 visits today)