This Tomato Butter Roasted Salmon with Cherry Tomatoes and Peppadews, is an easy weeknight dinner that's upscale enough for a dinner party. Even better? It comes together in 30 minutes.
Just as I can find approximately 2,258 ways to cook pasta, I can also go the "healthy route," and find 2,258 ways to cook salmon – I fish I hold in almost as high regard as my starchy, carb weakness.
This Tomato Butter Roasted Salmon with Cherry Tomatoes and Peppadews is the 2,259th way I've cooked salmon in my 30.5 years of life, and it's one of my favorites to date. (Although I'm pretty sure I say that about 90% of the recipes I share here.) It requires minimal ingredients (only seven, almost half of which are staple items), a ridiculously easy prep, and cooks in about 15 minutes. It's sweet, rich, buttery, slightly spicy, and the perfect weeknight family meal that feels fancy enough to eat on a Friday or Saturday night.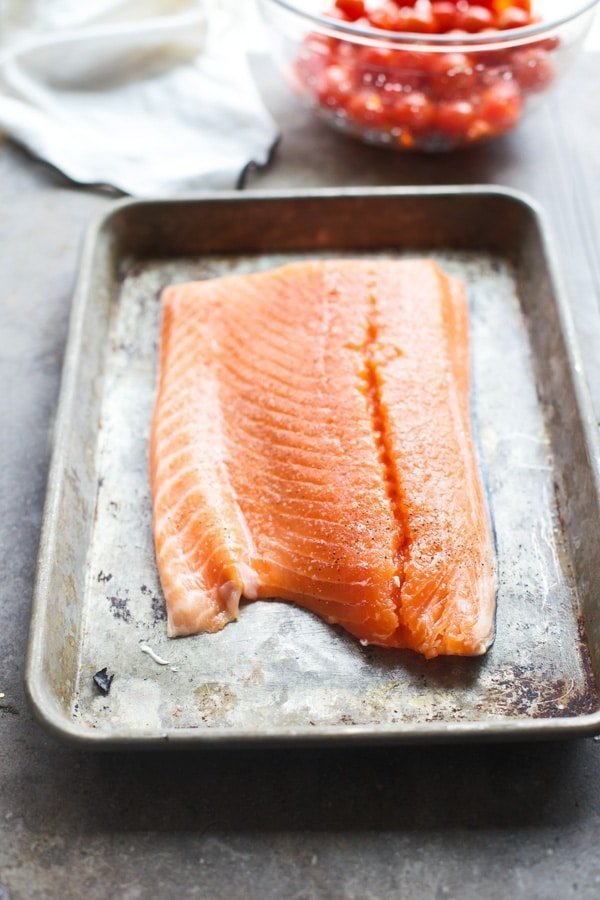 The recipe is sort of an adaptation on two family favorites. The first one is a broiled tilapia my Mom has made since I was a kid. She mixes softened butter, parmesan cheese, hot sauce, and a little bit of lemon juice together to make a compound butter of sorts, then slathers it all over individual filets of tilapia. The fish goes in the oven under the broiler and comes out a mere ten minutes later, perfectly charred, bubbly and melt-in-your-mouth delicious.
To this day it's one of my favorite ways to eat tilapia, so I thought, why not apply the same method to one of my other favorite ways to eat fish which is a blackened filet of pretty much any kid of fish topped off with a simple tomato compound butter.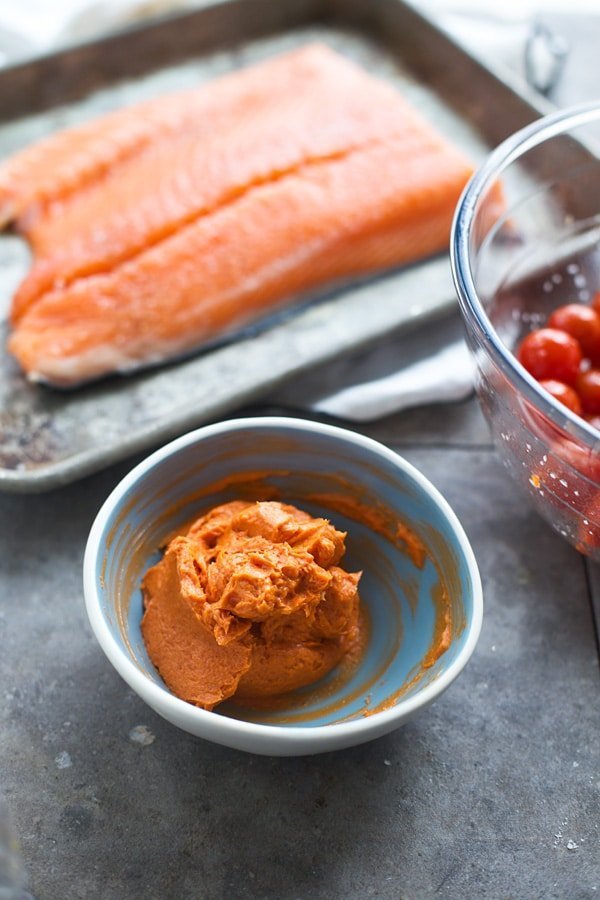 When making compound butters, you want to make sure your butter is room temperature, otherwise, the ingredients don't mix as smoothly, and you'll end up with a clumpy mess. So if you can, remember to set it out a little bit earlier in the day, if you forget, no big deal, just pop it in to the microwave in five-second increments until it's soft enough to work with. I also like to make sure my fish has sat out for 10 minutes or so, so the topping glides on easily, if the fish is too cold, the butter will seize up and become clumpy, and you want a nice even coating to cover every nook and cranny of the fish.
The butter itself is simple: softened unsalted butter, tomato paste, a little bit of sugar, garlic powder and salt – that's it. Once the butter is slathered on to the salmon filet, the outskirts of the pan are scattered with seasoned cherry tomatoes and peppadew peppers. The combination of the tomatoes and peppers may seem like a strange choice, but I wanted something else acidic and slightly spicy to go with the tomatoes, and peppadews add that perfect little something I was looking for. You can buy a whole jar, but since the recipe only requires a modest amount, I'd suggest using the bulk olive bar to get an exact amount. If, your store doesn't sell them in bulk, then may I suggest using the leftovers, to make this easy recipe for your next party.
Once everything is situated, the whole is popped in to the broiler on the lowest rack, cooked for about 8 minutes or so, then moved to the top rack to finish cooking a get that caramelized crust everyone will fight over once the salmon hits the table.
What happens during the cooking process is, some of the butter from the top of the salmon seeps down in to the pan, creating a sauce of sorts to coat the tomatoes and peppers. I like to pile up my plate with a little bit of herbed orzo, then spoon the salmon, along with the tomatoes, peppers, and accumulated sauce on top. If you want, you could garnish with some slivered chives, but I don't think it's necessary.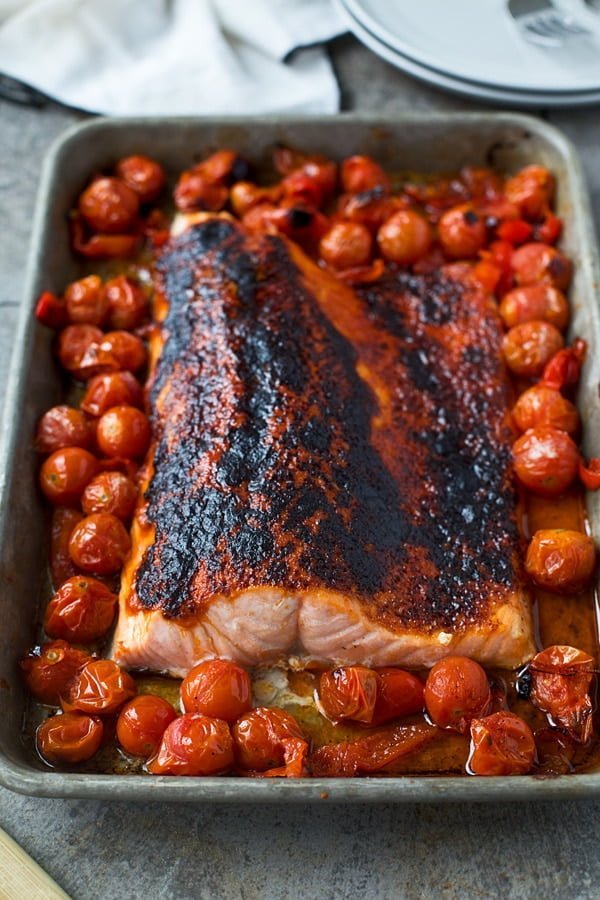 For more easy salmon recipes, check out these posts:
Easy One Pan Greek Salmon
Sweet and Sour Baked Salmon
Seared Salmon with Chipotle Honey Lime Butter
Tomato Butter Roasted Salmon with Cherry Tomatoes and Peppadews
This Tomato Butter Roasted Salmon with Cherry Tomatoes and Peppadews is an easy weeknight dinner that's full of flavor!
Ingredients
5

tbsp

softened unsalted butter

1

tbsp

tomato paste

1/4

tsp.

garlic powder

1/4

tsp.

sugar

1/2

tsp.

salt

divided

1 1/2

lbs.

skin-on salmon filet

11

oz.

cherry tomatoes

1/3

cup

sliced peppadew peppers

2

tsp.

olive oil

1/8

tsp

pepper
Instructions
Preheat oven to 550 degrees (or broil). Place one oven rack on the bottom third of the oven, and put the other rack on the top third of the oven. Grease a medium baking sheet with non-stick cooking spray.

Add softened butter, tomato paste, garlic powder, sugar, and 1/4 tsp. salt to a medium bowl. Mix until completely combined.

Add salmon to the prepared baking sheet. Season with salt and pepper. Spread softened butter on to the surface of the salmon.

Add tomatoes and peppadews to the same bowl you mixed the butter in. Add olive oil, remaining salt and pepper. Toss until everything is completely coated. Scatter the tomatoes and peppers around the salmon.

Add salmon to the bottom third of the oven. Bake for 10 minutes. Transfer to the top of the oven and bake another 3-4 minutes or until the top is caramelized and bubbly.

Serve Portion salmon into 4 pieces. Serve over orzo or rice.