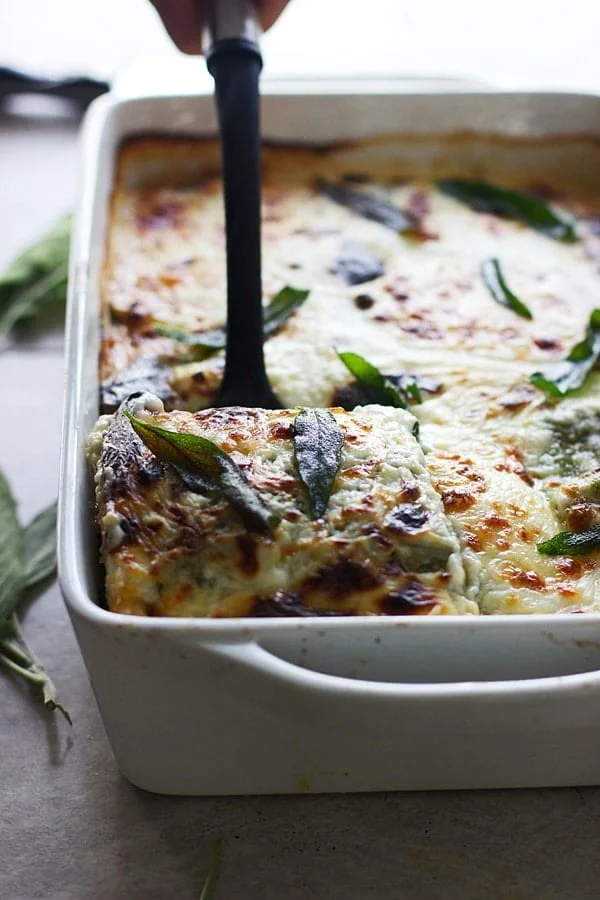 I'm going to make a bold statement here. This could quite possibly be one of the best recipes I've developed…ever.
There I said it.
Picking a favorite recipe within the depths of my archives is nearly impossible. While I don't yet have children of my own, I'd equate it to choosing a favorite child – it can't be done; you love each one unconditionally and for different reasons, but equally nonetheless. Each recipe here, developed from start to finish is a labor of love, whether it took one attempt and 30 minutes of my time, or four attempts and nine hours of my time.
Before you proceed on to make said recipe I need to give you a couple of disclosures:
1. This recipe is not for you if getting a meal from the stove to the table in under an hour is your priority (although I'll give you some shortcuts so it can be).
2. This recipe is definitely not for you if you're on one of those New Year diets. With three different kids of cheese, a creamy béchamel sauce and loads of fresh pasta, this is definitely a dish that requires indulging.
I know this time of year is allll about healthy eating, and quinoa this and skinny that, but I absolutely could not wait any longer to bring this from a scribble in my journal to real life, and on to your computer screen. Plus, Sundays are still for indulging right?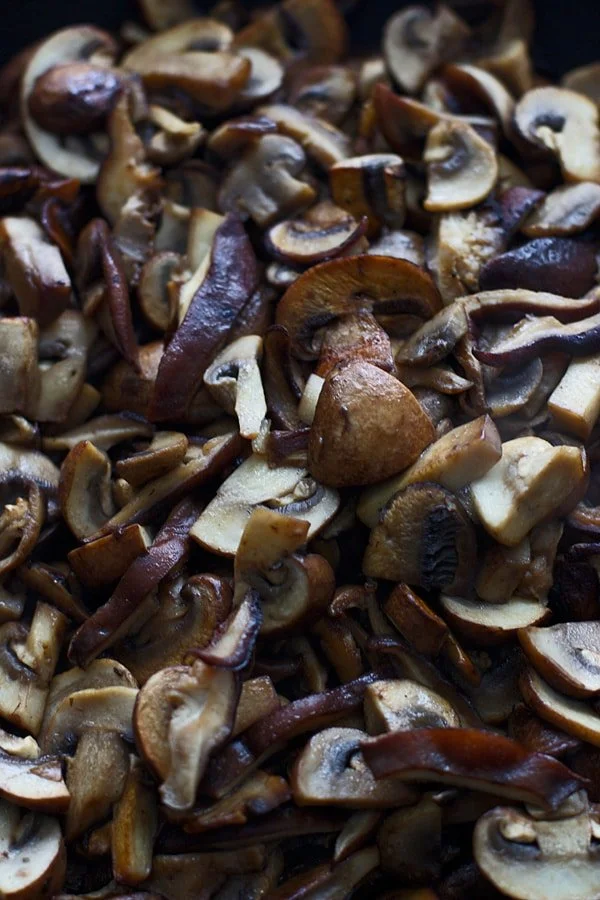 When I say each recipe of mine is a labor of love, I mean it, but this one…. this one definitely takes the cake. I'm not going to lie; this is an incredibly involved recipe. It requires time and patience on your behalf. You may get frustrated with me, and that's ok, the end result will have you thanking me…as long as you're a mushroom lover…. And just in case spending a few hours preparing a dish isn't your thing, I have a few shortcuts that will facilitate in getting to the finished product much, much faster.
I know people have very strong feelings towards mushrooms – some people hate them with gusto, and some can't get enough of them. I used to fall into the category of don't-bring-those-fungi-near-me-with-a-ten-foot-pole, but sometime in my adolescence – perhaps during one of the five years your taste buds change – I had a drastic change of heart. Now I adore mushrooms. I'll easily eat them on their own, sautéed in a little bit of butter, but man, throw them in a lasagna with copious amounts of cheese and béchamel sauce and I'm DONE.
As this is a mushroom lasagna, of course we start with mushrooms – a LOT of mushrooms. Traditional button mushrooms, baby portabella mushrooms and my favorite – shitakes. All mushrooms have a significantly large water content, and tend to shrink down to about half their size after the cooking process is complete, so when you see how many mushrooms I'm asking you to cook (just shy of three pounds) your eyes may pop out of your head a little – do not panic.
The mushrooms are sautéed in batches in a little bit of butter and olive oil until most of them are nice and brown and starting to wilt. Once the mushrooms have browned and shrunk in size, they're combined into one pan and hit with a good amount of salt, a couple tablespoons of freshly chopped sage and a generous splash of dry sherry.
The next component of the lasagna that makes this one of the best dishes I've ever made, is fresh ricotta. And don't hate me but….I made my own. You absolutely do not have to do this, I just like controlling the fat and salt content, plus it's SO easy to make, so I don't find it to be a nuisance to make myself. You can of course buy store-bought, but if you're taking the time to make your pasta (Oh I didn't tell you there's freshly made pasta in this??? Oops.), you might as well go all out.
Making homemade ricotta was one of the most ah-ha! moments I've had in my cooking experiences, as there are only four mind-numbingly easy steps to ricotta heaven.
1. Bring milk (sometimes cream is also used) to a boil
2. Add in lemon juice or some sort of acid and salt.
3. Stir until the milk curdles.
4. Strain into a sieve lined with cheesecloth or, if you're like me and lose everything – paper towels.
Easy right?
Ok so, moving on. Homemade spinach pasta. We talked about how to make this on Wednesday, so I would delve too much into it. It's easy. It's not too terribly time consuming. It's so worth the extra effort.
Finally, the last "homemade" component of the dish – creamy béchamel. To me, no lasagna is complete without at least one layer of béchamel. I love the creaminess it gives lasagna, plus here, it aids in cooking the pasta sheets. While most times I'll throw in a spoonful of Dijon mustard or a pinch of nutmeg, here I just simple made a roux with butter and flour, whisked the milk in and seasoned very simply with salt and pepper.
So! Now assembly. Here's the order:
1. Layer of béchamel
2. Layer of pasta
3. Layer of mushrooms
4. Dots of ricotta
5. Sprinkle of fontina
6. Layer of béchamel
7. Layer of pasta
8. Layer of mushrooms
9. Dots of ricotta
10. Sprinkle of fontina
11. Layer of béchamel
12. Layer of pasta
13. Layer of béchamel
14. Sprinkle of fontina
15. Layer of fresh mozzarella cheese
Now, if you want to take a shortcut you can buy fresh pasta sheets at your grocery store and buy store-bought ricotta. Those are the two ingredients that require the most elbow grease, so eliminating the cooking process will probably save you an hour or so in the process.
Whew…I'm spent.
Triple Mushroom Lasagna with Ricotta, Sage and Fontina
Triple mushroom lasagna fit for a special occasion.
Ingredients
1 batch spinach pasta
2 cups shredded fontina cheese
8 ounces fresh mozzarella cheese, cut into slices
Mushrooms
10 ounces button mushrooms, sliced
24 ounces baby portabello (cremini) mushrooms, sliced
10 ounces shitake mushrooms, sliced
2 tablespoons butter
3 ½ tablespoons freshly chopped sage
½ cup dry sherry
½ teaspoon salt
Ricotta
3 ½ quarts whole milk
4 tablespoons lemon juice
1 teaspoon salt
Béchamel
4 tablespoons butter
4 tablespoons flour
4 cups warm whole milk
½ teaspoon salt
Plus more to taste
Instructions
Preheat oven to 350 degrees.
For the mushrooms:
Heat two large non-stick sauté pans to a medium-high heat. Add one tablespoon of butter into each. Add mushrooms. Toss in butter. Let mushrooms brown, stirring occasionally. This should take about 7-10 minutes. Once the mushrooms are brown and slightly reduced in size, combine them all into one pan. Add the sage, sherry and salt. Simmer until sherry has reduced. Season with salt and pepper if necessary. Set aside.
For the ricotta:
Line a sieve with cheesecloth or paper towels. Pour milk and salt into a large pot. Bring the milk to a boil, and then reduce to a simmer. Add in lemon juice and using a wooden spoon, stir until the mixture separates and you are left with curds. Once the mixture is completely separated strain into cheese-cloth lined sieve. Let strain until ready to use.
For the béchamel:
In a medium sized sauce pan, heat butter over a medium heat. Whisk in flour, cook one minute. Slowly whisk in milk, making sure to get all lumps out. Add salt. Bring to a boil and reduce to a simmer until thickened, about five minutes. Season with salt and pepper if necessary.
For assembly:
Spray a rectangle 13x8 baking dish, with non-stick cooking spray. Spread an even layer of béchamel on the bottom of the pan. Top with a layer of the spinach pasta. Spread half of the mushrooms over the pasta, followed by half of the ricotta. Sprinkle with ⅓ of the fontina. Top with another layer of béchamel. Repeat once. For the last layer, place another layer of lasagna sheets on top of béchamel, pour remaining béchamel on top, following by the remaining fontina. Lay slices of mozzarella of top.
Cover with foil and bake for 40-45 minutes or until the lasagna sheets are cooked and the cheese is melted. Remove the foil, turn the oven to broil and place back in the oven until the top is golden brown and bubbly.