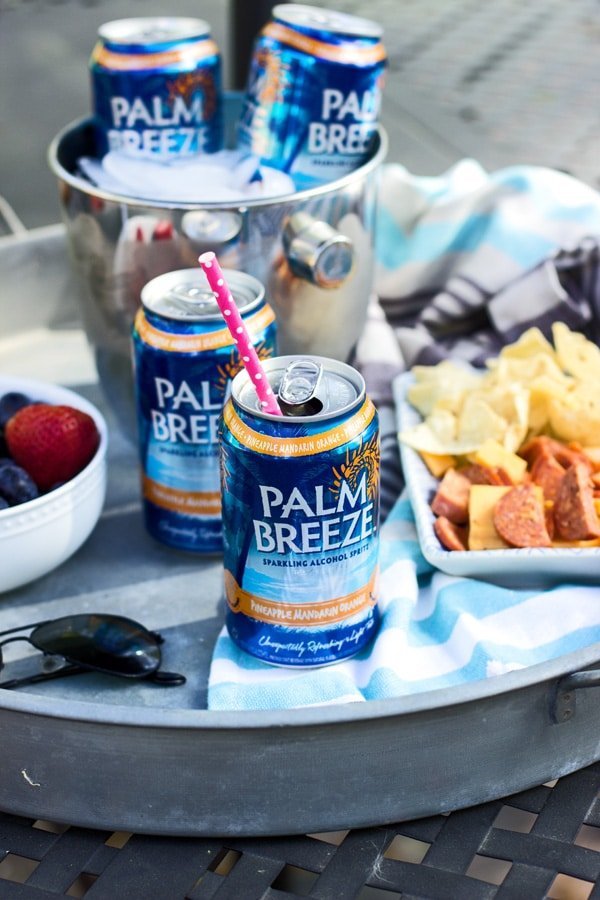 It's right about this time of year I get the itch.
The itch for a serious beach vacation.
If you know me at all, you know I love to travel, more specifically; I love to travel to beaches where I can point my face towards the sun, sip on a drink and just relax. It's where I'm most at peace. There's just something about being on vacation that carries all your anxiety and worries away like nothing else does – even a ninety minute long massage.
Kevin and I make it a point to travel as frequently as we can, but this year we're trying to taper our travel down just a bit and save a little bit more, because the way I like to travel (to put it mildly) is expensive. But! Just because we're planting ourselves in the Midwest doesn't mean we can't bring the vacation to us.
We've made it sort of tradition during the warm summer nights to bring the party to us, and have a sort of "staycation" at home in our screened-in porch. Sometimes we have friends over, sometimes it's just the two of us, but we always turn on some music, sip on drinks, nibble on snacks and just relax.
Palm Breeze, a brand spankin' new sparkling alcohol spritz I've fallen in love with is exactly the kind of refreshment I reach for on those warm screened-in porch summer nights. It's effervescent (which I LOVE) and fruity; sweet but not too sweet (a must for me), and totally brings that #VacayEveryDay mantra to life. For this particular "staycation" I went with the Pineapple Mandarin Orange flavor, but I've had the Ruby Red Citrus and it's just as thirst quenching and delicious. I recommend stocking up on both…
To keep things simple and stress-free as possible, I just put out a bowl full of summer berries, some extra-sharp good-quality cheddar, Kev's favorite thick-cut pepperoni and plenty of salty tortilla chips to nibble on. A pretty straw and my favorite sunnies complete the ensemble.
Now, get to your closest liquor store and create your own staycation!!
This post was sponsored by Palm Breeze through their partnership with POPSUGAR. While was compensated through POPSUGAR to write a post about Palm Breeze, all opinions are my own.

Please drink responsibly!