Contrary to what the pictures show on today's post, I've started a detox.
And sadly, this little piece of heaven isn't included in it. Bummer, I know? Wouldn't it be nice if we could "detox" and lose weight eating things that looked like this cake? Maybe in a world where nothing cost money, every day was a holiday, and the temperature was always a delightful 85 degrees. What a wonderful world that would be.
I'm sure you're thinking, how can a food blogger do a detox and still um be a food blogger?
Answer: She pawns all of her goodies off to other people. (She also sneaks bites of cake and justifies it by eating a handful of sunflower seeds to "balance things out.")
I've been majorly procrastinating getting into shape and changing my eating habits since January, not that they were horrible to begin with, they just aren't going to whip me into the wedding shape I long to be in.
So here I go…. Wish me luck! I'll keep you posted throughout the week on how it's going…or not going.
Let's move on to fun stuff, like this cake.
This is everything a detox is not – delicious, buttery, nutty and sweet. Ugh, remind me why I put myself through this again??
Oh yeah, wedding weight. I'll need to repeat that to myself a few more times. Wedding weight. Wedding weight. Wedding weight!! Ok, better.
So let's start with the buttery and nutty part. Typically cakes require that butter be softened so it can in turn be creamed into sugar. Now we know from here and here that the way we make brown butter is to melt it and then brown it over the stove, so obviously it's no longer in the "softened"state. BUT if we cool it down and stick it in the freezer and watch it very carefully we can ALMOST get it back to its velvety softened self.
Have you ever seen a more breathtaking (food-wise) sight than browned butter and sugar intertwined together?
I think not.
Because browned butter dotted throughout cake isn't decadent enough, we've sliced some pears and bathed them in a little liquid gold, which is just more brown butter and brown sugar. We arrange them ever-so delicately in the bottom of a round cake pan that's been heavily buttered and floured, then wait until they are ready to receive a blanket of brown butter batter.
That's a mouthful.
If you're drooling right now, you should be.
I was hoping and praying that this cake would come out as incredible as it did in my head…and it did. The cake itself is ever-so-slightly sweet yet tangy, with just a hint of nuttiness from the brown butter.
The caramel from the pear seeps into the cake while baking, making for a moist, yet crumbly crumb when cut into. At first bite, it feels light and airy at the same time – a winning combination.
Enjoy a slice at breakfast with a nice cup of hot coffee or straight out of the oven with a big scoop of vanilla ice cream for dessert – or if you're in detox mode like I am, sneak a piece when no one's looking…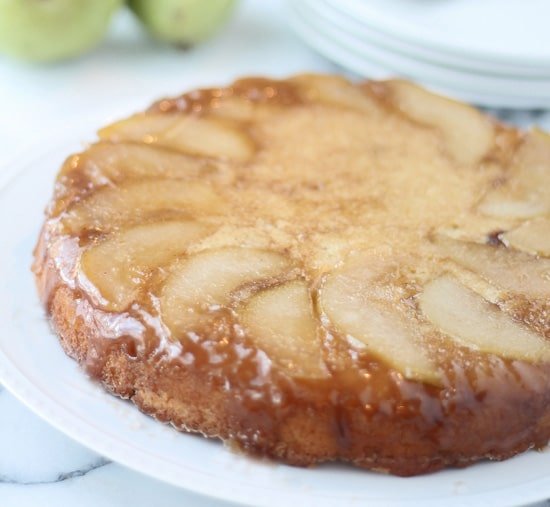 Brown Butter Upside Down Pear Cake
Author:
Nicole-Cooking for Keeps
Ingredients
3 tablespoons butter
1 tablespoon water
½ cup brown sugar
Pinch of salt
1 pear, halved. Cored and thinly sliced
1 stick butter, divided and softened
½ cup sugar
2 eggs
¼ teaspoon vanilla
½ cup buttermilk + 3 tablespoons buttermilk
1 ½ cups all-purpose flour
⅓ teaspoon salt
½ teaspoon baking soda
1 teaspoon baking powder
Instructions
Preheat oven to 350 degrees. Butter and flour a 9 inch round cake pan. For the pears.
Melt three tablespoons of butter in a large sauté pan over a medium heat. Add water and brown sugar, cook over a medium heat until brown sugar is dissolved, about three minutes. Reduce the heat to medium-low and add pears. Cook another two minutes. Set aside.
Melt four tablespoons of butter in a small saucepan over a medium heat, swirl butter until it begins to brown and smells nutty. Pour into a bowl and stick in the freezer for about 10 minutes until it becomes a consistency close to softened butter. (you may have to stir every five minutes to make sure it doesn't freeze)
Whisk flour, salt, baking soda, and baking powder together in a medium bowl.
Cream softened butter and softened brown butter with sugar in the bottom of a stand mixer over a medium-high speed until combined, about three minutes. Reduce speed to low and add eggs one at a time, until each is incorporated. Add vanilla.
With the mixer on low, add flour and buttermilk in three batches, alternating first with the flour and then buttermilk. Mix until combined.
Arrange pears in the bottom of the greased cake pan. Pour the caramel over.
Working carefully, dollop the batter over the pear mixture and spread the batter carefully and evenly over the pears, making sure not to move the pears.
Bake for 25-30 minutes or until a wooden skewer comes out with just a few crumbs attached.
(Visited 72,297 times, 14 visits today)