This Creamy Pappardelle with Leeks and Peas is the first in a series of posts sponsored by AE Dairy, where I will be discussing the company and their products, as well as sharing some delicious recipes! Thank you for supporting the brands we love!
Not only is today an exciting day because I'm sharing this ultra creamy pappardelle (my favorite dried pasta) with spring veggies and further solidifying my infatuation with all things spring, but it marks my first post in a series, where I will be partnering up with AE Dairy. For those of you that don't know, AE is a family-run dairy that sells their products here in the Midwest. I've grown up eating everything from their yogurts, to their cottage cheeses (there are several!), pre-made dips and beyond, so I'm thrilled to be able to unabashedly gush about them on the blog.
I had always assumed they were based in some large far away city, but they are actually headquartered only a few short hours away in Des Moines, Iowa. Even the farmers who supply the milk to AE are local to Iowa and are no more than two hours from the dairy. I was lucky enough to tour the plant and meet with CEO Miriam Erickson Brown and Kim Peter (the Director of Marketing) a few weeks back, where I learned an infinite amount of valuable information about the company, and of course, got to try an insane amount of yogurts, cottage cheeses and dips – it was pretty much the best day ever.
So, first and foremost, their product is FRESH. Like straight-from-the-farm-to production-to-shelves fresh. Every truck-full of milk is tasted by the employees immediately upon arrival, and if anything is off about it, it's sent back, no exceptions – although I'm told this rarely happens since just like AE, the farmers they work with are equally as passionate about producing a stellar product.
Aside from the wonderful tasting product, what I love most about AE Dairy is the passion everyone there has for dairy. Honestly, just by talking to them for a few short hours, it's easy to see they not only believe and love the company, but they truly love and stand by every single product. Most of the employees have been working there for 30 plus years, and that's a true testament to the kind of company it is.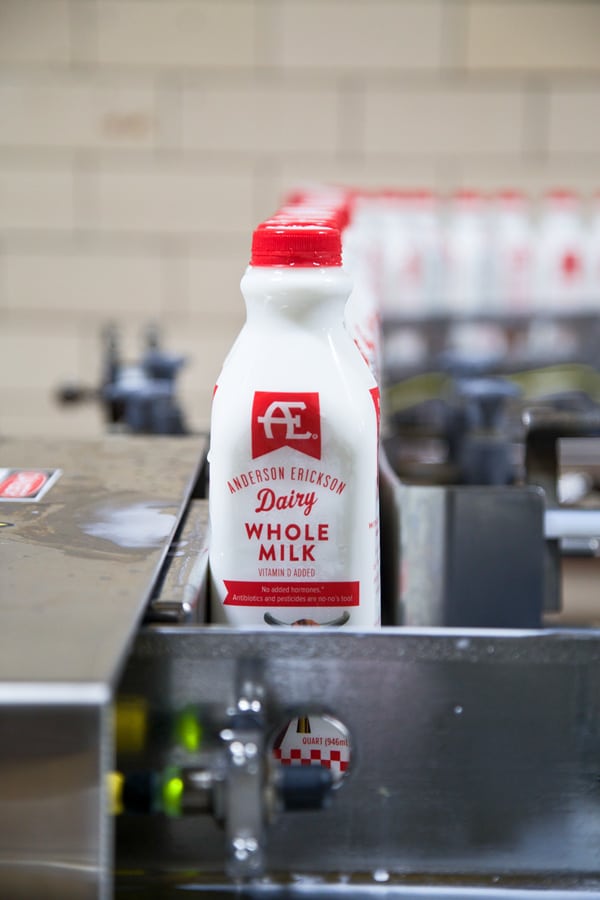 The product I'm using today, heavy whipping cream, is probably the product I use most regularly. I'm constantly adding a splash of cream to sauces and soups for a finishing touch, so it's something I always try to have on hand. In today's case, it actually plays a more crucial role as the main component in the creamy, cheesy sauce.
AE heavy whipping cream is superior to a lot of others on the market because it is composed of 40% butterfat versus most other companies with a butterfat of 36%. Basically this means you get a creamier product that whips up faster and maintains its texture longer. Also, all AE Dairy milk is free from antibiotics, pesticides and added growth hormones, so not only is it great tasting, but you can rest easy knowing it's as pure as you can get.
This is one of those pastas on heavy rotation in our house for its quick- cooking and minimal ingredients. Depending on the season, I'll change up the veggies or protein, so since we're in the midst of beautiful spring, I used two of my favorite green veggies – leeks and English peas.
The base starts off by sautéing the leeks in a scant amount of butter until they're slightly soft, then the peas go in, along with a little bit of garlic. From there things, come together pretty quickly, the cream goes in, it's simmered for a few short minutes, and then a handful of parmesan cheese is whisked in until it melts.
Once the pasta is done cooking, it's transferred to the creamy sauce and veggies, tossed and if necessary (I almost always think it's necessary), a spoonful of the starchy pasta water is added in to loosen the sauce up.
A final sprinkle of salt and pepper to taste is the finishing touch and this easy, creamy pasta is ready to hit the table.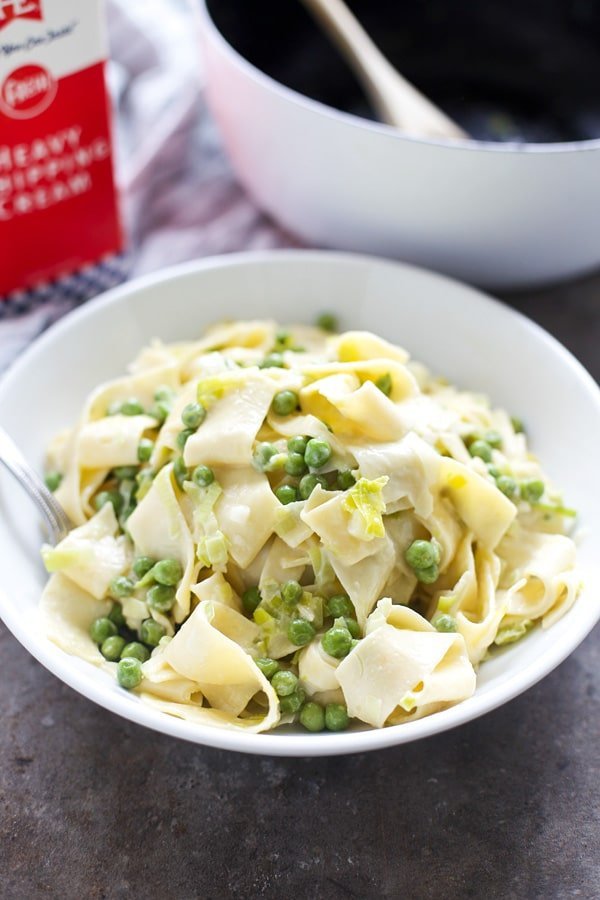 Creamy Papparadelle with Leeks and Peas
This creamy spring pappardelle is full of leeks, English peas and a cheesy sauce that takes mere minutes to throw together. It's easy enough for a busy weeknight, but fancy enough for the weekend!
Author:
Cooking for Keeps
Ingredients
1 Tbsp. unsalted butter
2 leeks, sliced (about 3 cups)
½ tsp. salt
2 garlic cloves, minced
1½ cups fresh English peas
1 cup AE Heavy Whipping Cream
½ cup parmesan cheese (plus more for garnish)
8 oz. egg pappardelle
Instructions
Bring a large pot of water to a rolling bowl. Season liberally with salt. It should taste like the sea.
Heat a large pan to a medium heat. Add butter. Once butter melts add leeks and salt. Use a wooden spoon to coat the leeks in the butter. Sauté until leeks are soft and fragrant, about 5 minutes.
Once the leeks are soft, add garlic and peas. Sauté another 3-4 minutes until peas are bright green and garlic is softened. Add AE Heavy Whipping Cream. Bring to a boil and reduce to a simmer for 2-3 minutes or until slightly thickened. While the cream and veggies simmer, add pasta to the water. If you are using egg pasta, it should cook relatively quickly. Cook until just under aldente, it will finish cooking in the sauce. Reserve pasta water.
Once the cream has slightly thickened, reduce the heat to low, and whisk in parmesan. When parmesan is fully incorporated, use tongs to transfer the pasta to the sauce and veggies. Toss until completely coated. Add ½ cup or so of the starchy, salty cooking liquid to the pasta. Toss to combine. If necessary add more starchy cooking water to reach desired consistency.
Season to taste with salt and pepper. Garnish with parmesan cheese.
This is a sponsored conversation written by me on behalf of AE Dairy. The opinions and text are all mine.
(Visited 3,494 times, 1 visits today)