This Easy Asian Chicken Noodle Soup is an updated spin on classic chicken noodle soup. It comes together in under 30 minutes, uses minimal ingredients and will warm you from the inside out.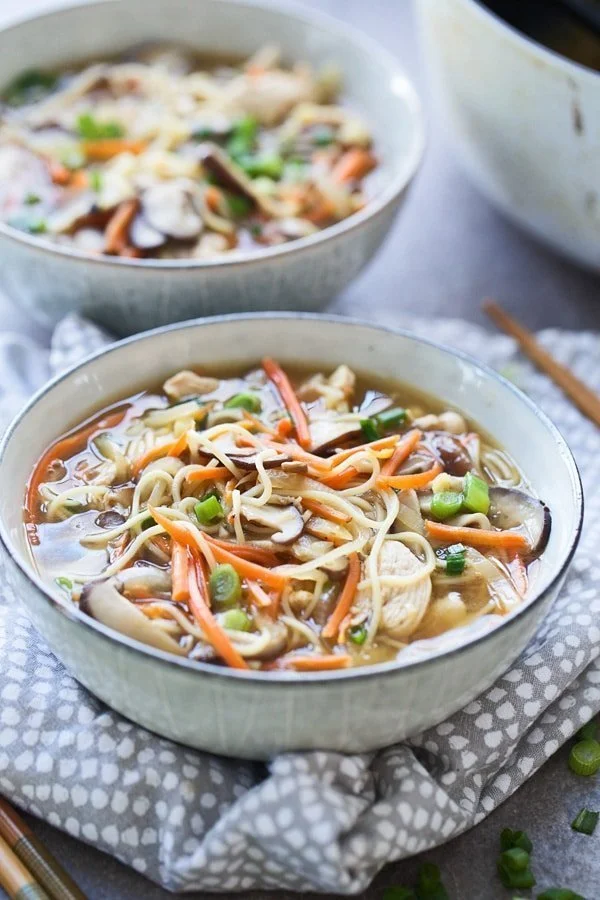 I could live off soup. Really.
There honestly isn't a day that goes by, especially in the winter, where I don't crave it. In most cases, it's filling, but doesn't weigh me down (even the cream-based versions), warms me from the inside out, and is relatively easy to throw together on a whim – all applauded attributes when it comes to January meals.
On a typical day, I want something pureed like a creamy butternut squash soup or roasted red pepper bisque, but with cold and flu season rearing its ugly head in our household, all I want is a giant bowl of chicken noodle soup dotted with tender chicken, light broth and silky noodles.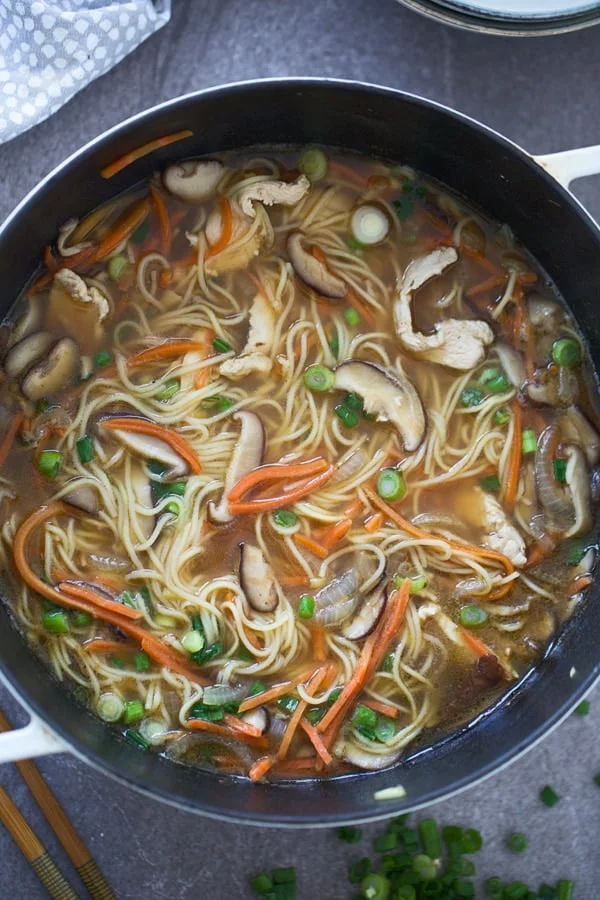 As I'm sure you've heard, chicken noodle soup is proven to have magical healing powders when it comes to sickness. I used to think it was a myth, but after some light research it has come to light that the chicken broth actually hydrates your body and helps to clear your nasal passages. Also, the vegetables in homemade chicken noodle soup have a massive amount of vitamins and antioxidants, which help to boost your immune system. So of course, that means you're not going to get the full benefits from a can of chicken noodle soup off the shelf, but you wouldn't buy that anyways would you?
When sickness first hit our household, my first thoughts were to whip up this version of chicken noodle soup from scratch, because, it is in fact, the most delicious chicken noodle soup recipe you'll find out there. Not that I'm biased or anything. However, when you're sick, you don't really want to whip up homemade noodles and broth, so on to Plan B it was.
Seeing as I didn't want to leave the house, I looked to the contents of my pantry and fridge, and found I had pretty much everything to make a semi-homemade batch of chicken noodle soup, except the noodles.
After perusing my options, I found a bag of Cantonese Egg Noodles I used on a recipe a while back, and shifted my approach from a standard chicken noodle soup to an Asian-inspired one.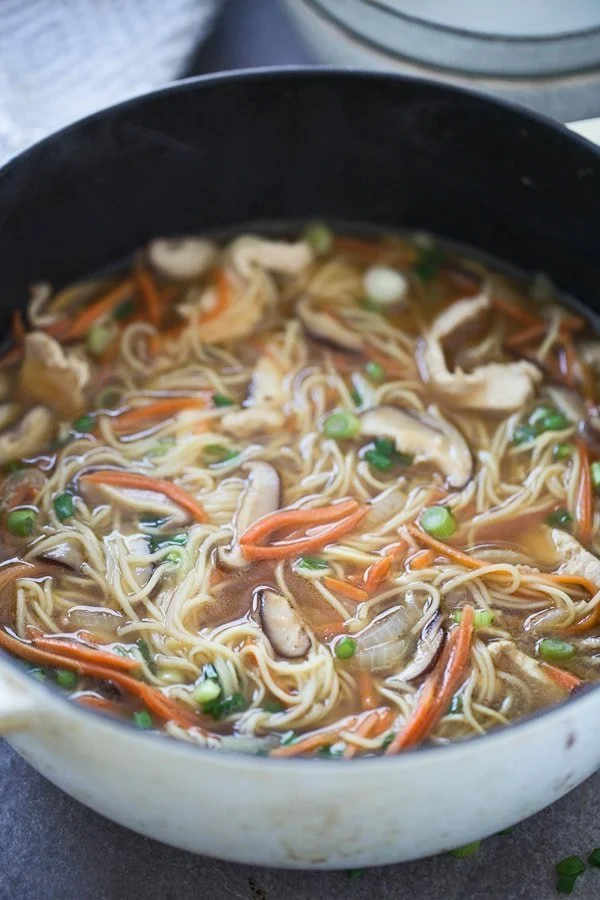 Almost all of the same flavors and ingredients are still there – chicken stock, plenty of onion and garlic, carrots and of course, chicken. In addition to those staples, I threw in plenty of sliced shiitake mushrooms (vitamin B! vitamin D!), minced ginger and sliced scallions.
The broth is flavored with a touch of soy sauce, sesame oil and rice vinegar for a little bit of acid. Of course, like any soup, you want to use a really good quality chicken stock since it's basically what makes up the entire body of the soup – this version is my favorite. Always buy the variation that is reduced sodium, so you can control the amount of salt that goes in. And of course, if you have homemade, even better!
Unlike the aforementioned version of chicken noodle soup which takes some time and effort, here you can be well on your way to feeling better in less than 30 minutes, and still reap all the benefits.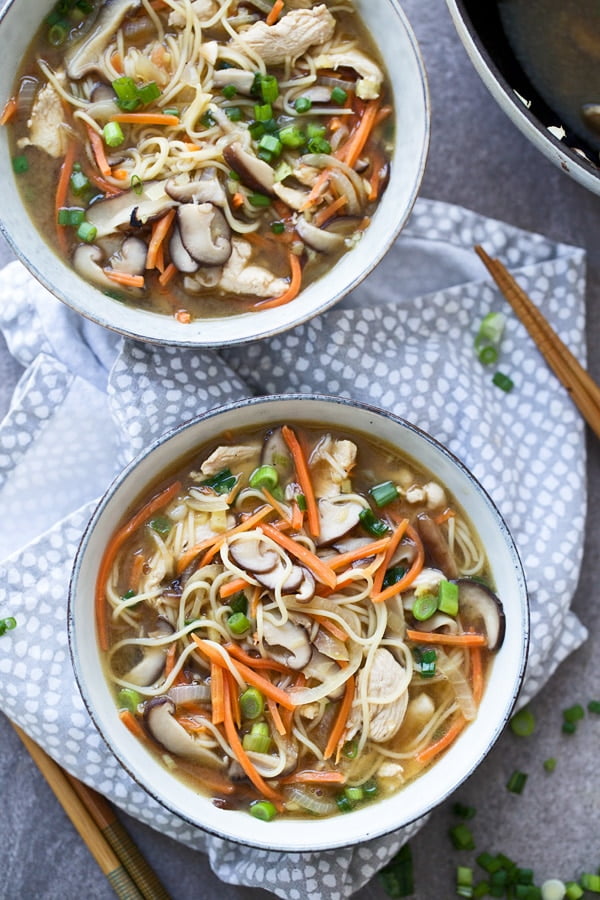 Two things to note before we part ways. First, I used these noodles that I picked up from a local Asian market, I've provided the link to purchase them at Walmart, but I also I think they're readily available in a lot of grocery stores. The thing about these noodles is they don't take long to cook at all, and once you do cook them, to retain their chewy texture, you want to eat them right away. If you want to make this ahead of time, they'll be totally fine and taste delicious, they will just have a similar texture to a rice noodle instead.
Also, because I wanted the chicken to be super thin, I added it at the last second and at a lower temperature to almost poach it and keep it from drying out. It would be fine otherwise, but I find this method yields the most tender chicken, plus slicing it paper-thin allows it soak up more flavor in a short amount of time.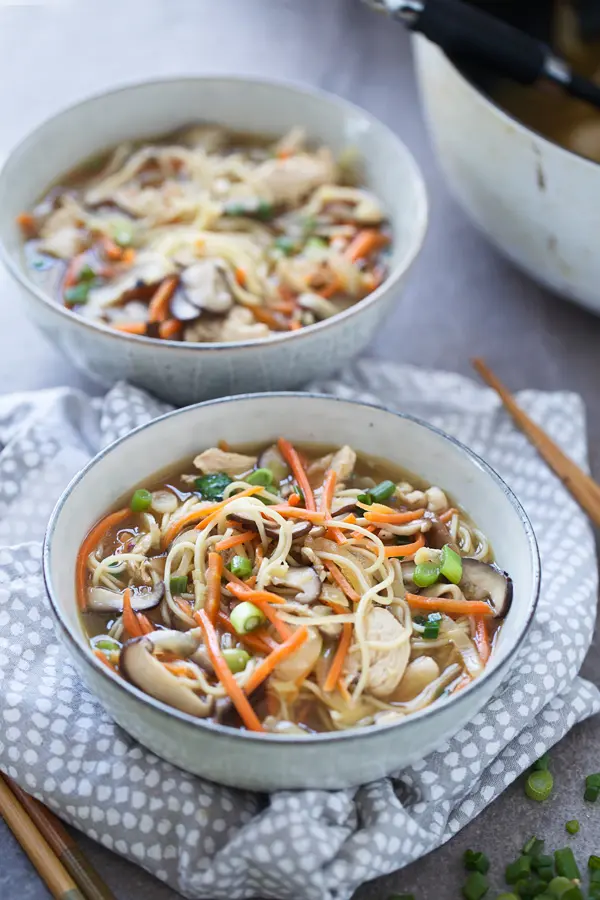 Ingredients
1

tbsp + 2 tsp

sesame oil, divided

2

large

garlic cloves, minced

1

tbsp

minced ginger

1

cup

shredded carrots

8

oz

shiitake mushrooms, thinly sliced

1/4

tsp

salt

32

oz

chicken stock

1

tbsp

soy sauce

1

tbsp

rice vinegar

1

medium

chicken breast, sliced VERY thin (see note)

4

oz

cantonese egg noodles (see note)

3

green onions, sliced
Instructions
Heat a large pot to a medium heat. Add 1 tablespoon sesame oil. Add garlic and ginger. Saute until fragrant, about 1 minute. Add carrots, mushrooms and salt. Cook until slightly softened, about 2-3 minutes.

Add chicken stock, soy sauce and vinegar. Bring to a boil and reduce to a simmer. Simmer for 5 minutes. Add noodles and simmer until softened, about 3-4 minutes. Add chicken, simmer until cooked through, about 2 minutes. Add green onions and season to taste with salt and pepper.

(Visited 4,027 times, 8 visits today)