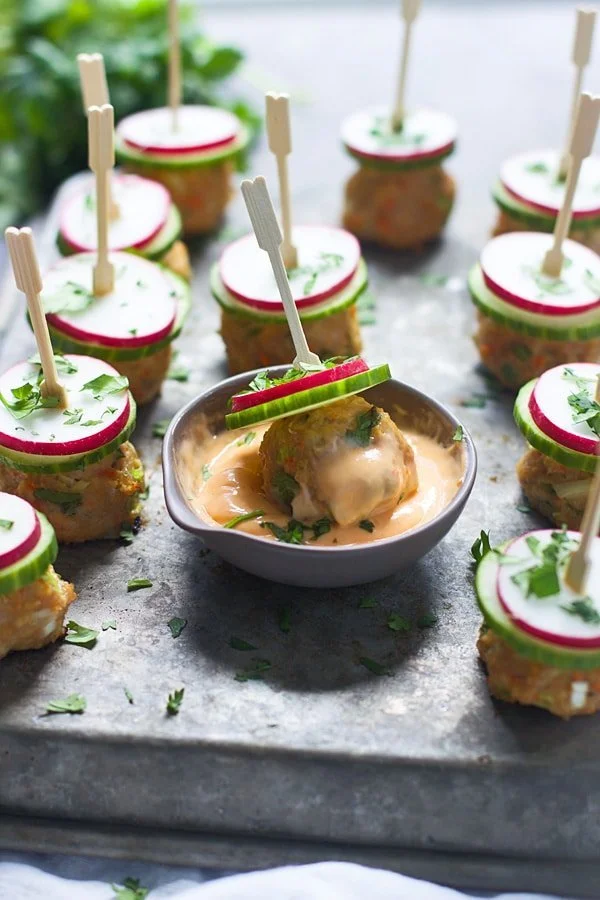 Sometimes when I grab ahold of an idea, I have a hard time letting it go.
Case in point. The hundred and one ways I've turned a classic banh mi sandwich into something else. A pizza. Lettuce wraps. Tacos. Burgers. And now –for lack of a better word – meatballs.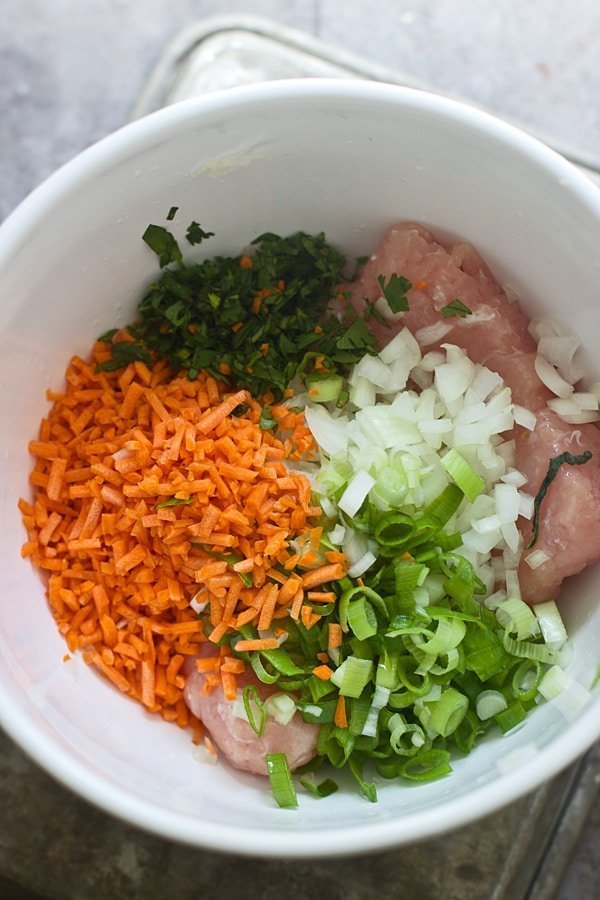 Ok, so I lied, five ways…
Regardless of how many times I've churned out the same recipe, different ways, the point is, I clearly love a variation on a banh mi. I think it's something about the sweet, spicy and sour combination that initially pulls me in, and then the versatility of the ingredients that keep the endless ideas flowing.
For these guys, I of course, wanted to encompass all the classic flavors of the original, but transform it into the perfect bite-sized portion for entertaining.
Ground turkey breast is the protein of choice over pork primarily for nutritional reasons, and since it tends to dry out I treat it the same way I do my chicken burgers, with lots of added ingredients to ensure moisture. Here, moisture comes in the form of grated onion, garlic, soy sauce, sesame oil, sirracha and fish sauce while an egg and plenty of panko breadcrumbs help to glue the mixture together. The ground turkey is formed into 1-inch meatballs, lined up on a baking sheet and then popped into the oven until they're golden brown and cooked through. (Warning, the mixture will seem super wet, that's ok, they'll firm up while cooking.)
While the meatballs cook, some sliced cucumbers and radishes are faux-pickled in a little bit of rice vinegar and a quick spicy mayo is throw together with low-fat mayo, sirracha, sesame oil and a touch of rice vinegar.
All the components are slid onto cocktail skewers and served with the spicy mayo for dipping.
Banh mi turned bite-sized.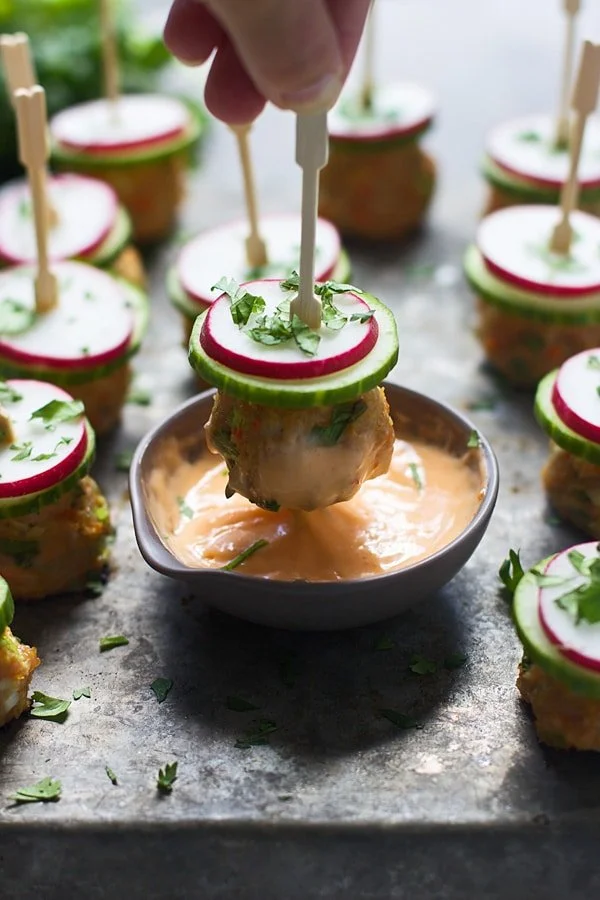 Bánh Mì Bites
These bites take all of your favorite bánh mì components and downsize them into one delicious bite!
Author:
Nicole ~ Cooking for Keeps
Ingredients
2 tablespoons + 1 teaspoon rice vinegar, divided
½ small cucumber sliced very thin
5 radishes, sliced very thin
1 pound ground turkey breast
½ medium onion, grated + ¼ cup finely diced onion
½ cup sliced green onion
½ cup finely diced carrot (I used shredded carrots so they can be cut easily into small pieces)
⅛ cup chopped cilantro (plus more for garnish)
2 garlic cloves, grated
2 tablespoons soy sauce
2½ teaspoons sesame oil, divided
2 teaspoons fish sauce
3¼ teaspoons sirracha, divided
1½ teaspoons packed brown sugar
1 egg
¾ cup panko breadcrums
½ cup low-fat mayo
Cocktail picks
Instructions
Preheat oven to 400 degrees.
In a small bowl, toss sliced cucumbers and radishes with 2 tablespoons rice vinegar. (The radishes may tint the cucumbers, if you don't want them to bleed at all, marinate them in separate bowls.)
Using your hands, combine ground turkey, grated onion, diced onion, green onion, carrot, cilantro, garlic, soy sauce, 2 teaspoons sesame oil, fish sauce, 2 teaspoons sirracha, brown sugar, egg and panko in a medium bowl. Do not over mix.
Roll into 1-inch meatballs and line up on a cookie sheet lined with parchment paper or a silpat. Bake for 20 minutes or until meatballs are golden brown and cooked through.
In a small bowl, mix together remaining vinegar, sirracha, sesame oil and mayo.
Skewer one slice of cucumber and one slice of radish onto cocktail skewer, followed by one meatball. Serve with mayo.
(Visited 6,746 times, 2 visits today)