I wasn't going to share this with you today…
Because I'm trying to be healthy. Because you're trying to be healthy, scratch that, because the whole world is trying to be healthy (at least until February when all diets go out the window), and a dip full of steak, cheese, cheese and more cheese doesn't exactly make a healthy snack.
BUT this turned out so finger lickin' good (literally), I absolutely could not wait another day to share it with you. It also seemed appropriate in light of the Super Bowl opponents being officially decided last night (or so I hear). Plus, I already gave you two healthy snacks to grub on for the big day, so one heart-clogging dish is pretty much obligatory.
Side note: I'm having a hard time cranking this post out because it's restaurant week here in Kansas City, (my favorite week of the year) and all I can focus on is all the food I'm going to consume in the next five days. I've been studying the menus like I prepared for the million tests I took in college – fervently and frequently. Today, I'm doing lunch with my Mom, tomorrow a fancy dinner with my sorority sisters, Thursday, lunch with one of my besties, and Friday, a double date at another fancy KC restaurant. I'm seriously pumped. So bear with me, if I digress mid-sentence to the lobster mac and cheese I'm going to have today, or the lobster bisque I'm having tomorrow, or the bread pudding I'm having on Friday.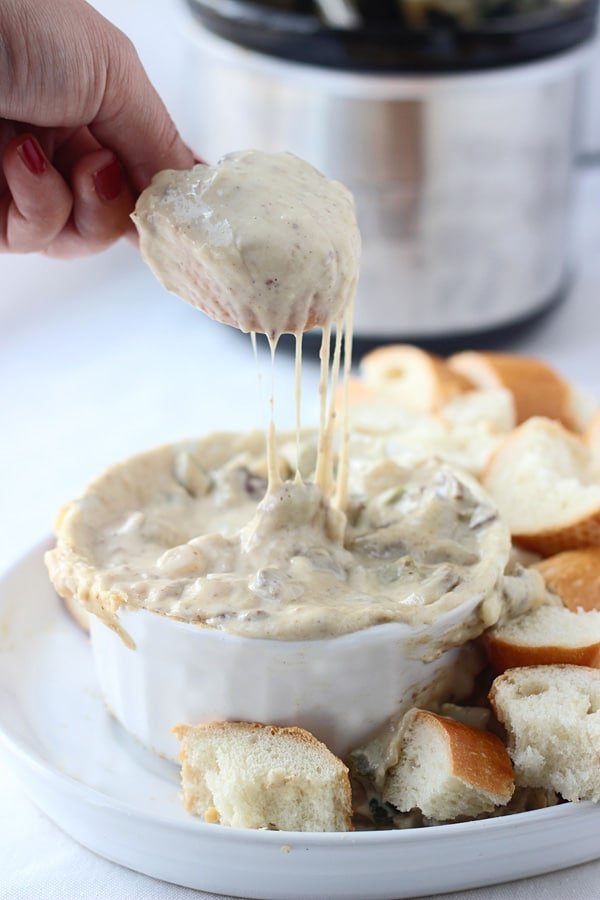 Back to the topic at hand.
Of course the root of this is obviously the Philly Cheesesteak sandwich, an American classic in which I'm slightly infatuated with. There's a place called Chartroose Caboose in Kansas City that has the most delicious cheese steaks on the planet – actually I can't attest to the fact that they are better than the actual Philly Cheesesteaks in Philly, but I bet they'd come pretty darn close. They're so good that when I was in high school, if my girlfriends and I brought one back to a teacher of ours, he'd allow us to miss the first half of class, although it could have also been our wit, charm and killer negotiation skills that let us get away with that one – but I'm going to go with the sandwiches – they're that good.
Now, I know some people are VERY particular about the way their sandwich is prepared. Cheez Whiz or provolone; onions or no onions; sliced meat or chopped meat. Peppers or no peppers. There is a right way and a wrong way – no in between. One misstep could forever change the opinion a fellow Philly lover has of you for better or worse.
I'm not nearly as passionate as those people, but for me, personally, the perfect Philly consists of chopped steak with green peppers, onions and lots of provolone cheese. There must be a toasted, hearty bun and when I take a bite, if I don't need a napkin to avoid the cheese and juice from dripping out the back of the sandwich, down my hands, down my arms and onto the floor, we have a major problem.
I'd been craving a cheesesteak like crazy for the last couple of weeks, but have been trying to develop appetizers that feed a crowd, so when I was having my weekly Friday blog brainstorm sesh, a giant light bulb when off in my head where I realized I could totally take all the flavors of a Philly and turn it into one serious dip. And I did just that.
Normally, I believe a Philly is made with ribeye (am I wrong here?), but since it was going into a dip, I didn't really find it necessary to use an expensive cut of meat. I ended up going with an eight-ounce sirloin that cost about four bucks. Now, the key here, is to freeze the meat until it's not quite frozen, and then slice it paper thin, you don't want any chewy giant hunks of steak in a bite. You then sear the steak in a screaming hot pan until it's caramelized and cooked through and transfer it (and the juices!) to a small saucepan.
Using the same sauté pan, drizzle in a little bit of olive oil and sauté the chopped onions and green pepper for a minute or two. You still want the veggies to have a bite, but also don't want them to be completely raw.
Ok, so next up is the really hard part…Ready??
You dump the rest of the ingredients into the saucepan with the steak, turn it on a medium heat and stir. That's it. Once the cheese is melted you can season it with a little bit of salt and pepper, but other than that, it's ready to be devoured. And it will be devoured.
I suggest dumping the whole thing into one of those mini crock pots to keep it warm, consistently gooey and cheesy.


I honestly wasn't sure if this would even turn out, or taste anything remotely like a Philly, but I really impressed myself with this one, the resemblance is uncanny, it tastes JUST like my favorite Philly sandwich. Now, I like my dip a little on thicker side, but if you make this and it's a little too think for your liking just add a little bit more beef or chicken stock to loosen it up a bit.
I would also suggest making a double batch of this, because it will go lightening fast, and you don't want to be the person who runs out of dip in the first fifteen minutes– host faux pas number uno.
I

Philly Cheesesteak Dip
Author:
Nicole ~ Cooking for Keeps
Ingredients
8 ounces top sirloin
½ cup onion, chopped
½ cup green pepper, chopped
4 ounces cream cheese (from the deli counter)
3 ounces provolone cheese (from the deli counter)
½ cup Mozzarella cheese, shredded
2 ounces white american cheese
3 tablespoons half & half
2 tablespoons chicken stock
Salt & Pepper to taste
1 baguette torn into small pieces.
Instructions
Place steak in the freezer for about 20 minutes so you can cut it easily. Once partially frozen, using a very sharp knife, slice steak into very thin slices, almost shaved. Cut into smaller pieces. Season with salt and pepper.
Heat a large skillet over a medium-high heat. Add a little bit of olive oil to the pan and add steak, cook until browned and cooked through. If needed, chop into smaller pieces.
Add 2 teaspoons of olive oil to a small saucepan set over a medium heat Add onions and green pepper. Sweat until they start to soften, about two minutes. Add steak, cheeses, ½ & ½ and chicken stock.
Stir until cheese melts and mixture becomes homogenous. If needed add mor half & half to loosen the sauce up.
Season to taste with salt and pepper.
Serve with torn bread.
(Visited 37,895 times, 1 visits today)