This Healthy Buffalo Chicken Dip (without cream cheese) is the perfect way to get your buffalo Game Day fix without all the fat and calories. Greek yogurt is simmered with sautéed onion and garlic, buffalo sauce, a little bit of blue cheese, a touch of mayo, and plenty of tender shredded chicken. Serve with carrots, celery, and your favorite baked chips.
Healthy Buffalo Chicken Dip
When buffalo chicken dip is packed with tangy, spicy buffalo flavor, tons of chicken, and is actually healthy, it's a very good day. At least it is in our house.
This Healthy Buffalo Chicken Dip is truly one of my favorite dips I've made all year. It's fitting for any season, tailgating, game day at home, happy hour, and honestly, simply perfect in general. Instead of packing in copious amounts of cream cheese, shredded cheese, and lord know what else, we've made some healthier swaps by using tangy Greek yogurt and only a scant amount of blue cheese for flavor. Shredded roast chicken and spicy, tangy buffalo sauce are the items that truly shine, as they should.
The beauty of our Healthy Buffalo Chicken Dip, isn't simply that it's something you can feel good about eating (although it is), it's also ridiculously simple to throw together. I'm talking one pan, 10 minutes, done.
Ingredients in Healthy Buffalo Chicken Dip
Olive oil. You could also use butter, but in sticking with our healthy theme, I like to use heart-healthy olive oil. Only a little bit is necessary to sauté the veggies, about two teaspoons.
Onion and Garlic. The base of any good buffalo chicken dish. And just about anything else.
Greek Yogurt. You can use whole milk, low-fat, or non-fat Greek yogurt. Just make sure it's plain and not flavored. I usually buy one of those little seven-ounce containers of FAGE or Chobani Greek yogurt.
Shredded chicken. For this particular recipe, I used the leftovers from this Roast Chicken, so it was a combination of dark and white meat, which I think gives the dip more flavor. You can buy a rotisserie chicken and shred it. You can also roast a chicken breast, then shred it. Whatever is quickest and easiest for you!
Crumbled blue cheese. I usually use crumbled gorgonzola, but whatever blue cheese you prefer will work great.
Sliced green onion. We love plenty of sliced green onion! I love the texture and mild onion flavor green onions add to this.
Light mayo. As we mentioned, this is a healthy buffalo chicken dip WITHOUT cream cheese, but we need something with just a hint of creaminess. That's where the mayo comes in. All you need is just a tad! A tablespoon will do. I have been crucified before for saying I believe light mayo tastes the same as full-fat mayo, but I truly don't believe using full-fat will reap any greater results.
Hot sauce. The most important ingredient of them all! We love Frank's hot sauce. I find it has the perfect balance of spicy, acidity, and salt, and we really can't get enough of it. If you have a favorite hot sauce, then by all means, use that instead.
How to make Buffalo Chicken Dip without cream cheese.
Sauté the onion and garlic. Heat a medium saucepan to a medium heat. Sauté the onion and garlic in olive oil for a few minutes until it becomes soft and fragrant. Season with salt and pepper.
Mix in remaining ingredients. Stir in Greek yogurt, chicken, blue cheese, green onion, mayo, salt, and hot sauce. Stir to combine.
Simmer. Reduce the heat to medium-low and heat the mixture until hot and bubbly. Stir frequently so it doesn't stick to the bottom or burn.
Serve! Pour into a casserole dish or one of these adorable Mini Slow Cookers
. Garnish with more sliced green onion and blue cheese if desired.
What do I serve with Buffalo Chicken Dip?
celery
carrots
baked tortilla chips
sliced red peppers
wheat thins, ritz crackers, triscuit crackers
Do I have to serve this dip hot?
No. I prefer it warm, but it's still really delicious room temperature or cold. If you're taking it to a party, I'd recommend serving it room temperature or cold anyways, so you don't have to worry about keeping it hot.
Can I make this in advance?
I encourage it! Make this the night before, or even a few days before. Store in an airtight container until you're ready to serve. If you want to serve it hot, transfer it to a saucepan and re-heat over a low heat. You can also transfer the dip to a microwave-safe bowls and cook in 45-second increments until it's hot again. As mentioned, it's also delicious served cold or room temperature, so if you don't have any means of heating it up, don't worry!
Substitutions and Tip and Tricks for Recipe Success
You can swap out the Greek yogurt for sour cream.
Even though Frank's hot sauce is our favorite, you can use whatever your personal favorite is.
For a more prominent blue cheese flavor, double the amount of blue cheese.
Use full-fat mayo instead of light.
Add in chopped celery with the onion and garlic for extra texture.
What should I serve with Buffalo Chicken Dip (Without Cream Cheese)?
Other awesome buffalo chicken recipes.
We LOVE these Buffalo Chicken Pinwheels. They're also SO simple to throw together and perfect to take to parties. Make them the day before, cut them just before serving, and watch them disappear.
These buffalo chicken nachos are always a hit in our house. They're packed with blue corn tortillas, shredded buffalo chicken, green onions, and a completely addictive blue cheese sauce.
If you're feeling a little ambitious, these Mozzarella-stuffed buffalo chicken rolls are so fun, and SO delicious.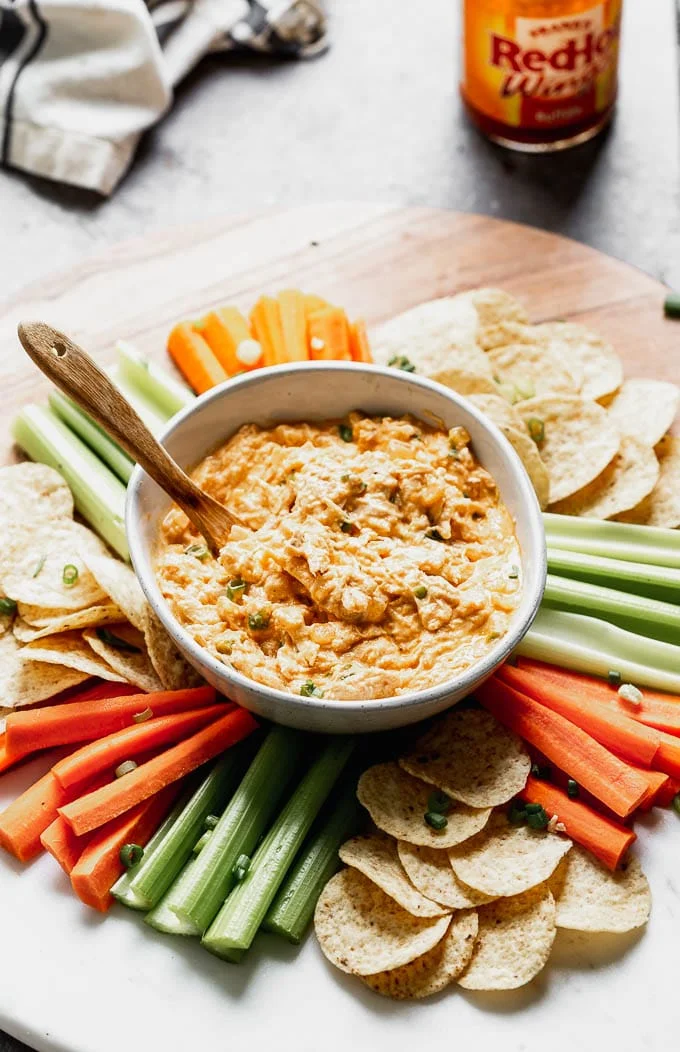 Healthy Buffalo Chicken Dip (without cream cheese)
This Healthy Buffalo Chicken Dip (without cream cheese) is SO easy to throw together and super healthy. It's made with Greek yogurt, just a touch of low-fat mayo, a little bit of blue cheese for flavor, and of course tons of spicy buffalo flavor.
Ingredients
2

tsp

olive oil

1/3

cup

finely diced onion

2

large

garlic cloves, minced

1 1/2

cups

shredded chicken (we use rotisserie or leftover chicken)

3

tbsp

hot sauce

I use Frank's

1

tbsp

light mayo

7

oz

plain Greek yogurt

2

tbsp

crumbled gorgonzola cheese, plus more for garnish

1/4

tsp

salt, more to taste

1

large

green onion, sliced

chips, carrots and celery for serving
Instructions
Heat a medium sauce pan to a medium heat. Add olive oil, onion, and garlic. Sweat the veggies until soft and fragrant, about 3-4 minutes.

Add chicken, hot sauce, mayo, Greek yogurt, gorgonzola, salt, and green onion. Stir to combine. Bring to a simmer and continue to cook for 3-4 minutes until bubbly, hot and blue cheese has melted. Season to taste with salt and pepper. Add more hot sauce if desired. Transfer to a serving dish.

Serve with tortillas chips, carrots, and celery.
Nutrition Information
Serving:
1
1/4 cup serving (just the dip)
,
Calories:
30
kcal
(2%)
,
Carbohydrates:
1
g
,
Protein:
3
g
(6%)
,
Fat:
2
g
(3%)
,
Saturated Fat:
1
g
(6%)
,
Cholesterol:
2
mg
(1%)
,
Sodium:
151
mg
(7%)
,
Potassium:
42
mg
(1%)
,
Sugar:
1
g
(1%)
,
Vitamin A:
8
IU
,
Vitamin C:
4
mg
(5%)
,
Calcium:
29
mg
(3%)
,
Iron:
1
mg
(6%)