This sweet and sour salmon is healthy, easy, and the perfect weeknight dinner for your family! It comes together in under 30 minutes and requires only a handful of ingredients.
I do this thing when I discover Teddy likes a certain food, where I make it my personal mission to feed said food to him more times than he'd probably like.
When he devoured scrambled eggs for the first time, I proceeded to give them to him every other day up until the present.
After he gobbled up my homemade iron-fortified oatmeal pancakes, I filled in the days he wasn't eating scrambled eggs with the silver-dollar gems.
And when I found out his favorite fruit was pears, I made sure he had the fruit in some way, shape or form every single day for a solid two months.
A few months ago, I fed him this curried coconut salmon, which he loved, and since then, I followed the same pattern, and have been obsessed with coming up with Teddy-friendly ways to eat the nutritious fish.
We've always been a household that eats salmon pretty frequently, but since we've discovered Teddy's love for it, I've upped the frequency to at least once, and sometimes even two times per week. Every method I've cooked it in the past, has been received with extreme enthusiasm by the little guy, except for this sweet and sour salmon, which I promise isn't a testament to how delicious it is.
I can't figure it out, because it's been one of my favorite salmon recipes I've developed to date. It's quick, ridiculously easy, and has the perfect amount of sweet to sour flavor that I adore.
I also love that most of the ingredients are items I have in the fridge or pantry, but if you're not one to keep sweet chili sauce or soy sauce in stock in your space, they're easily accessible at all small or large grocery stores.
Since the salmon goes under the broiler to caramelize, I like to use a whole 1 1/2 pound center-cut, skin-on salmon so that the fish doesn't overcook. Once the salmon gets brown and caramelized on top, the veggies surround the sides, and it gets popped back in to the oven just until the veggies barely soften and the salmon finishes cooking.
The remaining glaze gets slathered on the salmon, tossed with the veggies, AND dinner is done.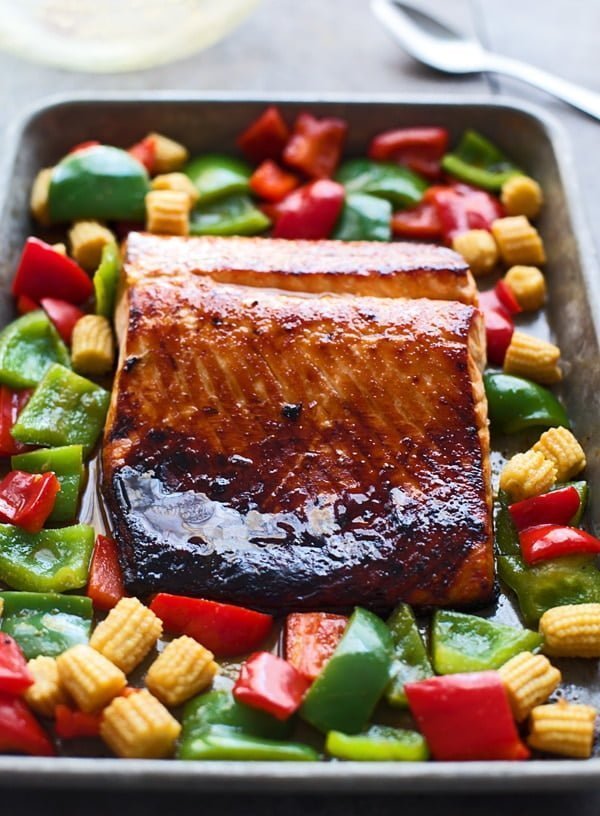 Sweet and Sour Baked Salmon
This sweet and sour chicken is healthy, easy, and the perfect weeknight dinner for your family! It comes together in under 30 minutes and requires only a handful of ingredients.
Author:
Nicole ~ Cooking for Keeps
Ingredients
2 Tlbs. sweet chili sauce
1 Tlbs. soy sauce
3 Tlbs. rice vinegar
2 tsp sugar
¼ tsp. onion powder
¼ tsp. garlic powder
1½ lbs. center-cut, skin-on salmon (not portioned out)
½ tsp. corn starch
1 tsp. canola oil
1 green pepper, roughly chopped
1 red pepper, roughly chopped
¾ cup roughly chopped baby corn
Instructions
Preheat oven to broiler and place the oven rack on the top rack. Line a baking sheet with a silpat.
In a small bowl, whisk together, sweet chili sauce, soy sauce, vinegar, sugar, onion powder, and garlic powder.
Season salmon with salt and pepper. Brush two tablespoons of glaze on salmon.
Place under the boiler and cook until the glaze has started to turn brown and caramelized, about 5-7 minutes (5 for a thin piece of salmon, closer to seven for thick), be sure to check on it and make sure it's not burning. If it starts to burn, move the rack down one more notch.
While the salmon cooks, toss the veggies with oil. Season with salt and pepper. Whisk cornstarch in to remaining glaze.
After seven minutes, pull the salmon out of the oven, and move the rack to the middle. Scatter the veggies around the salmon and place back in the oven on the middle rack. Cook another five minutes, or until salmon is cooked through and veggies have slightly softened.
When the pan comes out of the oven, brush the salmon with a little bit more glaze and then toss the remaining glaze with the veggies in the same bowl you initially tossed them with the oil. Cut salmon in to four portions and serve with veggies.
(Visited 5,558 times, 3 visits today)