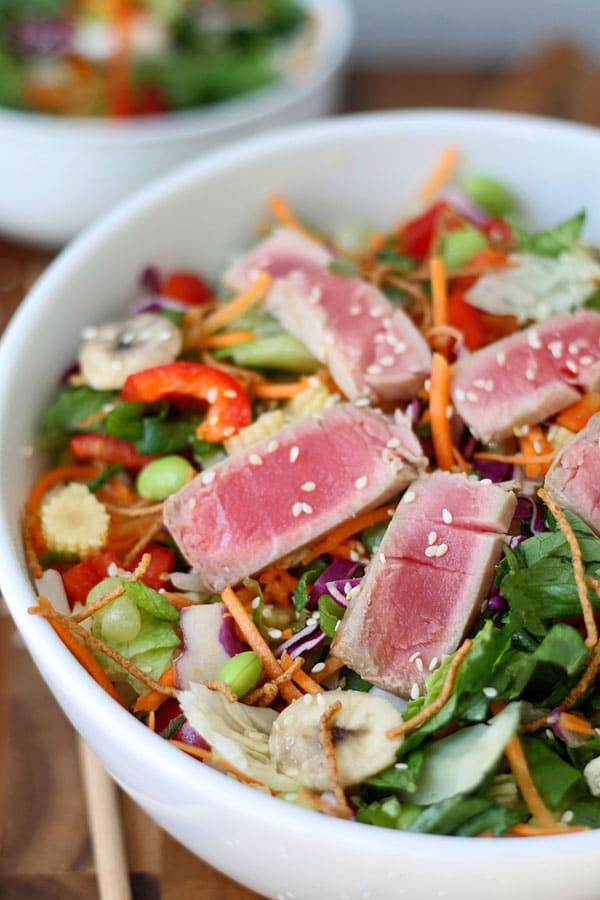 Why does the weekend go by in a blink of an eye? I feel like just hours ago I couldn't believe the weekend was here already, but I guess when the week flies, the weekend flies by even faster. Sad, but true.
What did you do this weekend?
I ate, then I ate more and then I ate again. Friday, Kev and I had a date night at one of our favorite fancy burger restaurants near our house, where we each devoured our burgers (although I made a somewhat healthy choice and ordered it bison – does that cancel out the fried green tomato, frico and garlic aioli?), and shared an order of onion rings, regular fries and sweet potato fries, all washed down by a couple of beers. Saturday, I went to cheer on my Wildcats and ate my weight in sliders, hot dogs, chicken fingers and mini corn dogs, coupled with more beverages – so as you can imagine I'm not feeling particularly light today.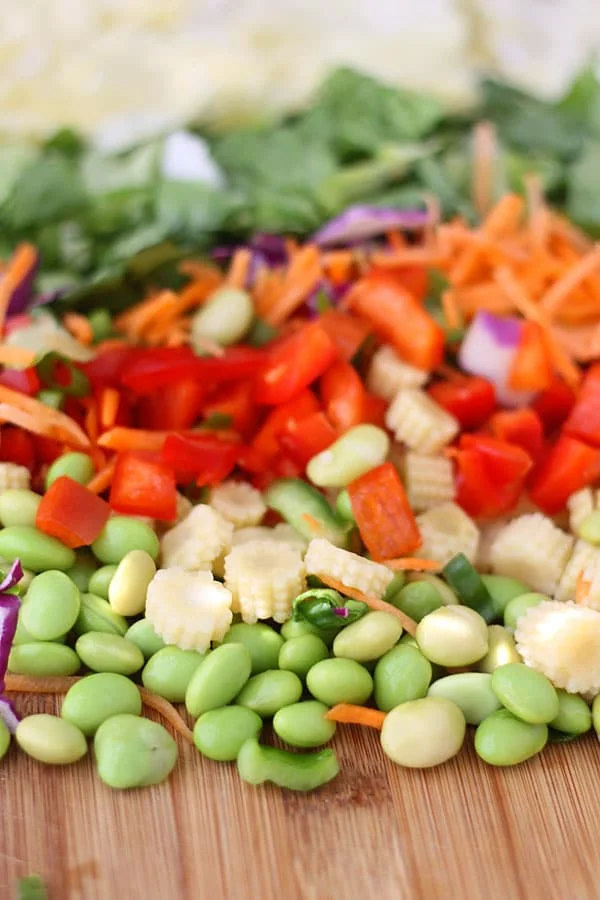 Hence, why there's salad. But, fear not, this isn't just any ordinary salad – this salad is a sort-of copy off my all-time favorite ahi tuna salad at Houlihans. Have you had it before? So so good. Totally a salad I can call a meal. In the original version there's lettuce (duh), napa cabbage, red pepper, bananas, cashews and crunchy wonton strips, everything is topped off with perfectly seared ahi tuna, banana ginger vinaigrette, little swirls of sweet soy and wasabi cream. I love all of the textures mixed with the sweet and savory sauces, but seeing as I am not a well-oiled restaurant that can crank out three different dressings for one salad, I simplified the dressing down to one and amped up the texture by throwing in a few more crunchy veggies.
You know what the best part is? Almost all of the ingredients (besides the tuna, of course) can be picked up at the salad bar at your local grocery store. So instead of buying a bag of shredded carrots, a bag of edamame, a bag of red cabbage, a whole red pepper, and a can of baby corn, you can just mosey on over to the salad bar and fill up on what you need for a fraction of the price. Genius!
There is a LOT going on here; let's list out all the ingredients: romaine lettuce, napa cabbage, baby corn, shredded carrots, shredded purple cabbage, red peppers, edamame, bananas, banana chips, crunchy rice noodles, and of course, the best part, ahi tuna. I love the combination of the hearty napa cabbage paired with the light and crisp romaine, and I love love LOVE the combination of the sweet bananas mixed in with the crunchy veggies and banana chips.
I know bananas and banana chips sound like kind of a weird addition to an Asian-inspired salad, but trust me, it works.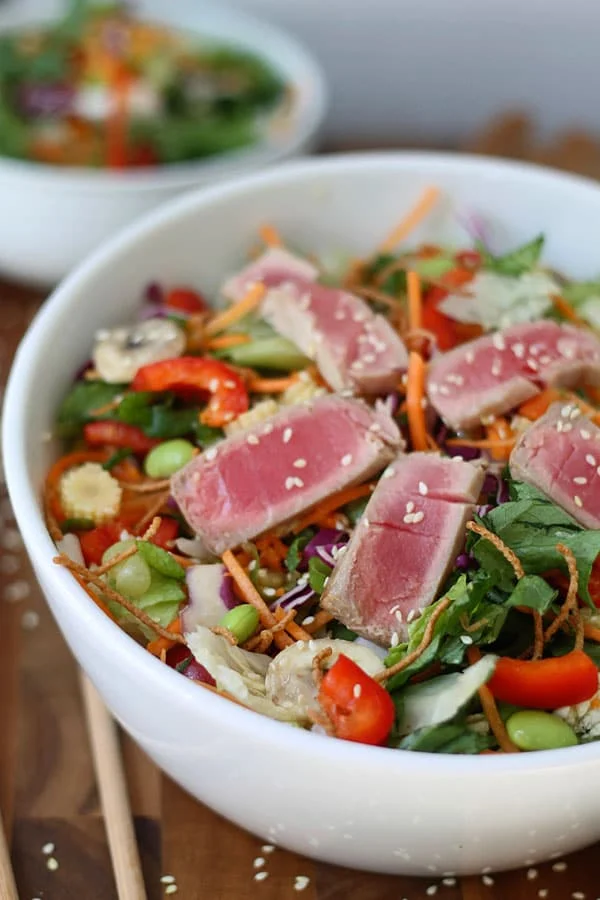 I think a lot of people are intimated by cooking sushi-grade tuna and I used to be one of them, but since venturing out and trying it myself, I found it to be the easiest fish to cook. You don't have to worry about under or overcooking it, because all you want is that nice sear with a raw middle, which literally take seconds. Easy peasy.
The whole salad is tied together with a ridiculously easy and flavorful sesame ginger vinaigrette that's whipped up in the blender. Just toss in a little ginger, garlic, soy, rice vinegar (unseasoned), honey, sesame oil and canola oil in the bottom of the blender, turn her on and let the blender do the work. Toss the veggies and lettuce with the finished dressing (be sure to not overdress!) and sprinkle with sesame seeds and rice noodles. If you're like me and it's just two of you, don't dress the salad right away. Just toss everything but the noodles and the dressing together, and then dress it on your plate, that way if you don't finish it all, it will keep for lunch the next day.
Chopped Ahi Tuna Salad with Sesame Ginger Dressing
Ingredients
4 cups napa cabbage, chopped
4 cups romaine lettuce, chopped
1 red pepper, chopped
3 green onions, chopped
1 ½ cups chopped baby corn
1 ½ cups shredded carrots
1 cup shredded purple cabbage
1 cup banana chips
1 banana, sliced thin
1 cup halved cashews
8 ounces wild-caught sustainable sushi-grade ahi tuna
⅓ cup rice wine vinegar
3 teaspoons honey
1 tablespoon soy sauce
2 teaspoons fresh ginger, roughly chopped
1 garlic clove, roughly chopped
pinch of salt
2 tablespoons sesame oil
1 tablespoon canola oil
2 teaspoons sesame seeds
½ cup crunchy rice noodles
Instructions
Season tuna on both sides with salt and pepper. In a small skillet, heat a little bit of olive oil of a medium heat. Sear tuna on all sides, remove from heat and let set. Cut into thin slices.
In a large salad bowl toss together napa cabbage through cashews.
In a blender, combine rice vinegar through canola oil. Blend until smooth.
Toss salad with dressing. Season to taste with salt and pepper. Place seared tuna on top. Sprinkle with sesame seeds and crunchy rice noodles.