Thank you to Mirum Shopper for sponsoring the post for these Spicy Sesame Ahi Tuna Wraps! I am a huge fan of Hellmann's Organic Mayo, and every thought and opinion is my own.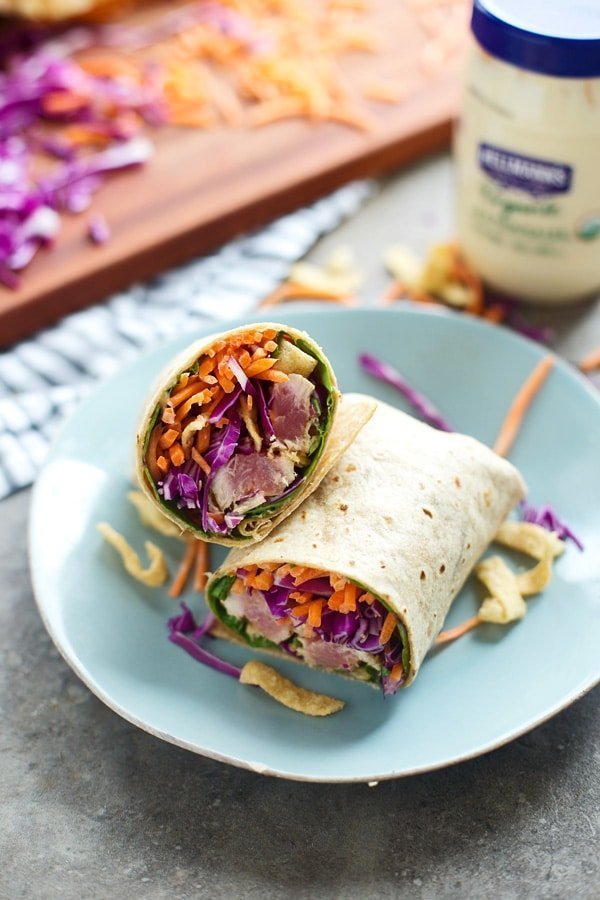 There are only two things I missed when I was pregnant – a cold beer and ALL the sushi. The beer is kind of a head-scratcher, since I've never really been a big beer drinker aside from an occasional fruity brew in the summer or a giant cup of Miller Lite at baseball games, yet at nine months pregnant, a hoppy, pungent beer was literally all I could think about, and it's stuck with me post-pregnancy.
The sushi, however, I've always been in love with, so I had a particularly hard time saying goodbye to it once I found out I was with child. In fact, the last meal I ate before I found out I was pregnant was sushi, and the first meal I ate in the hospital after Teddy came in to this world was sushi, so clearly, sushi trumps beer.
While my cravings have subsided to some degree, I still long for some form of sushi at least once a month. You would think this wouldn't be a problem to fulfill since I'm not knocked up anymore and am a grown human being who can choose what she wants to eat, but if I don't have a happy hour or dinner planned with the girls, I don't ever find myself suggesting sushi as a dinner option for Kevin and Teddy. For one, Teddy doesn't eat sushi, obviously, and two, while Kevin does like sushi, it's not his preferred dinner out, so I just pick mutual favorites instead.
When I saw ahi tuna on sale at my local grocery store the other day, my sushi craving kicked in to gear, and I immediately thought of a note I had jotted down a few weeks back for an ahi tuna wrap packed with veggies and the signature spicy mayo now synonymous with most sushi rolls.
I know the name of the recipe implies ahi tuna is the star of the wrap, but I'd argue that the spicy mayo is its equal co-star – the Ross to its Rachel, if you will. The ingredient list is short, just four ingredients to be exact, and uses my new favorite organic mayo from Hellmann's. I am a big mayo girl, I put it on everything from my grilled cheeses, to my burgers. I use it for cheater Caesar salad dressings, use it to thicken up balsamic vinaigrettes, and like we've done today, love to use it as a base for various sauces and condiments.
As a new-ish mom I'm constantly trying to feed my little guy foods that are nutritional, yet flavorful, so obviously eating organic is a big part of our lifestyle. While I don't follow a super strict organic diet, I do try to utilize it where I can, so I was SO excited when Hellmann's came out with the new organic line of mayo we used in this recipe – and guys, it's SO good. Here's the scoop – it's made with organic cage-free eggs (yes!), organic expeller-pressed oil, and absolutely NO artificial flavors or preserves (yes yes yes!). I love that I can feel good about eating it, and serving it to my little one. Also, I love love love that this is something affordable, because as we all know, buying organic can be quite expensive, so I love that I don't have to worry about that.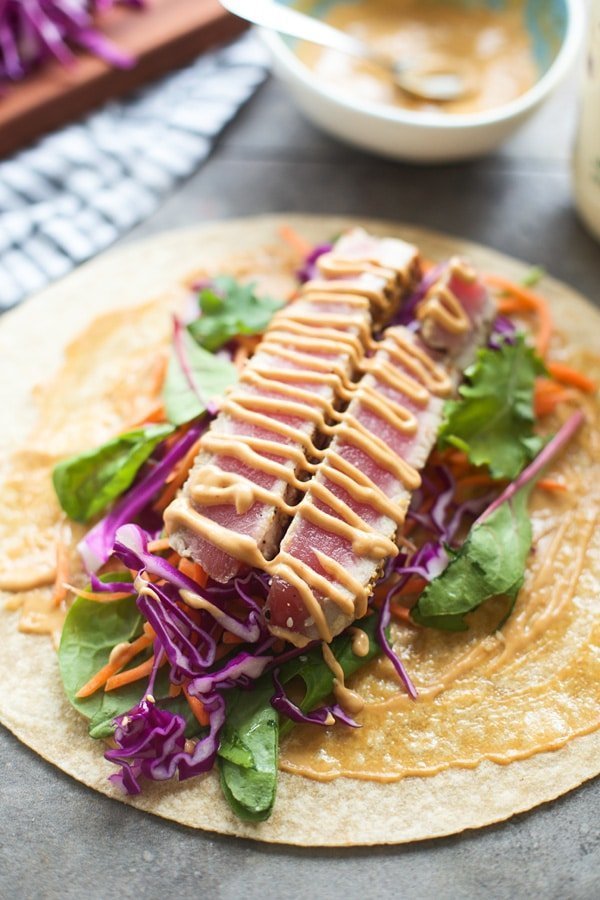 After the mayo is quickly thrown together, the tuna is lightly seared, cut into 1/4-inch pieces and then everything is layered on to a whole-wheat tortilla. Right before the tortillas get rolled up, I drizzle a little bit more mayo on the tuna, and then sprinkle a modest handful of crispy wontons on top.
Cut them in half, and they're ready to go.
If you head to your local Target, you can try out the new Hellmann's Organic Mayo for yourself, and if you shop through Cartwheel when you're there, you can get 20% of you purchase! Score.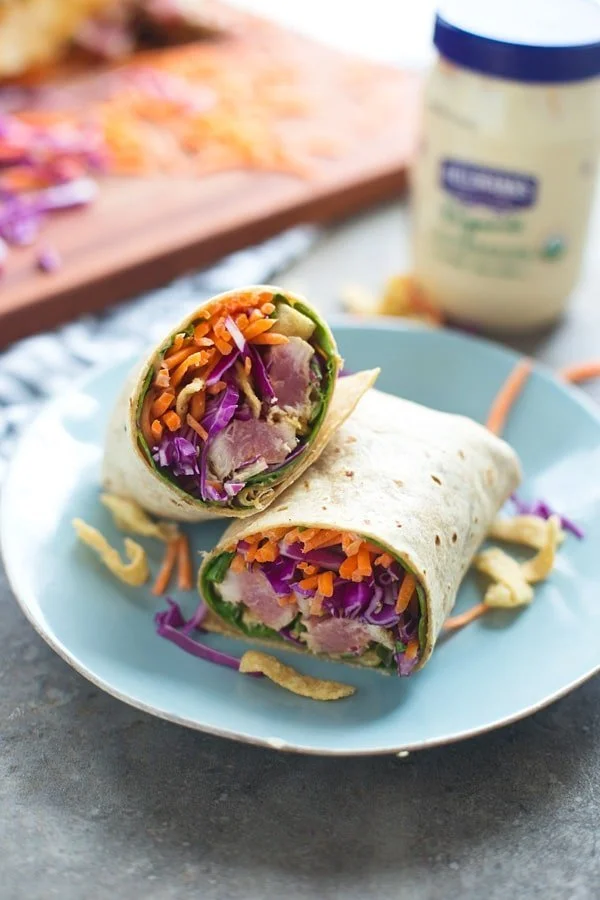 Spicy Sesame Ahi Tuna Wraps
Author:
Nicole ~ Cooking for Keeps
Ingredients
10 oz. ahi tuna
2 tsp. sesame oil, divided
1 tsp. olive oil
¼ cup Hellmann's Organic Mayo
1 tsp. soy sauce
¾ tsp. sriracha
2 burrito-sized whole-wheat flour tortillas
2 cups mixed greens
1 cup shredded carrot
1 cup shredded cabbage
½ cup crispy wontons
Instructions
Season ahi tuna with salt and pepper. Sprinkle sesame seed evenly on both sides of tun. Pat into flesh.
Heat a small sauté pan to a medium-high heat. Once the pan is hot, add 1 tsp. sesame oil and olive oil. When the oil is hot, add tuna. Sear for 45 seconds, then flip and sear on the other side for another 45 seconds. Transfer to a plate and let cool.
In a small bowl, whisk together remaining sesame oil, mayo, soy sauce, and sriracha. Set aside.
Slice tuna into ¼-inch pieces.
Spread a little bit of the mayo on both tortillas. Add the rest of the mayo to a plastic baggie. Cut off the tip and set aside. Sprinkle the lettuce evenly between tortillas. Lay half of carrots down the middle of each tortilla, followed by cabbage. Evenly divide the tuna between tortillas. Sprinkle wontons on top of tuna. Use the plastic baggie to drizzle remaining mayo over tuna.
Wrap tortillas up, burrito-style. Cut in half. Serve.