Crispy on the edges, soft on the inside, and dusted with the perfect amount of seasoning, our Air Fryer Brussels Sprouts are the perfect quick and easy veggie to make any night of the week. Once the Brussels sprouts are done in the air fryer we toss them in a sticky homemade honey soy glaze, sprinkle with sesame seeds and then serve with extra sauce for dipping. (You'll want to dip.)
Air Fryer Brussels Sprouts with Honey Soy Glaze
When it comes to a balanced diet, you don't have to ask me twice to eat my vegetables. My kids on the other hand? Not so much. This is why the air fryer has become my new best friend, and Air Fryer Brussels Sprouts, my kids' best vegetable friend.
The air fryer, a comrade I never imagined nor intended to be friends with. In fact, I was firmly in the anti-air fryer camp (if there is such a thing) due to its large footprint in my kitchen, but after seeing it work its magic on kid's chicken fingers, hot dogs, and taquitos, I'm forever sold.
The base of this recipe is simply for Air Fryer Brussels Sprouts. Crispy on the outside, tender on the inside, and with just the right amount of a salty, seasoned bite. The remainder of this recipe takes those crispy Brussels sprouts and dresses them up in a one-pot super simple, incredibly addictive honey soy glaze.
The glaze…With an aggressively salty bite, slight hint of umami from a touch of fish sauce, and plenty of spice from our favorite Asian condiment samba oelek, this easy-to-throw-together glaze takes our air fryer brussels sprouts from delicious to downright addictive.
Ingredients in Air Fryer Brussels Sprouts
Brussels Sprouts. While it may be tempting to buy the Brussels sprouts pre-trimmed, I like to buy them in bulk to ensure I get a bunch of those stray leaves that fall off as you trim them yourself. And when they do fall off, save them, we'll use them later.
Olive oil. The beauty of the air fryer is you really don't need much oil to get a crispy end result. Just enough to coat the Brussels sprouts is enough.
Seasoning. We keep the seasoning pretty simple with just salt, pepper, garlic powder and a little bit of onion powder. You could also just use salt and pepper or you could add in smoked paprika, cumin, or anything else you're partial to
The glaze
Soy sauce. We actually use tamari, soy sauce's less salty, more umami-packed cousin, but if soy sauce is what you have on hand, wonderful.
Lime juice + Rice Vinegar. While you could use one or the other I actually like the combination of both lime juice and rice vinegar for the acidic portion of the glaze.
Honey. Honey is what is going to thicken the glaze and make is really lovely and syrup-like in texture, so don't try to skimp on it.
Sambal Oelek. We love to use this popular chili sauce on just about everything, and it adds a really nice spicy kick to our glaze. A little goes a long way, so beware.
Garlic. Normally I like to grate my garlic into sauces and glazes, but here, I like to have bits of garlic strewn about the Brussels sprouts. If you don't biting in to a piece of garlic, feel free to grate it on a microplane.
Let's make Air Fryer Brussels sprouts.
Trim the Brussels sprouts. Take off the very bottom woodsy end of the sprout. If your sprouts are large, cut them into quarters. If they're on the smaller side, cut them in half. If any leaves fall off while trimming, that's great, we're going to use them!
Season 'em. Add the Brussels sprouts (along with any stray leaves) to a large bowl and drizzle with olive oil. Use your hands to coat the sprouts evenly. Sprinkle with salt, pepper, garlic powder, and onion powder. Again, use your hands to toss until they're evenly coated.
Fry them up! Similar to roasting, the key to crispy air fryer Brussels sprouts is to make sure you don't overcrowd them. I usually work in two to three batches (see below) so the air can circulate around every single sprout. For each batch, you want to make sure to put ONLY the quartered or halved sprouts in and not the leaves. We will cook those in the end.
After adding them to the tray, close the air fryer. Turn it on 390 degrees for 5 minutes. When there's about 1 1/2 minutes left, sprinkle some of the stray leaves on top. Cook another minute and then check to see if they are done, if not continue to cook for the full amount of time.
Remove them from the air fryer and transfer to a platter. Repeat with the next batch. Once they're all done, drizzle with a little bit of the glaze and then toss. Drizzle with more glaze, sprinkle with sesame seeds and serve extra on the side for dipping.
Make the glaze
Make the glaze while the air fryer Brussels sprouts cook.
Add all the ingredients for the glaze to a saucepan. Whisk to combine.
Bring to a boil and reduce to a simmer. Simmer until the glaze bubbles and thickens. It should take about 4-5 minutes. It should have the consistency of a thick maple syrup. Also, as it cools, its will thicken more.
Can I make Air Fryer Brussels Sprouts in Advance?
Why yes you can! They will not remain crispy, but they will remain downright delicious. Trust me. I know.
Substitutions and Tips and Tricks for Recipe Success
Don't overcrowd the air fryer.
Don't over-oil them. While you may think, more oil, more crispy, it's actually more oil, less crispy. You only need enough to coat them lightly.
Do dress them up! Add your favorite ground spice – cayenne or chinese five-spice powder would be particularly delicious.
Check on them after four minutes. Every air fryer is different and sometimes after you've used it and it's still hot, it can cook items faster. All you do is pul the tray out, check, and then put it back in. It will automatically start back up.
Other non-boring ways to get your veggie fix
These Roasted Carrots with Pistachio Pesto are definitely a step up from a typical crudités platter with ranch dressing.
With a garlic-forward flavor and subtle sweetness from coconut milk, our healthier version of creamed corn is a side dish dream.
Bacon and Peas is a classic combination for a reason – it's delicious. We've classed it up a little bit with the addition of salty pancetta and caramelized shallots.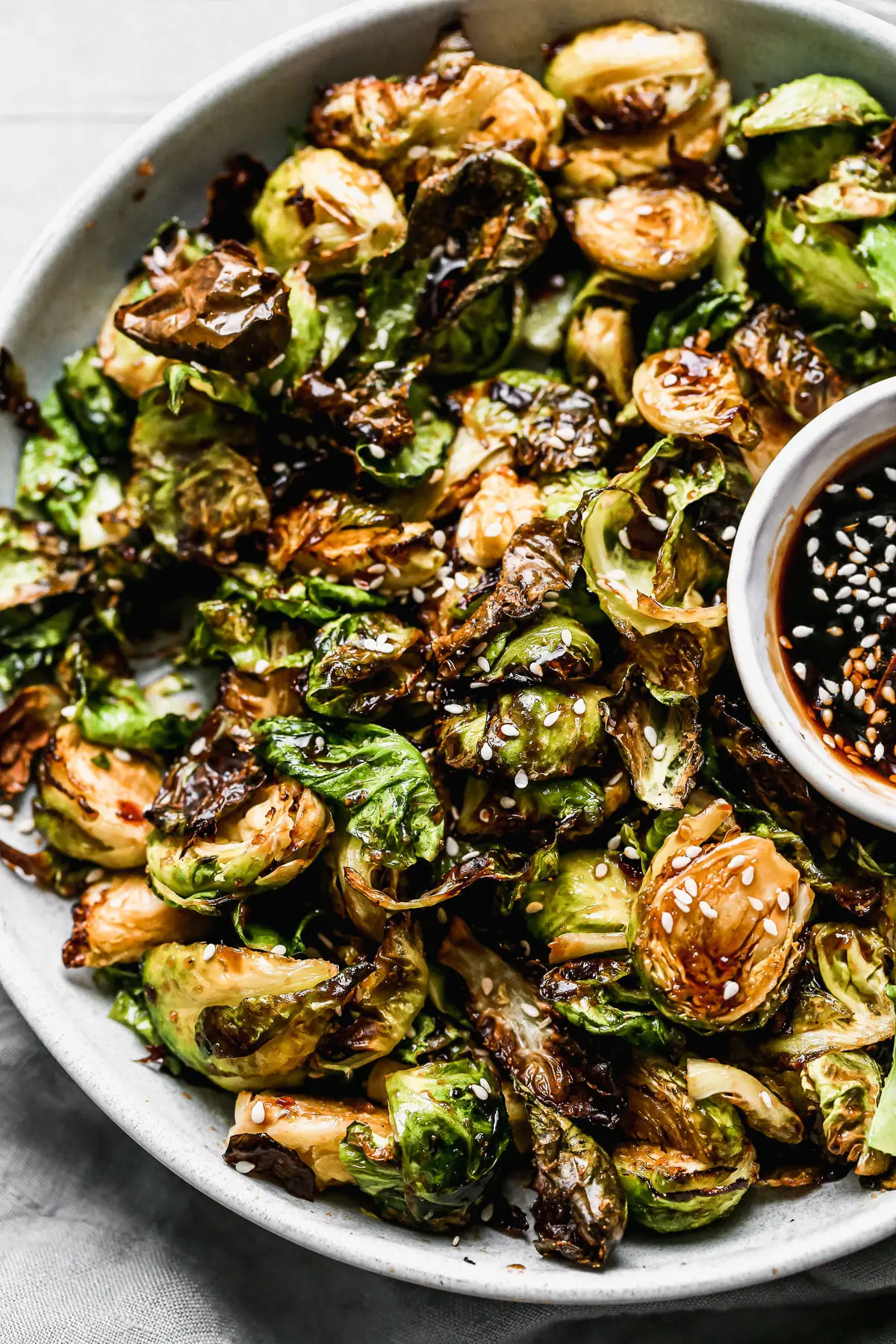 Air Fryer Brussels sprouts
Crispy on the edges, soft on the inside, and dusted with the perfect amount of seasoning, our Air Fryer Brussels Sprouts are the perfect quick and easy veggies to make any night of the week. Once the Brussels sprouts are done in the air fryer we toss them in a sticky homemade honey soy glaze, sprinkle with sesame seeds and then serve with extra sauce for dipping. (You'll want to dip.)
Ingredients
1

lb

brussels sprouts

1

tbsp

olive oil

1/4

tsp

kosher salt

1/4

tsp

garlic powder

1/4

tsp

onion powder

3

tbsp

tamari (or soy sauce)

1

tsp

fish sauce

1/4

cup

honey

2

tbsp

lime juice

2

tbsp

rice vinegar

1

tbsp

water

1

large

garlic clove, minced

1

tsp

sambal oelek (or more for extra spice)

sesame seeds for garnish
Instructions
Trim the rough ends off brussels sprouts. Cut the large ones into quarters. Halve the small ones. Keep any stray leaves that fall off, we will use those!

Add the brussels sprouts along with any stray leaves to a large bowl. Drizzle with olive oil. Use hands to evenly coat the sprouts. Sprinkle with salt, garlic powder, and onion powder. Again, use hands to evenly coat the sprouts.

Transfer half of the sprouts to the air fryer. Make sure they are spread out. You don't want them too close together or they won't crisp up. If needed, you can work in three batches (two worked for us.) Turn the airfryer on 390 degrees and set for five minutes. When there are two minutes left, sprinkle half of the stray leaves on top. Finish cooking. Check the air fryer when there is one minute left to make sure they aren't getting too brown. Transfer to a serving platter. Repeat with remaining brussels sprouts.

While the brussels sprouts cook, make the glaze. Add tamari, fish sauce, honey, lime juice, rice vinegar, water, garlic, and chili sauce to a small saucepan. Bring to a boil. Continue to boil for 6-7 minutes until thickened. Be careful to watch it and make sure it doesn't boil over, if necessary, turn the heat down a little bit. The sauce is ready when it's reduced by about half and thick enough to lightly coat the back of a spoon. Set aside. It will thicken more as it cools.

When all the brussels sprouts are ready, drizzle with a little bit of the glaze. Toss. Drizzle with more glaze if you wish, sprinkle with sesame seeds and serve with extra glaze for dipping.
Nutrition Information
Serving:
1
serving
,
Calories:
105
kcal
(5%)
,
Carbohydrates:
20
g
(7%)
,
Protein:
4
g
(8%)
,
Fat:
3
g
(5%)
,
Saturated Fat:
1
g
(6%)
,
Sodium:
698
mg
(30%)
,
Potassium:
332
mg
(9%)
,
Fiber:
3
g
(13%)
,
Sugar:
14
g
(16%)
,
Vitamin A:
573
IU
(11%)
,
Vitamin C:
66
mg
(80%)
,
Calcium:
36
mg
(4%)
,
Iron:
1
mg
(6%)