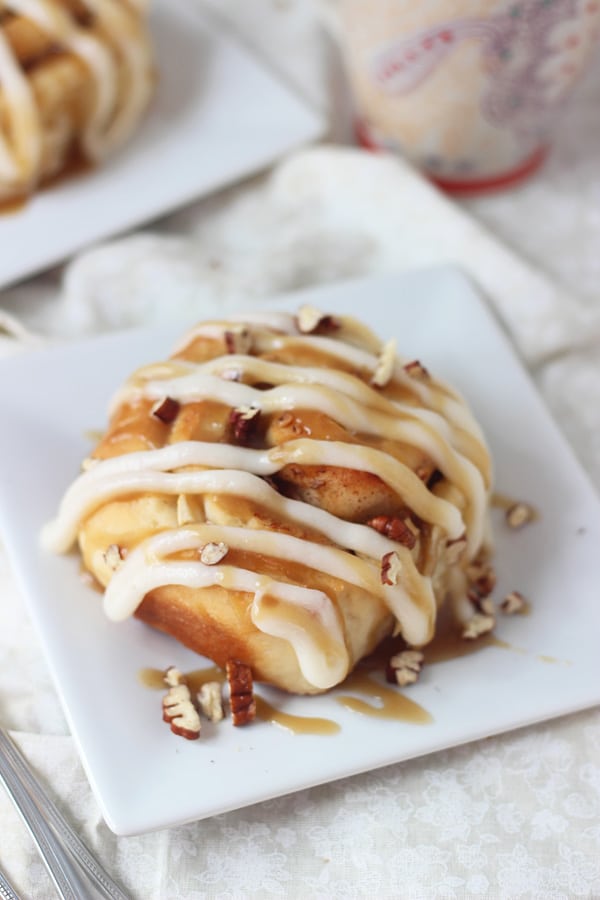 That's a long title right? But leaving anything out would be a disservice to you, it's important you know these are no ordinary cinnamon rolls – these are ridiculously-amazing-don't-know-how-I-lived-without-them cinnamon rolls. Loaded with honey crisp apples, chopped pecans and lots of cinnamon sugar, and then smothered with cream cheese frosting and homemade caramel sauce – these are anything but ordinary.
Kevin is obsessed with breakfast rolls of any kind – cinnamon rolls, sticky buns, etc., I, on the other hand am more of a savory breakfast gal and since cinnamon rolls and sticky buns are rather labor intensive, most times the only sweet breakfasts he gets are in the form of pancakes or French toast. Except I'll occasionally be feeling extra nice or lost a bet of some sort, and I'll make variation of these sticky buns that Kevin loves. BUT it's a rare occasion, and even though they aren't hard to make in the slightest, it requires a bit of planning, which I'm kind of terrible at on a Friday or Saturday night. I had very good intentions to on make them soon, since poor Kev has been deprived for far too long, but then our local bakery moved a couple doors down to a bigger location and I decided we should try that instead. Darn!!


Being the savory gal I am, I was all ready to nibble on my ham and cheese croissant while Kev devoured their to-die-for cinnamon rolls, but then we opened the doors, walked up to the counter and my eyes caught sight of a variation on their standard cinnamon roll that was loaded with pecans, drizzled in cream cheese frosting and caramel that looked insane. I first contemplated getting both, because I hate to be disappointed, but then realized that would probably be like 5,000 calories just for breakfast…umm not the best idea. After a five minute long battle of the sweet conscience versus the savory conscience, I went with my gut and very hesitantly asked for the sweet.
Holy crap.
I've never been so happy with my decision making – at least not in the last week… The dough was light; the pecans were plentiful; the icing was not too sweet; and the caramel was SALTED. Yes yes yes. I decided in that very first bite that I was recreating this at home..immediately. And by immediately, I mean that I went to the grocery store directly after and got ingredients to make them that day.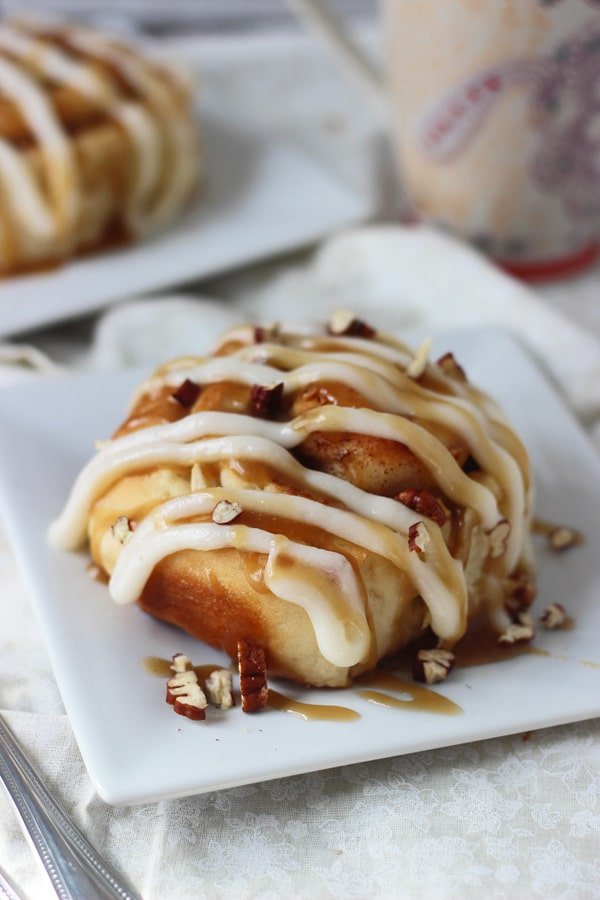 I used a variation on my go-to sweet roll recipe from Cooking Light for the dough. If you're ever hesitant to make rolls or sticky buns from scratch this is definitely your recipe. It's super easy, but does require quite a bit of time since the dough needs to rise a few times. I like to make it the day before, put the rolls together, and then store them in the fridge overnight and bake them off the next morning. Because who wants to wake up at 5am to have breakfast at 9am? Not me. I don't wake up before 7am…ever. Unless I'm hopping on a flight to somewhere fabulous, then and only then is it acceptable.
I don't even know if I can explain to you how good these are, like I don't think I've ever made a breakfast bread or any bread for that matter this good. I stuffed the dough to the brim with melted butter, lots and lots of cinnamon sugar, tart honey crispy apples and about a million pieces of chopped pecans. I rolled the dough out longer than I usually do, to create layers and layers of filling so each bite has a piece of apple, pecan, cinnamon and sugar. Every bite is pure heaven – and that's without the frosting and caramel. Yeah there's still that.
I mean what can I really say about cream cheese frosting and caramel sauce? I think the words alone speak for themselves. Yes? CREAM CHEESE FROSTING and SALTED CARAMEL SAUCE. 'Nuff said.
You should definitely follow in my footsteps and make these immediately after reading this, and by immediately, I mean you should read the recipe, look at the rest of the pictures, drool, and then get your booty to a grocery store.
Apple Pecan Cinnamon Rolls with Cream Cheese Frosting and Caramel Sauce
Author:
Nicole - Cooking for Keeps
Ingredients
Rolls:
1 cup warm milk
½ cup sugar
1 package yeast (fast acting)
2 eggs
½ teaspoon salt
3 tablespoons butter, melted
3 ¾ cups flour (plus more for rolling)
⅔ cup sugar
1 tablespoon cinnamon
2 tablespoons butter, melted
1½ cups diced honey crisp apples (about two apples)
½ chopped pecans (plus more for garnish)
Cream Cheese Icing:
6 ounces softened cream cheese
2 tablespoons milk
½ teaspoon vanilla
2 cups powdered sugar
Caramel Sauce:
4 tablespoons butter
2 cup loosely packed brown sugar
½ cup half & half
Instructions
In a stand mixer mix warm milk, sugar and yeast. Let sit until foamy, about 5-7 minutes. Add in eggs, salt and melted butter. Mix until combined. With the mixer on a low seed add flour. Once combined dump dough out on to a floured surface. Dough should be tacky.. Knead dough until smooth, about 5-6 minutes; add a little bit of flour if too sticky. Transfer to an oiled bowl and place in a warm, draft free place. Let rise one hour. Punch dough down, flip around and let rise another 20 minutes.
Once dough has rise a second time, place dough on a floured surface. Roll out to a 13X15 rectangle. Mix together ⅔ cup sugar and cinnamon. Brush dough with melted butter, Sprinkle with cinnamon sugar, then apples and pecans. Roll dough, jellyroll fashion, pinch ends together to seal.
Cut in 1 inch rolls. Place rolls in a large greased baking sheet. If making the day before cover with plastic wrap and place in the fridge. If making the same day, let the rolls rise another 15 minutes before baking.
Bake for 20-25 minutes until slightly brown and cooked through. Drizzle with icing and caramel sauce. Sprinkle with pecans.
Icing:In a small bowl, whisk together softened cream cheese, vanilla and milk. Slowly whisk in powdered sugar until smooth. Set aside.
Caramel: In a small saucepan, combine brown sugar, butter and ½ and ½ . Heat over a medium heat, stirring frequently until butter and sugar is melted, about five minutes. Season with a pinch of salt. Remove from heat, let cool completely.
*Soure: Sweet Roll Dough Recipe Adapted from Cooking Light:
here