Our Asian Grilled Salmon Marinade is only FIVE ingredients, spicy, salty, and sweet all in one. Whisk everything together, marinade for as long as you want, and then throw on the grill for the easiest dinner on the planet.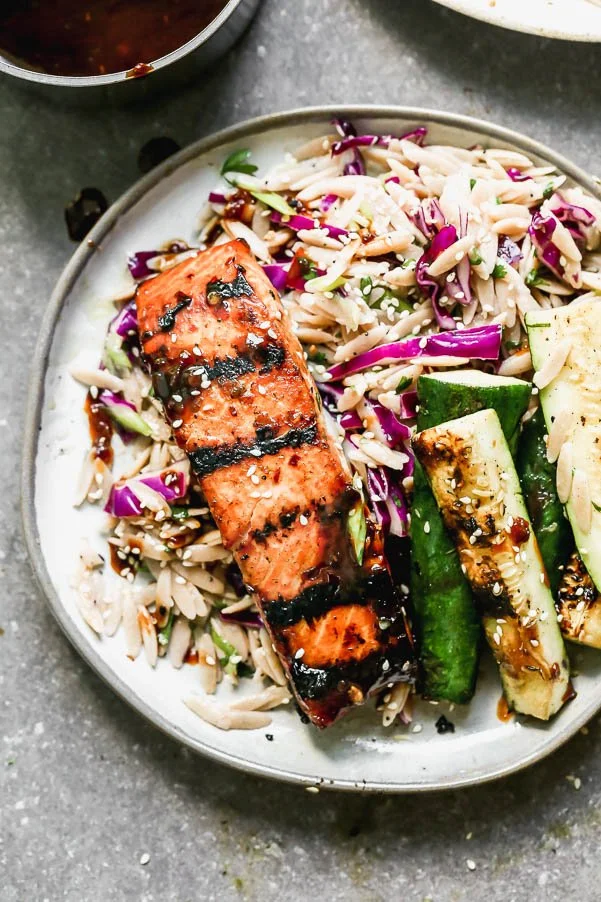 Asian Grilled Salmon Marinade
The seafood archives on Cooking for Keeps confirm one thing. We eat a LOT of salmon. We've shared broiled versions smothered in tomato butter, seared salmon swimming in red curry broth, and an irresistible crispy salmon cake, just to name a few, but we've yet to share a salmon marinade.
Something you can prep ahead of time, throw on the grill, and call it a day.
You could go a million different directions for a grilled salmon marinade, but our favorite version is Asian inspired, five ingredients, and pretty much the easy recipe on the planet.
With Asian influence, there's of course hints of salty soy, but we also pack in a good amount of heat with our favorite Asian condiment, sambal oelek, and a hint of sweetness. Serve with grilled vegetables, our newest Sesame Orzo Salad, and call dinner done.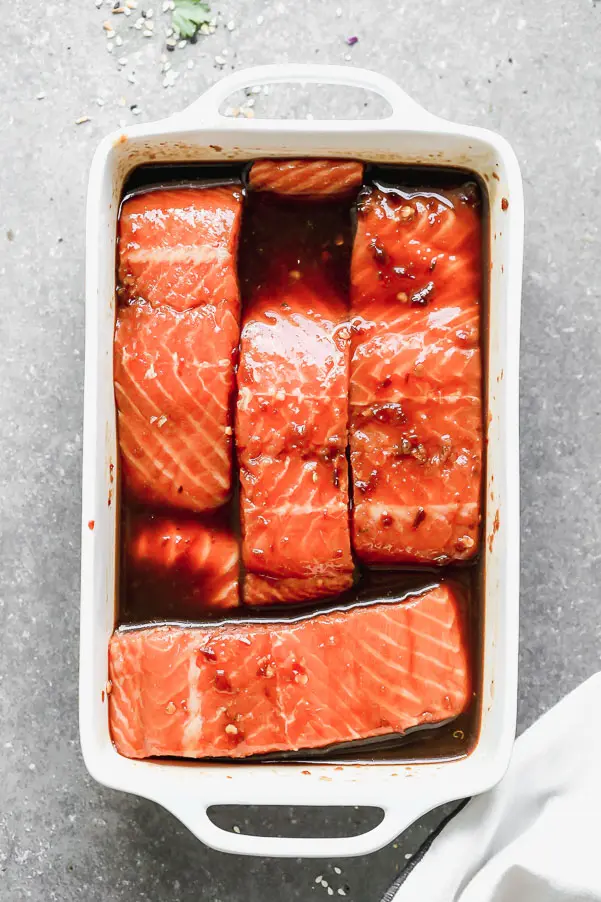 Ingredients in Grilled Salmon Marinade
Soy sauce. I actually like to use tamari instead of soy sauce, which is just a richer, slightly more complex version of regular soy sauce. It's a little less salty, which I love, and gives off just a little bit more umami essence. Obviously if you only have soy sauce, that's fine too.
Sambal oelek. Gosh, I love this stuff. If you haven't tried samba oelek before, it's similar to sriracha, but infinitely better. Like tamari is to soy sauce, sambal oelek, in my opinion, is much more complex in flavor than sriracha. It's made up of ground chilis, garlic, vinegar, citrus (usually lemon or lime or both), onion, and a little bit of sugar.
It's also a little bit chunkier and more chili-forward than sriracha which I also love about it.
Honey. For more, the perfect salmon marinade has a lot of heat, some saltiness, and juuust enough sweetness to bring all the different flavor profiles together.
Rice vinegar. Even though there is acid in the sambal oelek, I like to reinforce the acid notes with a little bit of rice vinegar. You could also use lime juice if that's all you have on hand.
Salmon. What good is a grilled salmon marinade without the salmon? I always get my salmon at Whole Foods since I live in the midwest and don't have access to off-the-boat salmon. It's buttery and delicious, plus it's super affordable at $5.99 per six-ounce filet.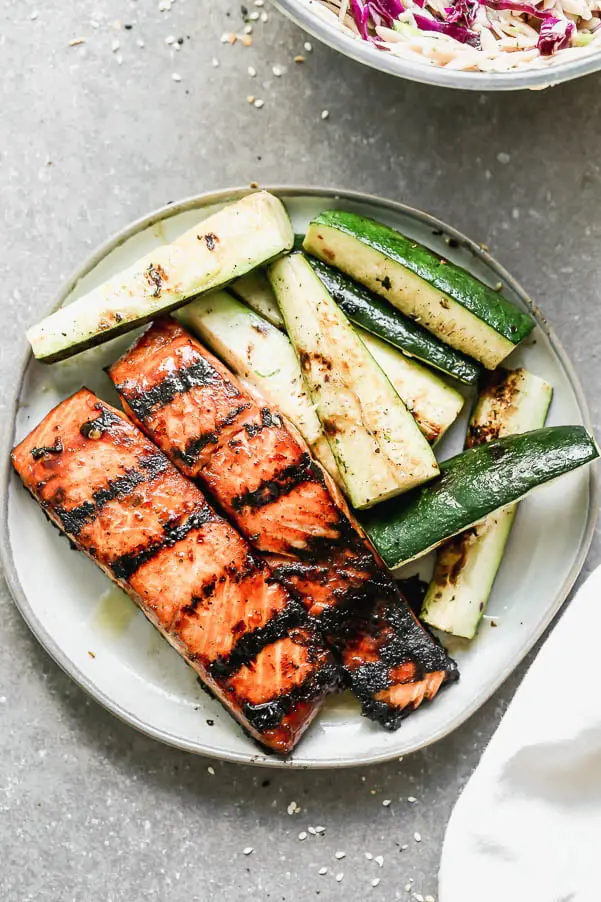 How long can I marinate salmon?
Ok, so when it comes to marinades and seafood, you need to be careful. If you have an acid in your marinade as we do, you don't want to marinate for a super long period of time, because the acid will start to cook the salmon. When I only have a quick 30 minutes to marinate the salmon, I'll throw everything in the marinade together and then marinate the salmon.
If I want the salmon to marinate longer, I'll just mix the chili paste, honey, and soy sauce together, marinate the salmon for up to eight hours and then add the rice vinegar to the marinade 30 minutes before cooking to finish up the marination process.
How to grill salmon
When grilling salmon, you're going to want two heat levels. First, you want one side of the grill to be on a high heat. The other side of the grill should be medium-high.
Be sure your grill is VERY clean. Salmon and seafood notoriously stick to grill grates, so they need to be super clean. Give them a good rub down before you grill.
When the grill is hot, rub a paper with canola oil and carefully rub the grates with oil. You can also brush the grates with canola oil if you have a heat-proof grill brush.
Drain off any excess marinade off the salmon and place it on the hot side of the grill, skin side down. Grill 6-7 minutes until the salmon easily releases from the grill. Flip over and transfer to the cooler side of the grill. At this point, the salmon should be skin-side up. Continue to cook until the salmon is just under medium, another 2-4 minutes or so.
I've found the perfect temperature of salmon to be completely subjective to the person eating. This recipe's instructions will yield a salmon that's just under medium. If you want to be precise (I always do) use an instant-read thermometer, take the salmon off when it reaches 125 degrees and then let it rest for five minutes.
If you're nervous about grilling directly on the grates, I also highly recommend this Grill Mat, NOTHING sticks to it, everything still gets grill marks, and it's dishwasher safe. I love it.
What to serve with Grilled Salmon Marinade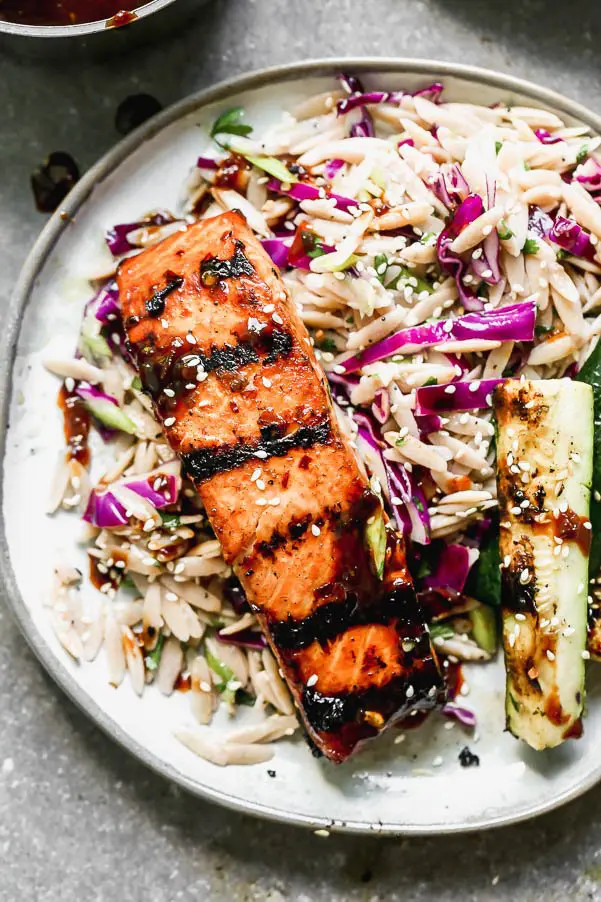 Asian Grilled Salmon Marinade
Our Asian Grilled Salmon Marinade is only FIVE ingredients, spicy, salty, and sweet all in one. Whisk everything together, marinade for as long as you want, and then throw on the grill for the easiest dinner on the planet. 
Ingredients
1/4

cup

tamari or soy sauce

2

tbsp

honey

1-2

tbsp

sambal oelek

2

tbsp

rice vinegar

1

tsp

grated ginger (optional)

4

6-ounce salmon filets
Equipment
Baking dish or plastic baggie

Grill
Instructions
Add the soy sauce, honey, sambal oelek, rice vinegar, and ginger (if using) to a plastic bag or shallow baking dish. Whisk to combine. Add salmon filets and coat in the marinade. Marinate for 30 minutes to 1 hour, flipping the salmon to coat again halfway through marinating.

When you're ready to grill, turn half of the grill on a high heat and the other half on medium-high. Be sure the grill is clean. Brush grates of the grill with canola oil to prevent the salmon from sticking. You can also wet a paper towel with canola oil and quickly oil the grates.

Let all excess marinade drip off the salmon. Season with the salmon with salt and pepper. Add the salmon to the hot part of the grill, skin side down. Grill for 6-7 minutes until the salmon easily removes from the grates. Flip and move the salmon to the cooler side (skin side up) to finish cooking. Continue to grill until cooked through, about 2-3 minutes. If you're unsure when the salmon is done, use an instant-read thermomtor. Pull the salmon off when a thermomter reaches 125 degrees - this will be just under medium.

While the salmon grills, add the remaining marinade to a saucepan. Bring to a boil and reduce to a simmer for 4-5 minutes. When the salmon is about a minute from finishing, brush with marinade. Remove the salmon from the grill, cover and let it rest for 3-4 minutes before serving.

Serve with orzo or your favorite side.
Nutrition Information
Serving:
1
salmon filet
,
Calories:
288
kcal
(14%)
,
Carbohydrates:
11
g
(4%)
,
Protein:
35
g
(70%)
,
Fat:
11
g
(17%)
,
Saturated Fat:
2
g
(13%)
,
Cholesterol:
94
mg
(31%)
,
Sodium:
886
mg
(39%)
,
Potassium:
879
mg
(25%)
,
Fiber:
1
g
(4%)
,
Sugar:
9
g
(10%)
,
Vitamin A:
68
IU
(1%)
,
Vitamin C:
1
mg
(1%)
,
Calcium:
23
mg
(2%)
,
Iron:
2
mg
(11%)