These Salmon Sliders with (Epic!) Peanut Sauce and Asian Sesame Slaw, are so simple, but SO delicious. Plus, you'll want to slather the peanut sauce on EVERYTHING.
I have a gift. Not the gift of a genius mind that automatically knows the square route of 237,324,567. Not the gift of athleticism where one can actually shoot a basketball, make it, AND execute that perfect swish sound. Not even the gift of organization, which might not leave my car, desk or closet in a constant array of disaster.
Nope, I was blessed with nothing of the sort.
While all of those things are gifts I'd love to have been born with, the much less noteworthy gift I'm referring to, is the sense of taste. Yes, all of us out there have actual taste buds, but can you really taste the food you eat? Nine times out of ten if you put a dish in front of me, I'll be able to discern almost all of the ingredients in said dish. I guess maybe it's not so much of a gift as it is a killer palate – but I'll continue to think of it that way, because honestly, I'm not really good at much else besides eating, cooking and a few other boring things.
Admittedly though, every once in a while, a food will come along that leaves me completely blank, grasping at straws to distinguish the individual flavors. It's something that drives me absolutely bonkers, especially when it's a food or dish I'm desperate to recreate at home.
My most recent bout of taster's block has been an ongoing battle for the last five years of my life – the culprit?? Peanut sauce.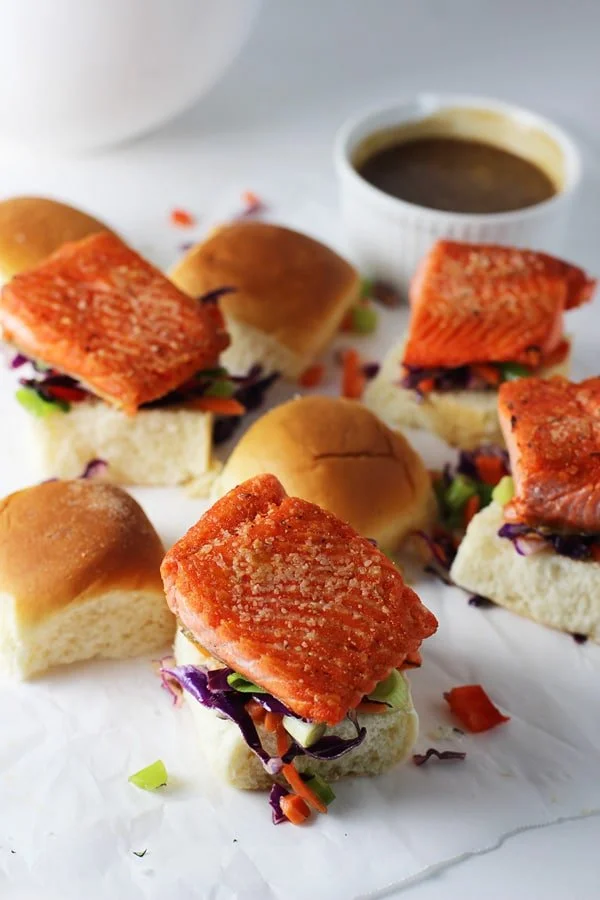 Peanut sauce may seem like a relatively easy thing to recreate at home, but not THE peanut sauce that I'm obsessed with, one that comes from a local restaurant chain here in Kansas City. It's thick. It's spicy. It's tangy. It's sweet. It's salty. It's peanut-y. All things wonderful about peanut sauce, and I, for the life of me, have not been able to figure out how to make it at home. I was so frustrated by my lack of success, I even bribed one of the waiters to write down the ingredients for me, which he did, and which I later lost. Blasphemy!
I've tried SEVEN different variations I found on the Internet – nothing compared. I had all but given up, when out of the blue the other day, I felt the burning need to try again for some reason.
I got out all the usual suspects. Peanut butter. Sesame Oil. Fish sauce. Soy Sauce. Honey. Mustard. Sweet Chili Sauce. Sirracha. Rice Vinegar.
I added things, stirred, added more. Too much soy. Too much sesame. Wayyyy too much fish sauce. Too bitter. Too spicy. Anger and frustration started to creep up.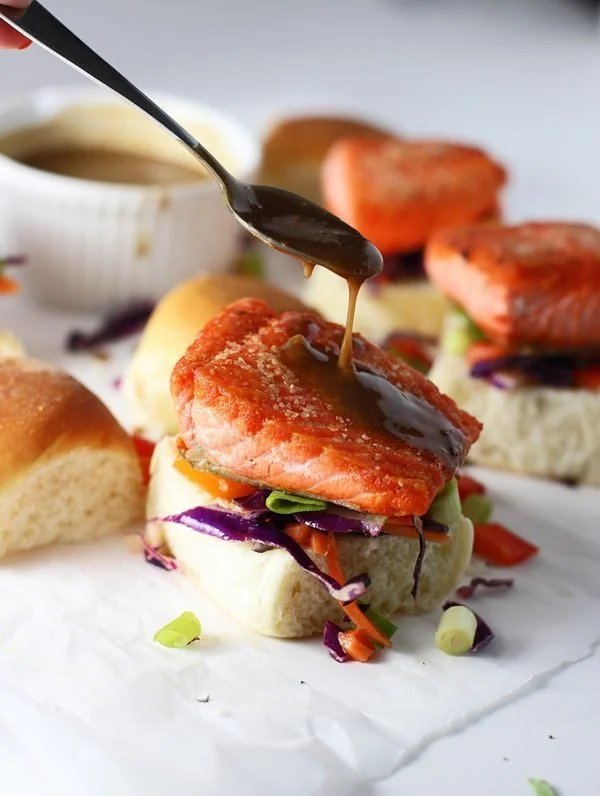 Then! Epiphany!
Just as I was about to add more peanut butter, I thought back to my previous peanut sauce making endeavors, at this point I would have added more peanut butter, because to achieve a "peanut" flavor there must be loads of peanut butter, right?? Wrong. Totally, utterly wrong. So instead I upped the honey — better. Then? Even more honey — even better.
I knew it was perfect when I couldn't stop "testing" it and was almost IDENTICAL to my favorite I'd so desperately wanted to master. I felt so accomplished. So proud. So alive! It took me five years to get there, but boy was it worth the wait because I now have peanut sauce perfection.
BUT! Now that I had the perfect peanut sauce, I needed something else to slather it with; otherwise I was going to have to continue to spoon-feed it into my mouth until every last drop vanished.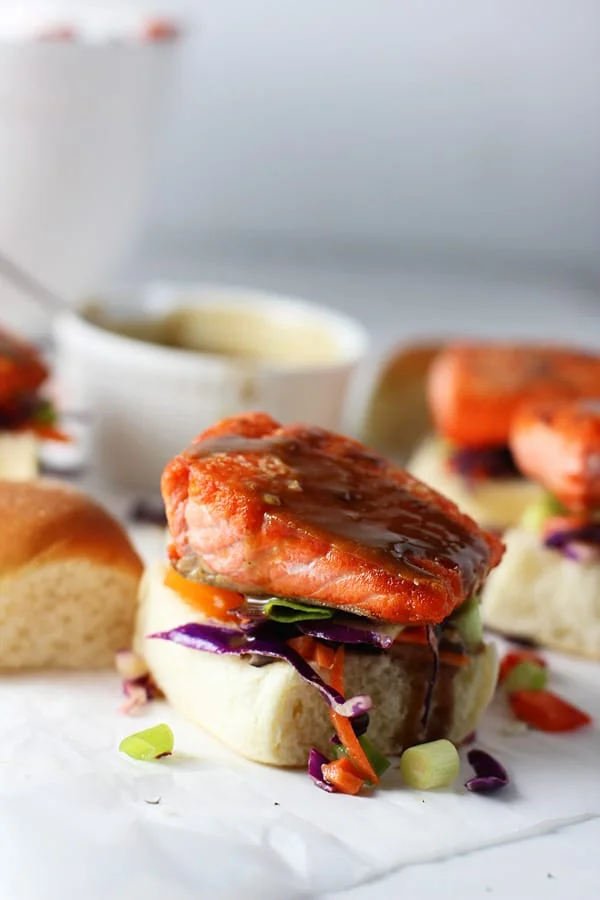 Enter: Salmon Sliders
I've always loved the way peanut sauce pairs with salmon, and I've been totally into putting my food into tiny packages so I couldn't think of a better way to appropriately highlight both ingredients than in a slider. Plus, after all the drinking and eating I've been doing lately, I could stand to lose the giant portions of food.
The bun is your choice, but I'd highly recommend those Hawaiian rolls; the sweet, light-as-air bread pairs perfectly with the spicy peanut sauce and buttery salmon. Plus, their easily smooshable – which is important in slider consumption. The finishing touch is a super easy Asian slaw made with chopped red peppers, purple cabbage, carrots, green onions, a little sesame oil and rice wine vinegar.
I could literally eat the entire recipe of these. So flippin' delicious.
Salmon Sliders with (Epic!) Peanut Sauce and Asian Sesame Slaw
These easy salmon sliders will wow a crowd, but only take you minutes to make!
Ingredients
1 pound center-cut salmon cut into 2 ounce portions
For the peanut sauce:
2 tablespoons soy sauce
1 teaspoon fish sauce
2½ teaspoons sesame oil
5 teaspoons honey
1 teaspoon sweet chili sauce
1 teaspoon rice vinegar
½ teaspoon tamarind sauce
2 tablespoons peanut butter
½ teaspoon crushed red pepper flakes (or less depending on your spice tolerance)
2 tsp water
For the slaw:
½ cup chopped red pepper
½ cup chopped carrot
½ cup chopped red cabbage
2 green onions sliced thin
3 teaspoons sesame oil
3 teaspoons rice vinegar
8 Hawaiian sweet rolls
Instructions
In a mini food processor, add in all of the peanut sauce ingredients. Pulse until smooth. Set aside.
In a medium bowl toss all the ingredients together for the slaw, set aside.
Heat a tablespoon of olive oil in a large sauté pan over a medium-high heat. Cook salmon until desired doneness, about two minutes per side for medium-well.
Place slaw on bottom of bun, top with salmon and drizzle with peanut sauce.