Let's take all of the flavors of a classic Banh Mi Sandwich deconstruct it and nestle everything into perfect little Vietnamese Lettuce Wraps. We will get crispy, salty ground pork, crisp veggies, with a sweet and spicy mayo drizzle in each drippy bite we take. And we will be happy.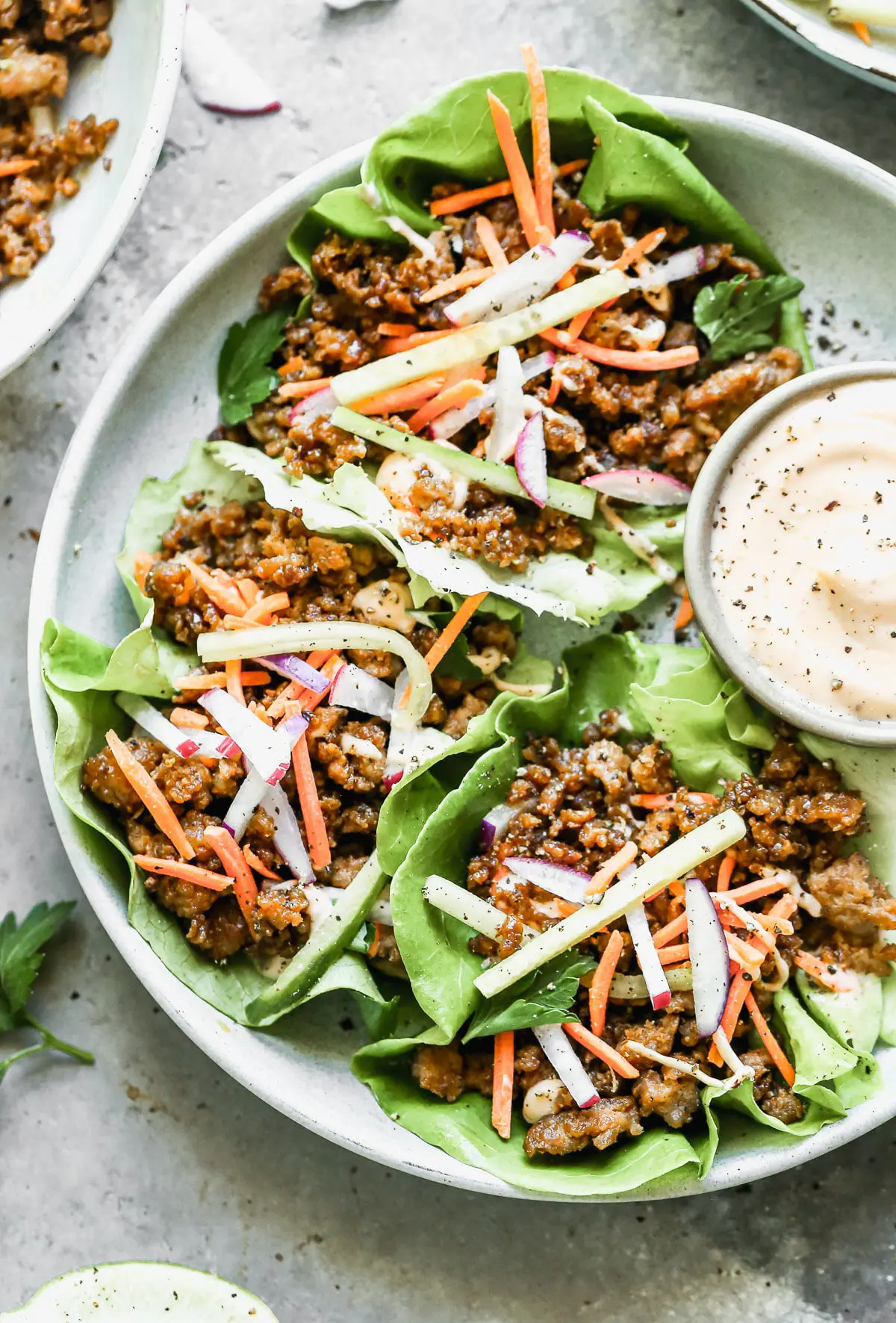 Banh Mi Vietnamese Lettuce Wraps
I look at food similar to the way Carrie Bradshaw looks at her shoes – with lust and a can't-live-without-it kind of attitude. (Although I won't lie, I look at shoes the same way she does as well.) I also have the same reaction she does when figuring how much of my income actually goes towards dinners out, grocery stores and fancy food shops – it's quite astonishing when that yearly credit card statement rolls around.
But as it goes with most things in life, it's all about balance. Since I spend such a big bulk of my money on things I love, I try to cut back on other things in life that aren't necessary, and try my best to come up with a couple meals a week that won't send my bank account into a tailspin.
Banh Mi Vietnamese Lettuce Wraps satisfy both my need for ridiculously delicious food and the need to not spend a million dollars on every single meal that comes out of my kitchen. Thank goodness for moderation.
Here's what's happening: We take ground pork and brown it in a screaming hot oven until it's ultra crisp, then toss it with a simple sauce classic to banh mi made of soy sauce, fish sauce, sriracha, and brown sugar. Once the meat is slicked with the liquid gold, we nestle it into pretty little butter lettuce cups, top it with a bevy of julienned veggies, and drizzle with a spicy mayo you'll want to put on everything.
I quickly fell in love with the flavor profile of a bahn mi a few years ago, and since then renditions on it have become somewhat repetitive in my household. The bulk of the ingredients are typically something I have on hand, and the remaining ingredients are pretty cheap to pick up on a whim, making this a meal that's not only inexpensive, but super quick and easy to prepare.
I basically stole the recipe from these Banh Mi Chicken Burgers and this bahn mi pizza I fell in love with a few months ago (if you're not on a diet, try it NOW), removed the cheese and swapped out a carb-filled pizza crust base for a more figure-friendly vessel of lettuce.
Like the pizza there are three different components to the lettuce wraps; first, the saucy pork filling; second, the pickled veggies; and third, the spicy sauce.
Ingredients in Banh Mi Vietnamese Lettuce Wraps
Ground pork. Banh Mi is classically made with pork, so that's what we stick with. Because pork has more fat than chicken or turkey, it crisps up really nicely. If want to cut calories and fat, you could definitely use one of the alternatives.
Sesame oil. We use sesame oil to cook the pork in and then we also use it later to make the spicy mayo. It's something I always have on hand because I love to use it Asian-based recipesf and soups.
Soy sauce. You can use tamari, regular soy sauce, or low-sodium.
Fish sauce. Fish sauce has a very distinct briny taste, I don't like a heavy hand of it in any recipe, but adding just a little bit adds a really nice savory umami factor really important in these Vietnamese lettuce wraps.
Sriracha. I need a little spice in my lettuce wraps, so we go with classic sriracha, but any hot sauce for even crushed red pepper flakes will work great. We also use it in the spicy mayo to add a little bit of heat.
Brown sugar. The beauty of the crisp pork filling is the salty, spicy, and sweet elements. Brown sugar is the sweet element and it also helps the sauce turn into a glaze that slicks the pork.
Mayo. I always like to use low-fat mayo, especially when combining it with other ingredients.
The pickled veggies
Veggies. You could use an array of vegetable, but we stick with a combination of shredded carrot, radish and cucumber.
Rice vinegar. This is a quick pickling method, so all we need is a little bit of rice vinegar to break the veggies down a bit. You could also use white wine vinegar if you don't have rice vinegar on hand.
Sugar. I figure everyone has a little white sugar on hand so please forgive me for listed two minor additions of sugars in the ingredient list.
Let's make Lettuce Wraps!
Make the pickled veggies. Before you do anything, throw the pickled veggies together so they can do their thing. Toss the shredded carrots, radishes and cucumber in a little bit of sugar and rice vinegar. Let it marinate while cook the pork and make the spicy mayo. Simple. Easy. Done.
Make the pork. Heat sesame oil in a big non-stick skillet. Add the ground pork and using a bit of force, break it up into small pieces. Cook it over a high heat until it gets super crispy and brown.
When the pork is crisp, add the soy sauce, fish sauce, a little bit of brown sugar and sriracha. This, alone warrants a serious lust-factor, and has single-handedly turned me into a pork aficionado, well actually, bacon did that, but this took the love affair with pork to whole other level. My goodness, so good.
Make the mayo. While the pork cooks, utilize that down time to make the mayo and pull butter lettuce leaves off of the root. Add mayo, rice vinegar, sirracha, sesame oil and a little bit of salt to a small bowl. Stir until combined.
The spicy mayo kind of reminds me of the spicy mayo you find on top of sushi rolls or served with spring rolls, but would also be so good on an Asian-style burger or drizzled over fish tacos.
Assemble. Tuck a little bit of the pork filling into giant leafs of lettuce (I like to use a boston or butter lettuce, but cabbage or iceberg would also work.), top with the pickled veggies, a little bit of the leftover vinegar and then drizzle it all with the spicy mayo.
Can I make Vietnamese Lettuce Wraps in Advance?
The short answer is yes! The long answer is you can prep everything the day of ahead from the pickled veggies to the mayo, and the pork filling. Heat the pork up and assemble just before serving.
Also, I don't always pickled the veggies, especially if I'm making it advance. The carrots and radish will be fine, but the cucumber can get a little bit soggy if you pickled it advance. Just a warning.
Substitutions and Tips and Tricks for Recipe Success
Really crisp up that pork! It takes a little bit of patience, but it will get super crispy in places, which we love.
Again, if you want to lighten up these Vietnamese Lettuce Wraps, you could swap out the pork for ground chicken or turkey. Although it wouldn't' be much lighter, ground beef would also beef delish.
Sambal oelek or any other garlic chili sauce will work in place of sriracha.
What to serve with lettuce wraps
Banh Mi Vietnamese Lettuce Wraps
Let's take all of the flavors of a classic Banh Mi Sandwich deconstruct it and nestle everything into perfect little Vietnamese Lettuce Wraps. We will get crispy, salty ground pork, crisp veggies, with a sweet and spicy mayo drizzle in each drippy bite we take. And we will be happy. 
Ingredients
1

cup

shredded carrots

3/4

cup

julienned radishes

3/4

cup

julienned cucumber

1/4

cup + 2 tbsp

rice vinegar

1

tsp

sugar

1

lb

ground pork

2

tsp

sesame oil

1

tbsp + 2 tsp

soy sauce

2

tsp

fish sauce

1

tsp

sriracha

2

tsp

brown sugar

1 head boston or bibb lettuce
Spicy Mayo
1/2

cup

low-fat mayo

1 1/4

tsp

sriracha (or more to taste)

1 1/2

tsp

sesame oil

1

tsp

rice vinegar
Instructions
In a bowl combine carrots, radishes, cucumber, rice vinegar and sugar. Season with salt and pepper. Let the mixture sit while you make the remaining components.

Heat a large non-stick skillet to a medium-high heat. Add 2 teaspoons of sesame oil. When the oil is hot, add the pork. Break pork up with a wooden spoon and then cook until browned and crispy, about 7-8 minutes.

While the pork browns, add the soy sauce, fish sauce, teaspoon of sriracha (or more if you like spice), and brown sugar to a small bowl. Mix until combined. Add the mayo, remaining 1 1/2 teaspoons sesame oil, 1 1/4 teaspoons sriracha, and 1 teaspoon rice vinegar to another small bowl. Miix until combined. Season with salt and pepper.

When the pork is crisp and brown, add in the sauce. Toss to coat and cook another 1-2 mintues until thickened.

Spoon the pork mixture into each lettuce "bowl." Top with pickled veggies and drizzle some mayo on top. Enjoy!
Nutrition Information
Serving:
1
lettuce wrap
,
Calories:
214
kcal
(11%)
,
Carbohydrates:
4
g
(1%)
,
Protein:
10
g
(20%)
,
Fat:
17
g
(26%)
,
Saturated Fat:
5
g
(31%)
,
Trans Fat:
1
g
,
Cholesterol:
43
mg
(14%)
,
Sodium:
384
mg
(17%)
,
Potassium:
229
mg
(7%)
,
Fiber:
1
g
(4%)
,
Sugar:
3
g
(3%)
,
Vitamin A:
2688
IU
(54%)
,
Vitamin C:
2
mg
(2%)
,
Calcium:
17
mg
(2%)
,
Iron:
1
mg
(6%)