I have a serious soft spot in my heart for Valentine's Day. It emulates everything I love – the color pink, fresh flowers, fancy dinners, champagne and of course, chocolate. Even before I was married or had a boyfriend, I always adored the allure of Valentine's Day, and celebrated accordingly. Whether it was decorating a fancy valentine box in elementary school, cooking up a steak and crab leg dinner with my family in middle school or finding the perfect pink-hued outfit to wear in high school – Valentine's Day has always been a holiday I fully embrace.
This year I've managed to find a way to celebrate the holiday not one, not two, but three different days. While Kevin and I usually forgo the over-crowded restaurant scene on the actual day in lieu of a fancy dinner at home, we typically try to make it out for dinner at our favorite cozy old-school Italian restaurant the weekend before or after. Since Valentine's Day falls on a Saturday this year, we were sort of forced to break tradition and go to our annual spot the day of, as Kevin is in the midst of his busy season and works late on Fridays as well as every Saturday morning. Having a long work day looming ahead of you doesn't exactly allow him to enjoy dinner to its fullest. So this year, I'm switching it up and making a cliché Valentine's Day meal of steak and lobster when Kevin gets home from work tonight, and tomorrow we'll feast on fresh pasta, copious amounts of warm bread and a bottle of red wine to cap off the holiday.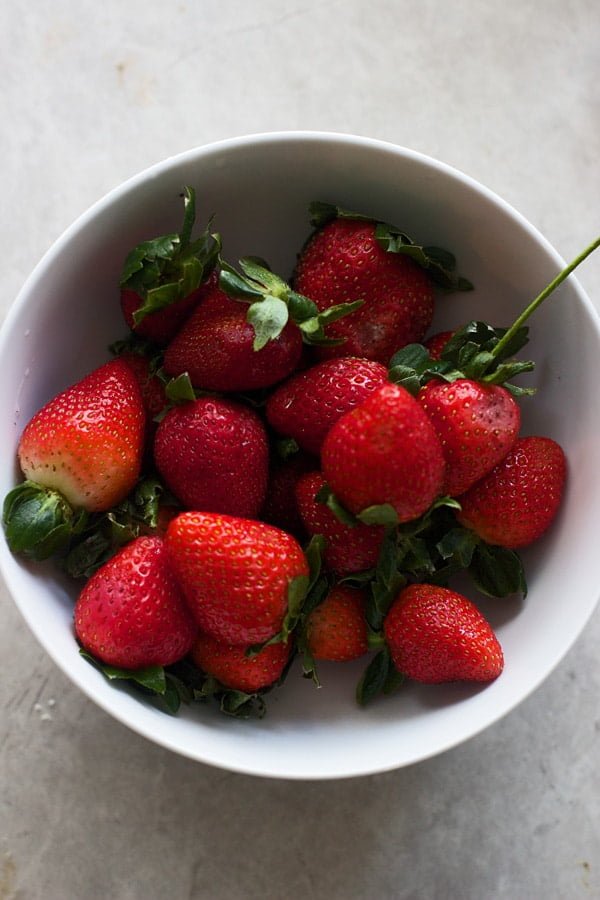 While my week is finishing up with quality husband time, as you might remember, the week began with some girl time and a Valentine's theme Bachelor watch party at my house. The night started off with a pink cocktail made up of pomegranate juice, a little citrus vodka and some bubbly; for our main meal, I took the classic steakhouse meal, and turned all the components into bite-sized hors d'oeuvres for the girls; and finally, our night ended with a classic chocolate mousse and these adorable Bailey's Cheesecake Stuffed Strawberries.
I almost didn't share these, because to me, the pictures aren't up to par, but honestly, they were just too good to keep to myself, plus they're SO easy to make! So if you're in dire need of a last-minute dessert for tomorrow, these will not disappoint.
Softened cream cheese is mixed with a splash of Bailey's, a few tablespoons of powdered sugar and then piped into cut strawberries. They're drizzled with a little bit of melted chocolate and viola – dessert in a pinch.
Have a lovely Valentine's weekend everyone! XO
Bailey's Cheesecake Stuffed Strawberries
Serves:
approx 15 strawberries
Ingredients
1 pound strawberries
7 ounces softened cream cheese
1 ½ tablespoons Bailey's Irish Cream
3 tablespoons powdered sugar
½ cup semi-sweet chocolate chips
Instructions
Cut the corner off of a large ziplock bag (about ½ inch).
In a small bowl, mix cream cheese, bailey's and powdered sugar until smooth.
Using a paring knife, slice strawberries down the middle, but do not cut all the way through.
Gently open up each strawberry and pipe filling into the middle. Chill for five minutes and drizzle with chocolate. Chill again for 15-20 minutes before serving.
Put chocolate into a small microwave safe bowl. Heat in 15 Second increments, stirring in between each until chocolate is fully melted. Drizzle over strawberries.