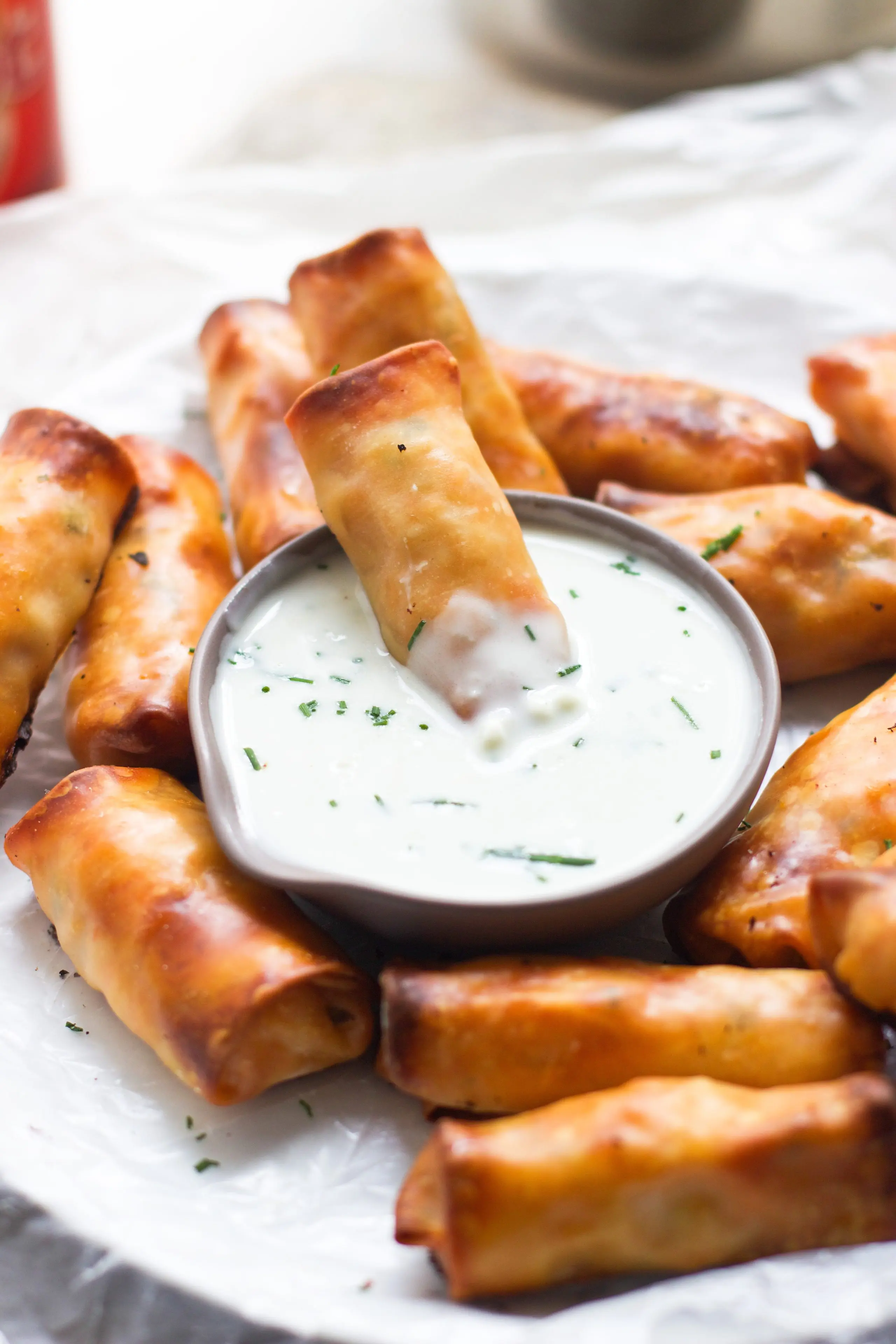 So I may have gone a little bit crazy with the football food. But the ideas are overflowing and well, Kevin really likes football food, so it's easy to keep churning out recipes daily when they're met with such gusto. We also happen to be watching a lot of football, so it only makes sense to pair countless hours of ball tossing and fantasy football references with the appropriate type of food, right?
Like chili dogs, before Kevin I wasn't really into buffalo chicken (burgers and cheese dip were more my thing), of course I'd inhale anything buffalo chicken in a second if I was out at a friend's house or eating and drinking at a bar, but mostly likely you wouldn't see it coming out of my kitchen. The blogging world has also helped to catapult the buffalo chicken craze from wing-loving dudes to the general population (including myself) and because of that I feel like the words, buffalo chicken, are synonymous with football season and a must for any viewing party.
The spins on a classic buffalo chicken wing are continuously becoming more and more creative around the web, so I make it my personal mission these days to come up with a at least one to contribute to society – and let's be serious, I'm a total convert and would gladly inhale ALL of the buffalo chicken recipes this world has to offer now. (Last year, I shared these guys that are still killing it on Pinterest.)
These baked mini buffalo chicken egg rolls might be my favorite spin on the classic football food yet and hit the three points, that in my opinion, make certain recipes the holy trinity of football foods. One, they're buffalo chicken, duh. Two, they're bite-sized. Three, they're dunkable. So basically, they're finger food perfection.
The filling in of itself is something I would inhale in a millisecond, could not be easier to throw together and has literally four ingredients – that's it. Shredded chicken, hot sauce (always Frank's), softened cream cheese and plenty of green onion are mixed together, seasoned with a little salt and pepper and you're done. We're tucking these into wonton wrappers, but you could put this stuff in virtually anything – quesadillas, tacos, mushrooms (um yum), pretzels, calzones, the list goes on and on…
But like I said, here we're stuffing the filling into teeny tiny wonton wrappers. I initially toyed around with the idea of making full-sized egg rolls, but as Kevin pointed out eloquently, "People love bite-sized," and I agree.
So, these can be a wee bit tricky. You have to have the perfect amount of filling and position it correctly for these to wrap up nicely. For me, I found that a heaping teaspoon was the goldilocks of measurements and I placed it a line on the front third of the wonton wrapper with a border around it so no filling could escape. From there, you just wrap them up as you would any egg roll — tuck the sides in and roll.
I also tried two methods to cook them, one, brushing them with egg wash and then baking them, and two, just popping them in the oven as it. Both yielded a crispy exterior, but I found the egg wash to be unnecessary, but if you want that shiny skin, go for it.
While the baby egg rolls are baking, I threw a super quick blue cheese together with a little bit of butter, flour, whole milk, blue cheese and just a touch of salt for dunking — and because I can't have buffalo chicken without blue cheese.
May I also suggest setting out a little bowl of extra hot sauce for those that are in need of an extra kick…
Dunking required. Happy weekend all!
Baked Mini Buffalo Chicken Egg Rolls with Blue Cheese Sauce
Buffalo chicken stuffed into mini wonton wrappers, baked and dunked in blue cheese dipping sauce -- the PERFECT football season finger food!
Author:
Nicole ~ Cooking for Keeps
Serves:
approximately 20 egg rolls
Ingredients
3 cups shredded chicken
¼ cup buffalo sauce (Frank's)
4 green onions, sliced thin
3 ounces softened, light cream cheese
20 wonton wrappers
Blue Cheese Dip
2 teaspoons butter
2 teaspoons flour
½ cup warm milk
¼ cup crumbled blue cheese
Salt and pepper to taste
Instructions
Preheat oven to 400 degrees. Grease a baking sheet with non-stick cooking spray.
In a medium bowl, combine chicken, buffalo sauce, green onions and cream cheese.
Fill a small bowl with water. Place one heaping teaspoon of filling on the front third of each wonton wrapper leaving a slight border around the edges. Use your finger to moisten the edges of the wonton wrapper. Tuck the sides in and roll up, jelly roll-style, place seam-side down on baking sheet. Repeat with remaining wontons and filling.
Bake egg rolls for 12-15 minutes or until golden brown and crispy. Serve with blue cheese sauce.
For sauce:
In a very small saucepan, melt butter over a medium-low heat. Whisk in flour. Slowly whisk in milk, making sure to get rid of all lumps. Bring to a boil and reduce to a simmer until thickened, about 1-2 minutes. Remove from heat and stir in blue cheese until melted. Season with salt and pepper.