I made enchiladas…again.
My love for enchiladas knows no bounds and has been well documented in recipes like this, this, this and this.
You've probably heard me say this a million times before, but if you asked me what dish I'd be content eating every day for the rest of my life, nine times out of ten, my answer would be enchiladas – the other ten percent of the time, my answer would be ravioli, because pasta encased around creamy cheesy filling is everything that's right with this world.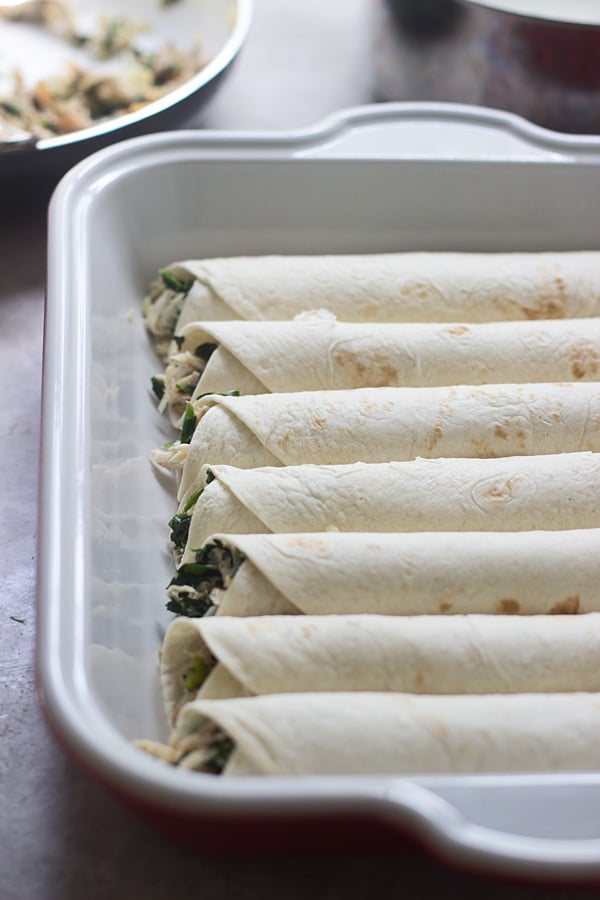 There's just something about a tortilla stuffed with various veggies, meat and cheese and covered in sauce that sends my stomach into a full on tizzy. I don't discriminate against any type of tortilla; white flour, corn, spinach and whole-wheat are all friends of mine.
Same goes for sauce, I love them all. Sometimes I prefer a classic mild red enchilada sauce with traditional yellow cheese, other times only a super cheesy creamy sauce will do and on occasion a fiery hot tomatillo sauce is the only thing that will satiate my enchilada craving.
Today I was clearly craving the more indulgent of the three sauce options as this particular batch is chock-full of cream cheese, half and half and a fair amount Monterrey jack cheese, making it my most indulgent enchilada recipe to date. But man is it worth it.
Roasting jalapeno peppers before blending them into the sauce gives off a slightly smoky taste that I love while simultaneously taking down the heat factor down just a touch. I use a gas stove to roast them, but if you don't have one, putting them under the broiler until they're charred will also do the trick. I peel off most of the charred skin, but it's not necessary to strip them completely, I love having a few blackened pieces of skin speckled throughout the sauce – it's pretty and it tastes delicious. Two of the three peppers are thrown into the blender along with a healthy portion of half and half until the jalapenos are pureed. I then dump it into a sauce pan along with six or so ounces of reduced-fat cream cheese, turn the burner on a medium-low heat and stir until the sauce is velvety-smooth.
The filling is simple – plenty of sautéed onion and garlic, pulled rotisserie chicken, the remaining roasted jalapeno, a whole box of frozen, chopped spinach and a cup of shredded Monterrey jack cheese (an authentic Mexican chihuahua cheese would also work beautifully). I had originally wanted to keep this strictly a spinach and cheese enchilada, but I feared the repercussions of a hungry meat-eating husband, so I made a last minute judgment call and picked up a store-bought roasted chicken. It makes for a heartier, more protein packed enchilada, but I suspect the spinach and cheese would have been every bit as delicious, and even more decadent.

I find that a flour tortilla pairs most harmoniously with a creamy-based sauce, simply because I adore the way the sauce soaks into the tortillas when baking, making it almost disintegrate before you can even attempt to chew, so that's what I used — plus I love the aesthetic look of white on white. A whole-wheat or spinach tortilla would also be perfect.
After a quick bake, the creamy enchiladas are sprinkled simply with chopped cilantro and ready for a fiesta.
Spinach, Chicken and Cheese Enchiladas with Jalapeno Cream Cheese Sauce
Serves:
8-10 enchiladas (depending on how full you fill tortillas)
Ingredients
4 jalapeños
1 teaspoon olive oil
½ large onion, sliced thin
3 garlic cloves, minced
4 cups shredded rotisserie chicken
1 10 ounce package frozen spinach, drained and squeezed until all the moisture is out
½ teaspoon salt
½ teaspoon cumin
1 cup shredded monterrey jack cheese
1¼ cups heavy cream or half and half
6 ounces cream cheese
¼ teaspoon salt
8-10 fajita sized tortillas
cilantro
Instructions
Preheat oven to 350 degrees. Spray a casserole dish with non-stick cooking spray.
Over a gas stove or under a broiler, roast jalapenos until they are charred on all sides. Place in a bowl and cover with plastic wrap. Let sit for 10 minutes. Peel most of the skin off. Seed and de-vein all the peppers. Finely chop two of them and roughly chop the other two Set aside.
Heat a large skillet to a medium heat. Add oil, onions and garlic. Saute until onions are softened, about 5-6 minutes. Add chicken, spinach, salt, cumin and the finely chopped jalapenos. Stir until combined, cook for another 2-3 minutes. Season to taste with salt and pepper. Set aside. Once slightly cooled toss with shredded cheese.
In a blender puree 1 cup of cream and roughly chopped jalapenos. Add mixture to a medium saucepan along with salt and cream cheese. Turn the heat on to a medium low and stir until cream cheese is completely melted. Season to taste with salt and pepper.
Spoon filling in to tortillas and roll up. Place seam side down in prepared pan. Cover in sauce.
Cover dish in foil and bake for 15 minutes. Remove foil and bake another 10 minutes or until edges are slightly brown.
Serve with chopped cilantro and salsa.