What'd you all think of the Golden Globes last night? I was pretty much DYING over the new-to-me actress, Margot Robbie from "The Wolf of Wall Street" – her dress, hair, face, everything. Major girl crush.
Obviously Reese Witherspoon looked phenomenal, because she's Reese Witherspoon and always looks like perfection. If I could pick any actress to be best friends with, it'd be her or Jennifer Aniston, hands down – well, me and every other girl on the face of the planet. They're both just incredibly classy and seem so down-to-earth, don't they? Except for the whole drunken, "Do you know who I am?" police incident Reese got herself into over the summer, which I actually thought was pretty humorous, and kind of made her seem like a normal imperfect person instead of the squeaky clean girl we associate her with.
And don't even get me started on how gorgeous Olivia Wilde was – man can that girl rock a baby bump. You couldn't even tell she was pregnant until she turned to the side. I bet I won't even look a sixtieth as fabulous as she looks when I'm pregnant. I'll probably look like a balloon – there's not many places a short girl can carry extra weight, if I had twins, I'd probably tip over. I'm especially fascinated with her since her baby daddy is funnyman Jason Sudekis, an alum of my high school. They're always spotted out and about in the Kansas City area, and I'm dying to have a chance encounter with them.
In other news, I'm pretty sure I bleed bacon.
When my grocery store had a major bacon sale, I stocked up. As in, I bought like seven packages. It was supposed to last me months, a year even, because who goes through seven packages of bacon in two months? Apparently, I do.. Yesterday, I pulled out my final frozen package of bacon, and today, it's three-quarters gone. Help!
After I searched the freezer, certain there was another package hiding somewhere underneath the six-month old frozen stew and year-old bag of corn kernels, I thought to myself, How on earth could I have already steam-rolled through all of it?! My question was answered when I went back to the archives here, and saw just how many recipes call for bacon. A lot. 15 to be exact, which doesn't even count the bacon Kevin and I have been consuming aside from the blog food.
Here's how I see it, bacon is less fattening and lower in calories than sausage, so I can eat more of it.
And when you bake sweet potato chips instead of frying them, it automatically gives you permission to pile on the good stuff. Bacon and blue cheese inclusive in the "good stuff".
With January being prime-time for football parties, I thought it only appropriate to come up with some football-worthy snacks that I don't have to feel guilty about eating. Granted, this "snack" is a little gussied up, but not fancy enough to scare away any unadventurous eaters. Kevin snarfed these guys down, even after I spent almost a full hour photographing them and they were cold and starting to get soggy.
This was the first time I made sweet potato chips, and they can be pretty tricky because of the high moisture content, so I actually used yams, which crisp up a little bit better than a traditional sweet potato. I got out my fancy schmancy mandoline (which my husband thought I'd never use), and cut super thin slices of the yam and then tossed them with a little bit of canola oil, salt, garlic powder and onion powder and popped them into a 400 degree oven for about ten minutes. You have to be super careful when baking these guys, because they burn really easily.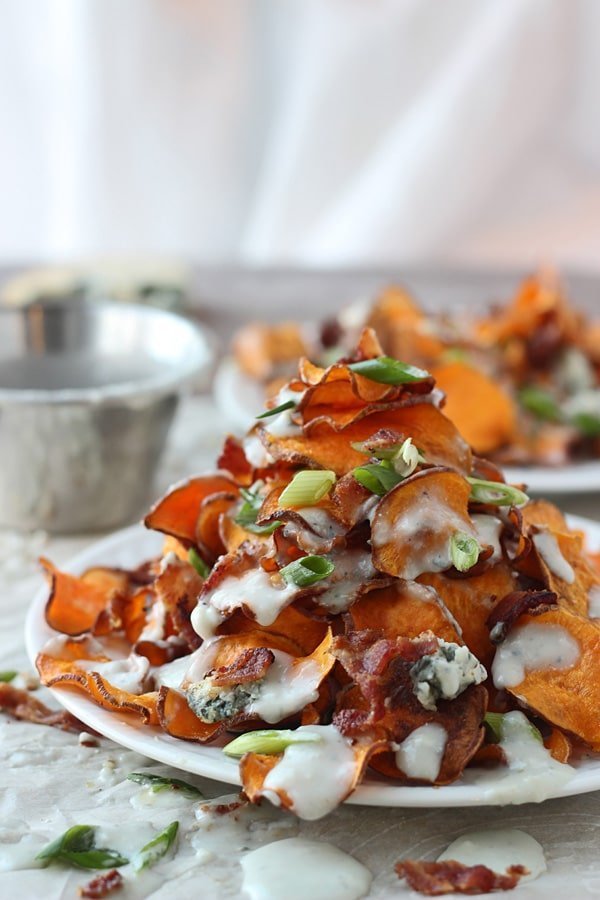 Also, on the advice of Sally from Sally's Baking Addiction, I shut the heat off after they were done baking and then propped the oven door open and let them crisp up even more for about 30 minutes.
While that was happening, I whipped up a quick blue cheese sauce with low-fat milk, a little bit of butter and a little bit of creamy gorgonzola.
Assembly couldn't be easier. Stack chips in one layer on a serving platter, then drizzle with blue cheese sauce, top with more chips and blue cheese sauce and then sprinkle with remaining blue cheese, bacon and green onion. Done!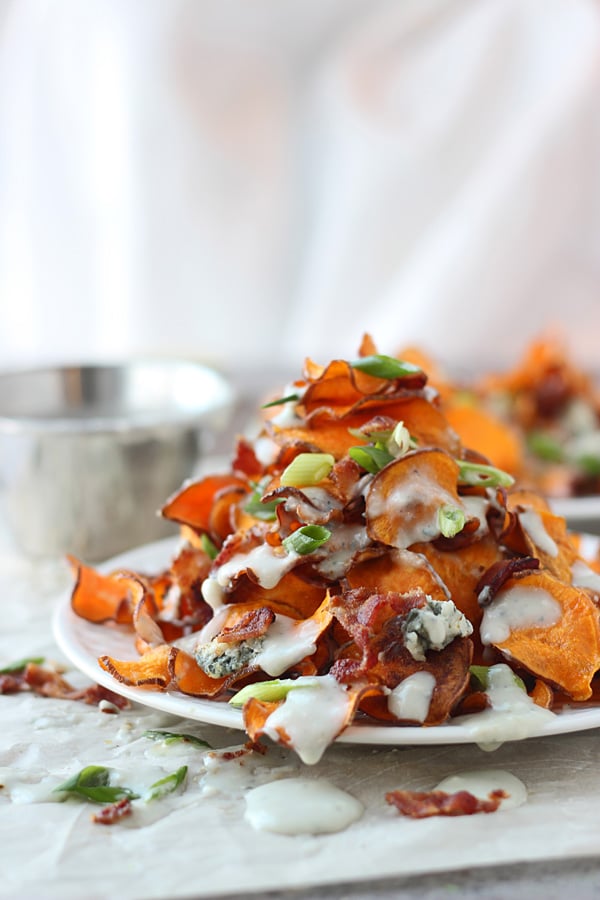 Baked Sweet Potato Chips with Blue Cheese Sauce, Bacon and Green Onion
Author:
Nicole ~ Cooking for Keeps
Ingredients
1 pound yams, sliced thin on a mandolin
1 tablespoon canola oil
½ teaspoon salt
½ teaspoon garlic powder
¼ teaspoon onion powder
1 tablespoon butter
1 tablespoon flour
½ cup hot milk
4 ounces gorgonzola, divided
3 green onions, sliced thin
4 slices bacon, cooked and roughly chopped
Instructions
Preheat oven to 400 degrees. Toss yams with canola oil, ½ teaspoon salt, garlic powder and onion powder. Place two cooling racks on top of two cookie sheets. Spray with non-stick spray. Place yams on cooling rack in one even layer, making sure they aren't touching. If they are too close together they will steam instead of crisp up. Bake for about 10 minutes until the chips start to curl up on the edges. Watch carefully as they burn easily. Turn the oven off and let them sit for 25-30 minutes.
While the yams are cooking, make the blue cheese sauce. In a small skillet, melt butter over a medium heat, whisk in flour. Cook one minute. Turn the heat off and very slowly whisk in milk, making sure there are no lumps. Bring to a simmer, and cook until thickened 1-2 minutes. Crumble in half of the blue cheese. Whisk until incorporated. Season with salt and pepper. Set aside.
Build chips. Place half of chips on serving platter. Drizzle with some of the blue cheese sauce. Place other half of chips on top, and drizzle with more blue cheese sauce. Sprinkle with bacon, green onions and remaining blue cheese.
Use remaining sauce to dip chips if desired.