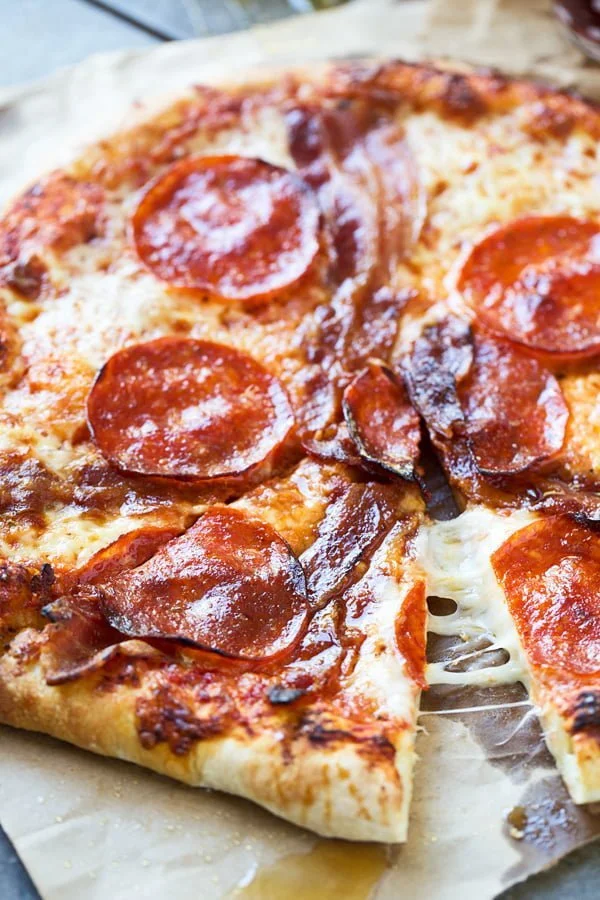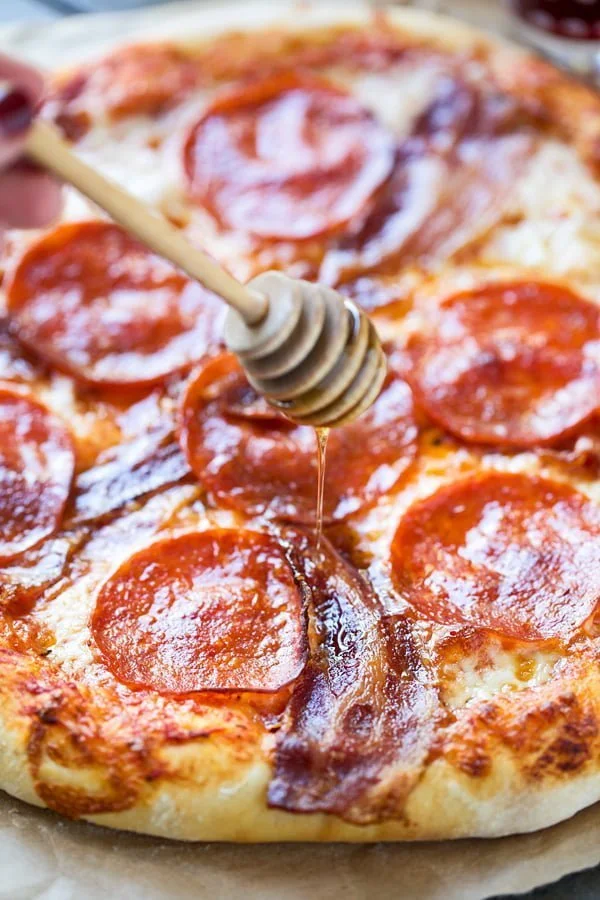 I am not lying when I say this is the best pepperoni pizza I've ever made, and probably that I've ever even eaten in general. Here's a little snapshot on why:
1. The crust is chewy and crisp, thanks to a screaming hot oven, a pizza stone and this New York Time's pizza dough recipe. (See more info below.)
2. The cheese is gooey, salty and browned to perfection.
3. The sauce is ever so slightly sweet and there's juuust enough.
4. Quality pepperoni and crispy, salty bacon.
5. Truffle honey. Do I need to explain??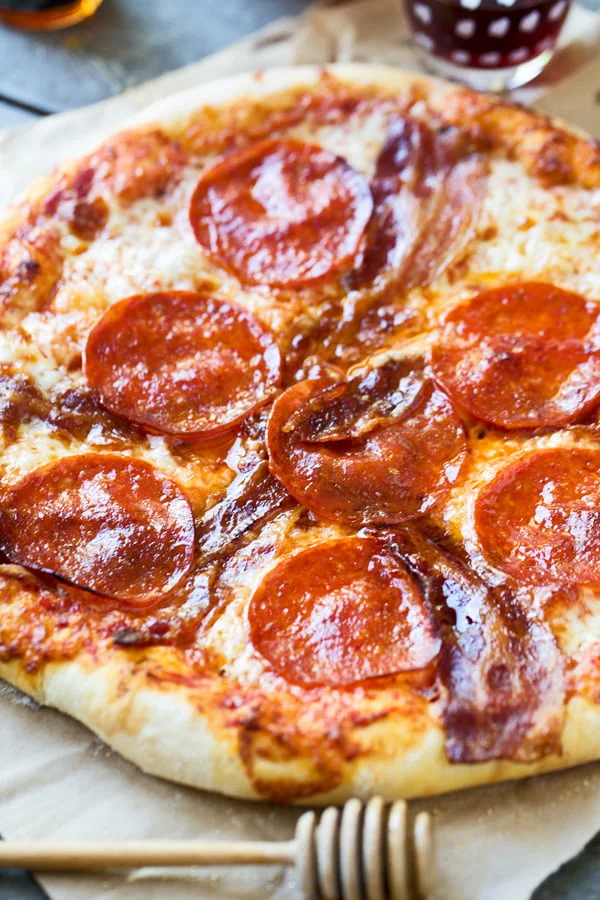 So first things first, the crust. I have tried countless pizza crust recipes over the course of several years, and I always go back to this recipe from the New York Times. It's simple, requires little ingredients and leaves little room for error, which I love. The only problem is it requires you to think ahead of time, which I rarely do. To get that super chewy, flavorful crust, the dough needs to sit in the fridge for at least three hours, and then say, overnight is best. I don't find that leaving it overnight is necessary, and my sweet spot is usually four hours or so.
Also, you can have the most amazing recipe, but if you don't use a pizza stone or a screaming hot oven, you won't get that killer texture we all crave in the perfect pizza. I like to put my pizza stone in while the oven is preheating and then leave it in there for at least 30 minutes after the oven is preheated as well.
The reason restaurants have amazing pies is because they own the equipment you need to make it happen; their ovens, whether they're wood burning or electric can reach higher temperatures than your oven can, so in turn, their pizzas tend to turn out better. What a pizza stone does, is it mimics those ovens as closely as you can since the ceramic material cooks the dough more evenly and locks in a crispy exterior when it hits the screaming hot surface.
Next, the cheese for the BEST PEPPERONI PIZZA.
For YEARS, I couldn't figure out why my cheese pizzas tasted so different than restaurant cheese pizzas, and recently I had an ephiancy and figures out it's because I was using part-skim mozzarella instead of full-fat mozzarella. Once I made that switch, it made a world of difference in the way the cheese melted and tasted. It can be kind of hard to find full-fat mozzarella, but I've had luck at Sprouts, and I'm sure you can find it at Whole Foods, and definitely at any type of specialty cheese shop.
Next, the sauce for the BEST PEPPERONI PIZZA. This sauce is simple. Ridiculously simple, which is what I love so much about it. I whisk tomato paste, water, a tiny pit of sugar, oregano and granulated garlic together, then spread it on the pizza. A little goes a long way, so if it looks like it's not enough sauce, fear not.
Now, what's a pepperoni pizza without pepperoni?? While it may be tempting to pick up that package of sliced pepperoni you've bought in the past, stop turn around, and head to the deli counter. You want to get the pepperoni sliced right in front of you, I usually go with Boar's Head, but typically whatever is the best quality your grocery store has at the deli counter will work.
My favorite pizza in college was a bacon and cream cheese pizza, and Kevin's favorite pizza from our local pizza joint has a layer of bacon on it, so for the ultimate pepperoni pizza, I found it appropriate to lay slices of crispy, salty bacon in between the layers of pepperoni and gooey cheese. I have absolutely no business drizzling truffle honey on it as well, but I'm super glad I did, because the combination of spicy pepperoni, salty bacon and sweet truffle honey is pretty amazing.
For even more tips and tricks for the perfect pizza, check out this post.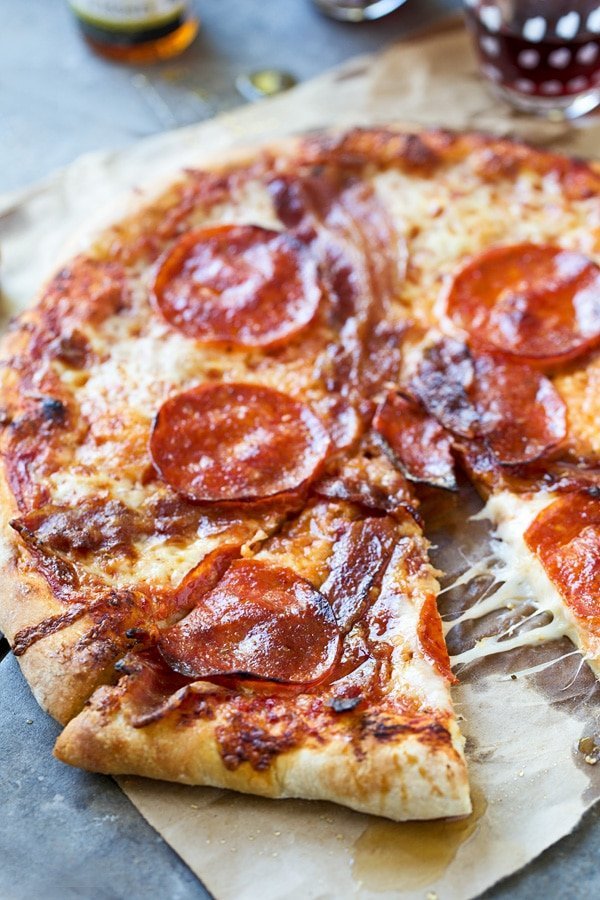 " width="600″ height="900″ />
Best New York Style Pepperoni Pizza with Truffle Honey
This is the Best New York Style Pepperoni pizza! The secret is whole-milk mozzarella, good-quality pepperoni, and a luxuriuos drizzle of truffle honey. Out of this world delicious.
Ingredients
1/2

batch

NY Times Pizza Dough or 10 oz dough

1/4

cup

tomato paste

1/4

cup + 2 tbsp

water

1

tsp

sugar

1/2

tsp

granulated garlic

1/2

tsp

dried oregano

pinch of salt

2 1/2

cups

full-fat mozzarella cheese

5 slices

cooked bacon

4-7

slices

boar's head pepperoni (sliced thinly at the deli counter)

2-3

tbsp

truffle honey
Instructions
Preheat oven to 550 degrees. Place pizza stone in the middle rack of the oven. After the oven heats, continue to heat the pizza stone for 30 minutes to an hour.

In a small bowl, whisk together tomato paste, water, sugar, garlic, oregano and a pinch of salt.

Use hands to stretch out each pizza dough one at a time on a heavily floured pizza peel. Make sure it can easily slide around.

Spread the sauce over the crust. Sprinkle with cheese. Lay bacon slices on top, followed by pepperoni.

Gently slide the pizza onto the pizza stone. Cook for 10-12 minutes until the crust is crispy and golden brown the cheese is bubbly and starting to brown. Let pizza sit for 1-2 minutes, then drizzle with truffle honey and cut into slices.
Nutrition Information
Serving:
1
slice
,
Calories:
159
kcal
(8%)
,
Carbohydrates:
7
g
(2%)
,
Protein:
10
g
(20%)
,
Fat:
10
g
(15%)
,
Saturated Fat:
5
g
(31%)
,
Cholesterol:
34
mg
(11%)
,
Sodium:
389
mg
(17%)
,
Potassium:
135
mg
(4%)
,
Fiber:
1
g
(4%)
,
Sugar:
6
g
(7%)
,
Vitamin A:
361
IU
(7%)
,
Vitamin C:
2
mg
(2%)
,
Calcium:
180
mg
(18%)
,
Iron:
1
mg
(6%)