This Alfredo, Roasted Red Pepper and Broccoli Pizza is cheesy, indulgent and everything I love in a pie! Plus, we're sharing secrets on how to make a restaurant-quality pizza at home!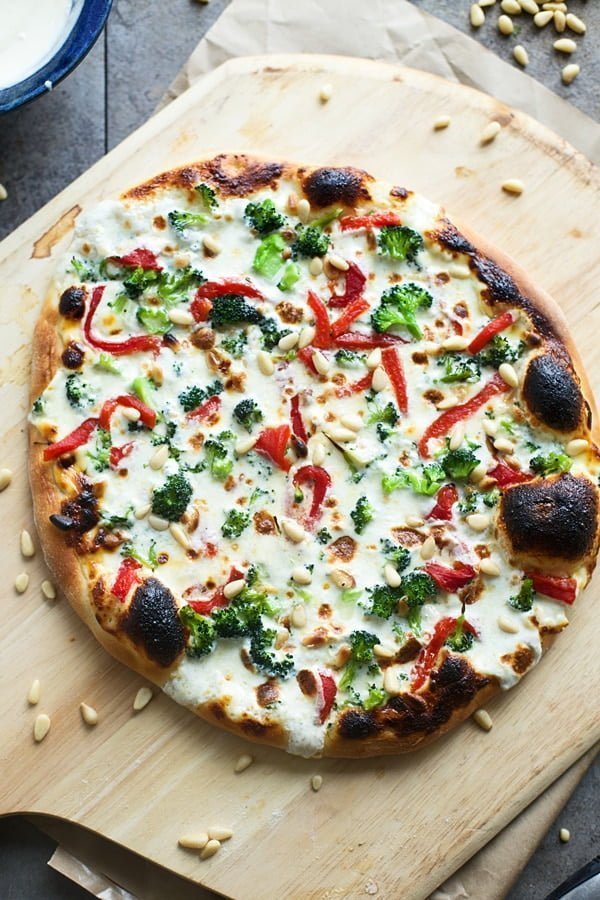 I am not doing very well in the eating well department. Clearly.
Every day I have the best of intentions and then something happens. I have lunch with a friend at a restaurant where healthy eating is difficult. It's too cold for a smoothie (my go-to way to lose weight). It's Valentine's Day, so I must eat cookies. It's Valentine's Day so I must eat a terrible meal. It's the day I'm celebrating Valentine's Day, so I must eat a terrible meal. The list goes on and on.
Today is obviously no exception since I'm sharing this Alfredo, Roasted Red Pepper and Broccoli pizza that could put five pounds of weight on your hips just by looking at it. But, there IS broccoli, so at least it has one redeeming healthy quality going for it.
I've been craving a white pizza something fierce lately, but knew I didn't want a typical white pizza with a simple olive oil and garlic base, so I thought, why not throw caution to the wind, and slather an entire pie with rich, creamy alfredo sauce??
Best decision ever.
When the pizza cooks up, the sauce bubbles, parts of it become sort of charred, and it just thickens up beautiful. Because there's quite a bit of cheese in the sauce to begin with, you almost don't need anything additional, but I feel like it would be a bit sacrilegious to omit cheese from a pizza recipe, so I ended up scattering the top with small pieces of fresh mozzarella –which was also a good decision.
The toppings are simple, chopped roasted red peppers, blanched broccoli and pine nuts – all ingredients that compliment a cream sauce beautifully. As noted, I did blanch the broccoli, just to ensure I got that pretty green color locked in and to get the cooking process started, but if you cut the pieces small enough, you may be able to skip this step.
I made my own pizza crust for the first time in a while, and it was so good, that I'm literally never going back to buying store-bought pizza crust again. It's this overnight pizza dough from the New York Times, and I promise, it's SO easy, and will rival any restaurant. Because it sets in the fridge overnight, it has time to rest and the end result is a crispy, chewy, light crust that's perfect every time.
Now, a lot of people have trouble actually cooking the pizza, and I've talked about how to make the perfect pizza several times on the blog, but I'm going to do it again in list form.
1. Always use the hottest temperature on your oven. I cook all my pizzas at 550 degrees.
2. Always ALWAYS use a Pizza Stone
, they are WELL worth the $15 price tag. I put mine in the oven for at LEAST 30 minutes prior to cooking the pizza.
3. Build your pizza on a Pizza Peel
covered in plenty of flour.
4. As you're rolling or pressing your dough out, move the dough frequently and continue to add more flour if necessary.
5. Use cold or room temperature ingredients to build your pizza so it easily slides off the pizza peel on to the pizza stone.
6. If your pizza sticks to the pizza wheel, gently lift up the edges and sprinkle some flour underneath, continue to shimmy the pizza peel back and forth until the pizza can slide around.
If you have any questions on pizza making, please let me know, at this point, I feel like I'm sort of an expert on it, so I'm happy to share my secrets.
Enjoy!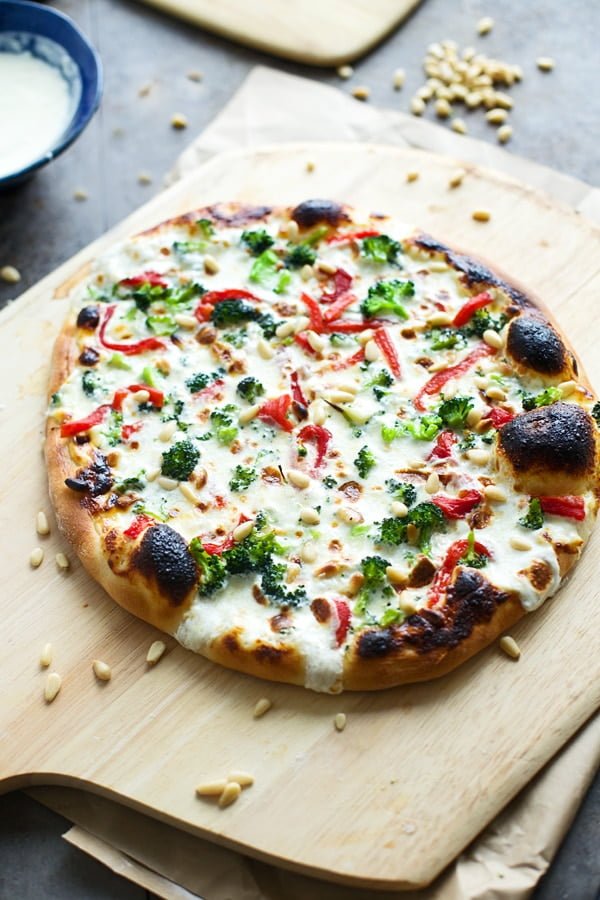 Alfredo, Roasted Red Pepper and Broccoli Pizza
Author:
Nicole ~ Cooking for Keeps
Ingredients
½ batch of this New York Times Pizza Crust or enough dough for 2 10-inch pizzas
1¼ cup heavy cream
1 Tbsp. unsalted butter
½ cup shredded parmesan cheese
½ tsp. salt, divided
3 cups roughly chopped broccoli
2 tsp. olive oil
8 ounces fresh mozzarella, cut into small pieces
1 (12 oz) jar of roasted red peppers, sliced
¼ pine nuts
Instructions
Preheat oven to 550 degrees. Put a pizza stone on the middle rack of the oven. Heat for AT LEAST 30 minutes.
Toss broccoli with olive oil and ¼ tsp salt.
Add heavy cream and butter to a small sauce pan. Heat over a medium flame, once it starts to simmer, whisk in parmesan. Continue to whisk parmesan until melted, about 1 minute. Simmer the sauce until thickened, about 1-2 minutes. Transfer to a bowl to cool.
Roll out each pizza dough one at a time on a heavily floured pizza peel. Make sure it can easily slide around.
Spread half of sauce on pizza dough. Sprinkle ¼ (2 oz) of cheese evenly over sauce. Sprinkle half of broccoli and peppers on top of that, followed by another ¼ (2 oz) of the cheese. Sprinkle half of the pine nuts on top.
Gently slide the pizza on the pizza stone. Cook for 8-10 minutes, or until bubbly and brown. Wait 1 minute before cutting. Repeat with remaining pizza dough and ingredients.
Notes
Optional: Blanch broccoli for 30 seconds in boiling water. Cool in an ice water bath. Pat dry.