This Braised Dijon Chicken and Potatoes is one of the delicious recipes from Oh Sweet Basil's new cookbook Our Sweet Basil Kitchen. Crispy chicken is bathed in a sweet, acidic sauce, served over buttery potatoes and sprinkled with crispy bacon — it's sure to be one of your new favorite meals!
Today is a very exciting day, and not just because we're already half way through the week, but because I am sharing the most delicious recipe from my friends at Oh Sweet Basil, Cade and Carrian's, new cookbook Our Sweet Basil Kitchen.
If you don't know the husband and wife team at Oh Sweet Basil (How could you not??) by now, know they are a force to be reckoned with in the food blogging world. They've built a beautiful blog from scratch and you can just feel the love they have towards creating delicious, beautiful and family-friendly meals.
I started religiously following their blog just after I started my own, and I was lucky enough to contribute to Oh Sweet Basil on a monthly basis in the earlier days of my blogging career and up until my little guy was born. As a result, I have gained a sweet, sweet friend in Carrian, and am honored to be talking about their book today.
This is one of those cookbooks you'll go to time and time again. It has recipes for easy family dinners, desserts to impress, brunch-worthy breakfasts, starters you can serve at a backyard barbecue or a fancy dinner party, and everything in between. I had such a hard time choosing one recipe to share, but I'm a sucker for a good one-pan meal, and an even bigger sucker for crispy chicken thighs, so this Braised Dijon Chicken and Potatoes was the chosen one after much back and forth debate.
Oh.my.goodness. And I apologize for the absence of eloquence here, but it's so flipping good. The chicken thighs, after being crisped to perfection, are bathed in a sweet, acidic Dijon and apple cider sauce, nestled on to buttery Yukon gold potatoes and then sprinkled with crispy bacon and fresh parsley. It's the perfect well-rounded meal with an infinite amount of flavor, and it's going in to our permanent dinner rotation.
Everyone in our family was head over heels for it – including Teddy Boo who inhaled the saucy chicken like it was the M&M's he mischievously sneaks when he thinks I'm not looking.
The best part about though?? It's one of those recipes that actually looks like the photos – I followed the directions to a tee, and my finished product looked pretty much identical to the book – that's a true testament to how thoughtfully put together all of the recipes in the book are, and what you see is what you get.
Beyond this recipe I've tried Taco Stew (phenomenal), and the Lemon Greek Potatoes (so crisp and flavorful), but I can't wait to try the Dulce De Leche Banana Cream Pie, the Chicken Cordon Bleu Lasagna, the Potato Rolls, or the Honey Lime Chicken Enchilada Soup.
You can pick up a copy of your own here,
trust me, this is one you want front and center in your cookbook section!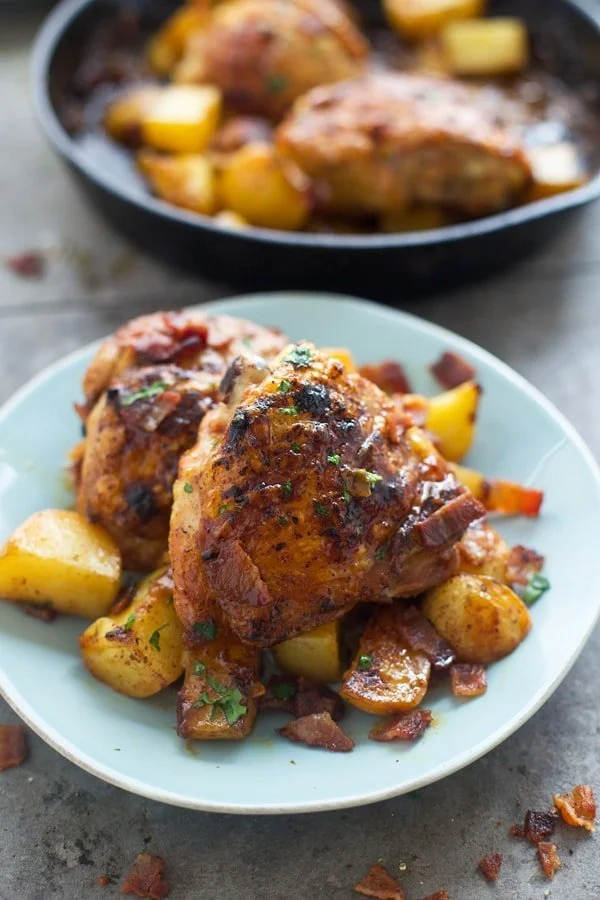 Braised Dijon Chicken and Potatoes
Author:
Nicole ~ Cooking for Keeps
Ingredients
5 bone-in chicken thighs
1 tsp. kosher salt
Ground black pepper
⅓ cup apple cider vinegar
¼ cup dijon mustard
2 cloves garlic, minced
¼ cup granulated sugar
½ tsp. paprika
6 slices bacon
2 Tbsp. unsalted butter
1 small onion, chopped
6 to 8 small yukon gold potatoes, quartered
1¼ cups chicken broth
1 Tbsp. freshly chopped parsley
Instructions
Preheat oven to 450 degrees F.
Season chicken liberally with salt and pepper, set aside.
In a small bowl, whisk together vinegar, mustard, garlic, sugar and paprika. Set aside.
Render the fat from the bacon in a heavy, cast-iron skillet set over a medium heat until crispy. Pull the bacon out and drain fat. Chop finely. Pour all but 1 tablespoon of bacon fat out of the pan. Reduce the heat to a medium-low and add chicken thighs, skin side down. Cook until skin in brown and crispy, about 5 minutes, flip over and cook another 2-3 minutes. Pull chicken out and place on a plate.
Turn the heat up to medium and add onion and potatoes. Saute for 6-7 minutes or until onion is soft and potatoes are starting to get crispy.
Add the chicken back to the pan, along with any accumulated juice, and nestle in to potatoes. Pour vinegar sauce and chicken broth over chicken and potatoes. Simmer for 1 minute and then place in the oven. Cook for another 30-35 minutes until chicken is cooked through and potatoes are golden brown and crispy.
Pull the chicken out and sprinkle with parsley and chopped bacon. Spoon sauce over chicken potatoes when serving.
I did receive a free copy of the book for review, but of course, all opinions are mine and I truly love this book!