When it comes to chicken dinners, dishes like this Crispy Chicken Piccata seem to pop up ALL THE TIME on our kitchen table.
I don't do it on purpose, but it's easy to throw together, I almost always have the ingredients on hand (sans the chicken breasts), and it's just so darn good. I find it hard to feel guilty about serving it repeatedly.
There's actually already a chicken piccata recipe in the archives, but it's a little bit healthier and only uses five ingredients, so if that's more your style, you can find the recipe here.  For those of you that adore the crispy exterior of a tender piece of chicken paired with a luscious lemon butter sauce, and could use a little indulgence in your life, today's Crispy Chicken Piccata is for you!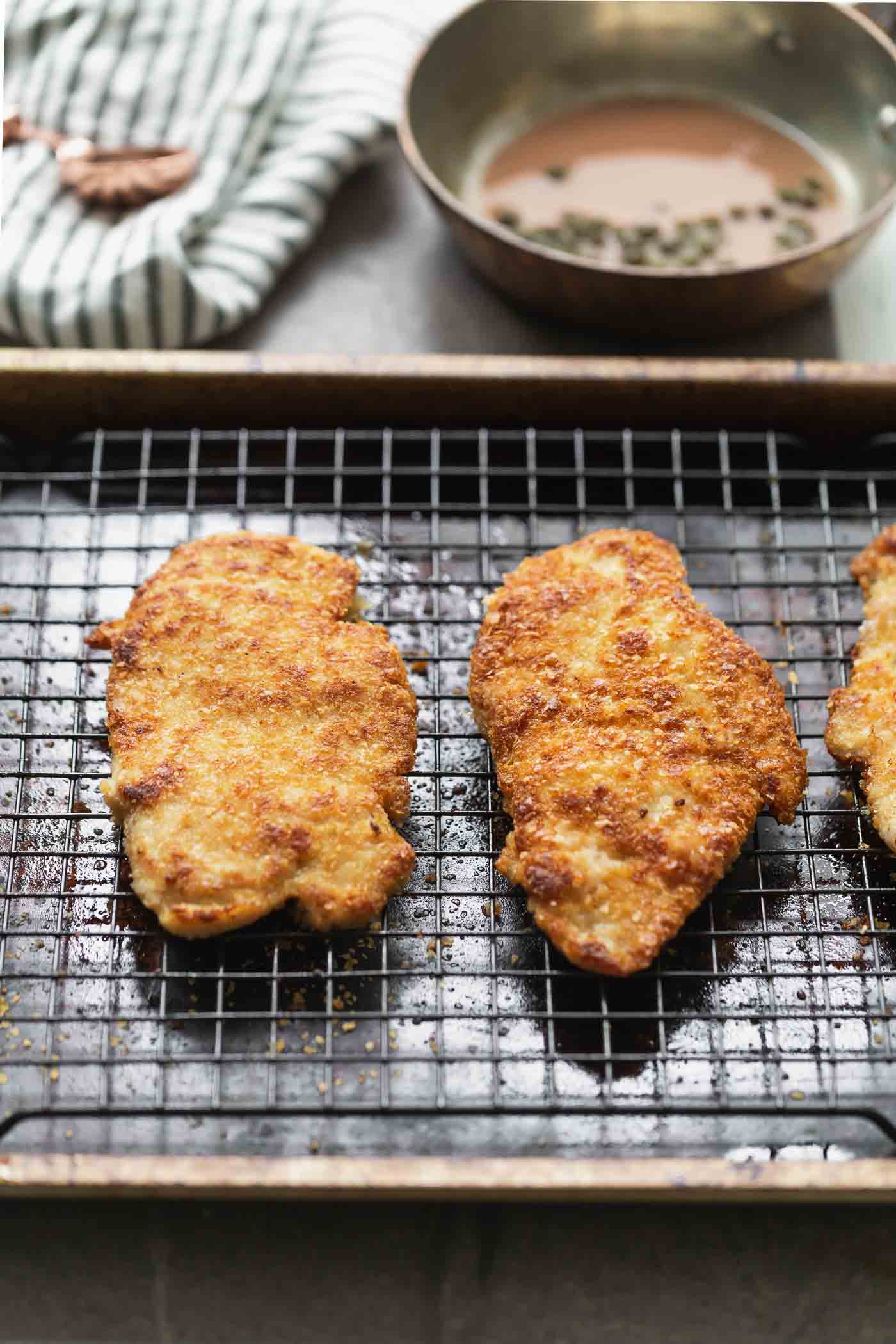 How to bread Crispy Chicken Piccata:
So first off, the breading. Normally I use a mixture of panko and plain breadcrumbs to encase the exterior of chicken in nearly all of my recipes that require breading, but I learned about the beauty of using dried potato flakes as a crispy coating in an issue of Bon Appétit a few months back, and was totally intrigued.
I'm not going to lie, I felt a little shameful buying the box of dried spuds at the grocery store. Mostly out of fear people around me might think I really use that crap to produce creamy mashed potatoes, even though I wouldn't even dream of using anything but real live potatoes and this recipe for Creamy Dreamy Mashed Potatoes.
BUT guys, it works!
Potato flakes create the lightest, crispiest, most delicious crunchy coating. I'm hooked.
Basically, the same process applies. Season the chicken liberally with salt and pepper. Coat in seasoned flour, dunk in an egg bath, and then cover in a layer of potato flakes, plain breadcrumbs, salt and garlic powder.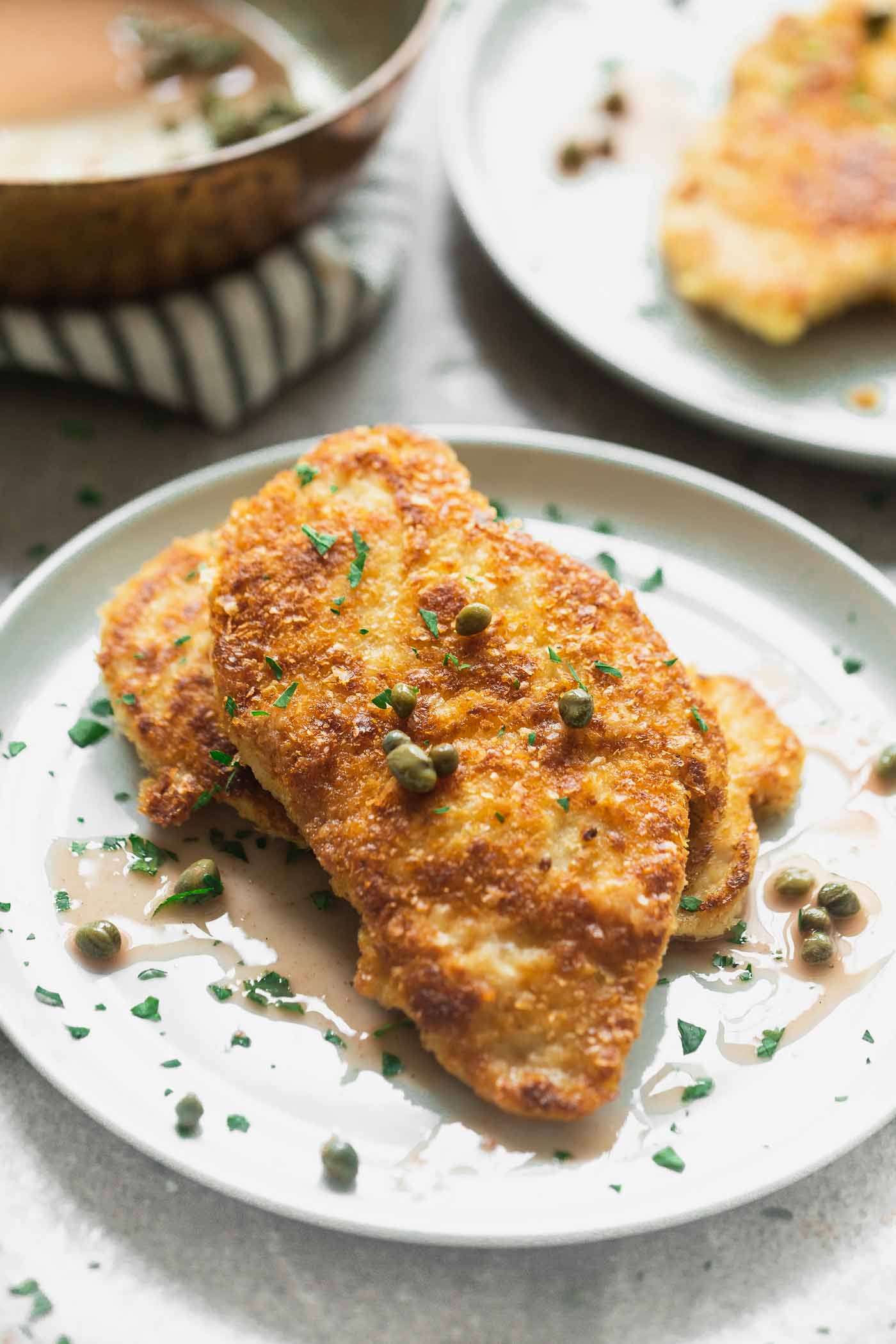 I like to cook the chicken either in two batches or two separate non-stick sauté pans, just to ensure every inch of the chicken gets golden brown and crispy. Also, I think I learned from Ina years ago, that the perfect way to cook just about anything is in a mixture of olive and butter. Butter, for flavor, and olive oil because it has a higher smoke point and can handle heat a little bit better than butter can.
Once the chicken is brown and crispy on both sides, I transfer it to a cookie rack positioned on top of a cookie sheet and pop it into the oven to keep warm while the sauce is made.
And the sauce — arguably the best part of the chicken piccata, EXCEPT when it's crispy chicken piccata, because the sauce here is equally as delicious as its ridiculously crispy chicken sidekick.
As most pan sauces start, white wine deglazes the pan, and once it's reduced, a little bit of lemon juice goes in. The heat is turned down and the butter is whisked in a little bit at a time until melted and the sauce thickens up just a touch.
Some capers are thrown in, along with a handful of chopped parsley and the sauce is spooned over the chicken.
Dinner is served!
What to serve with Crispy Chicken Piccata:

Crispy Chicken Piccata: Crazy crispy chicken (thanks to dried potato flakes!) covered in an addictive buttery lemon sauce and topped off with capers and parsley. Delicious and easy!
Ingredients
4

small

chicken breasts or 2 large, cut in half lengthwise

1/2

cup

flour

1 1/2

tsp

salt, divided

1

large

egg

1

cup

potato flakes

1/2

cup

plain breadcrumbs

1/2

tsp

garlic powder

4

tbsp

unsalted butter, divided

2/3

cup

dry white wine

3

tbsp

lemon juice

1 1/2

tbsp

capers

2

tbsp

chopped parsley
Instructions
Preheat oven to 350 degrees. Line a cookie sheet with a cooling rack.

If you're using four small chicken breasts, place each chicken breast on a cutting board and place a large piece of plastic wrap on top. Use a meat mallet or rolling pin, to slightly flatten each chicken breast. If you're using two large chicken breasts, use a sharp knife to cut each breast in half, lengthwise, repeat process to slightly flatten chicken.

Add flour and 1/4 teaspoon salt to a shallow dish, whisk to combine. Add egg and 2 tsp water to another shallow dish, whisk to combine. Add potato flakes, breadcrumbs, 1/2 teaspoon salt and garlic powder to another shallow dish. Whisk to combine.

Season chicken breasts with salt and pepper on both sides. Dredge one chicken breast in flour, pat off any excess flour. Coat both sides of chicken in egg mixture, let any excess egg drip off. Finally, coat each chicken breast in potato flake mixture, making sure to press into the chicken. Set aside, and repeat with remaining three chicken breasts.

Heat two large non-stick skillets to a medium heat. Once the pan is hot, add 1 tablespoon butter and 1 tablespoon olive oil to each pan. Once the butter has melted and the oil is hot, add two chicken breasts to each pan. Cook until golden brown on both sides, about 3-4 minutes per side. Transfer to cooling rack. Pop in the oven while you make the sauce.

Turn the heat off on one pan, and reduce the heat to low on the other. Add white wine to the pan that's still heated. Bring the mixture to a boil and then reduce to a simmer until it's reduce by half, about 2 minutes. Add lemon juice, simmer for another 1-2 minutes. Turn the heat down to low and add butter. Whisk until combined. Add capers and parsley.

Arrange chicken on a platter or plate, spoon sauce on top. Garnish with more parsley if desired.
Nutrition Information
Serving:
1
chicken breast with sauce
,
Calories:
557
kcal
(28%)
,
Carbohydrates:
32
g
(11%)
,
Protein:
54
g
(108%)
,
Fat:
19
g
(29%)
,
Saturated Fat:
9
g
(56%)
,
Cholesterol:
228
mg
(76%)
,
Sodium:
1318
mg
(57%)
,
Potassium:
1092
mg
(31%)
,
Fiber:
2
g
(8%)
,
Sugar:
2
g
(2%)
,
Vitamin A:
499
IU
(10%)
,
Vitamin C:
19
mg
(23%)
,
Calcium:
44
mg
(4%)
,
Iron:
3
mg
(17%)