I may never retreat to my go-to quick-serve sausage, egg and cheese biscuit for breakfast ever again. Because my newfound love – Breakfast Stuffed Biscuits – far exceed anything I can pick up in a drive-thru. Thank you to Jones Dairy for Sponsoring today's post!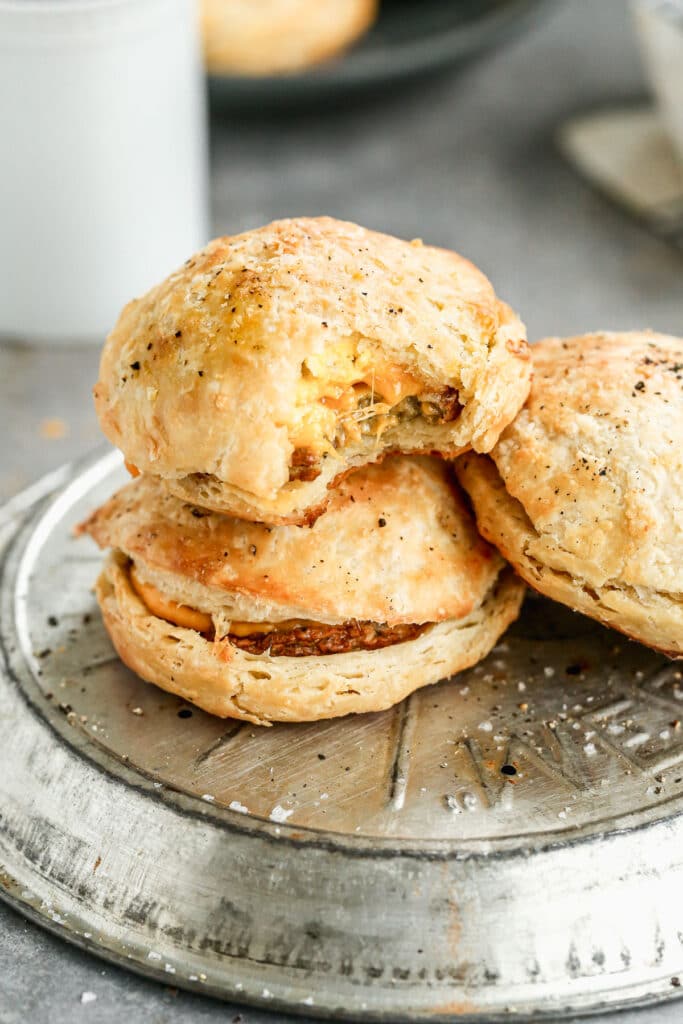 Breakfast Stuffed Biscuits
These cute little packages of sausage, soft-scrambled egg and cheddar cheese make just as much sense on a slow Sunday morning as they do for packing up and eating on the go. Because while inevitably bits of gooey cheese and finger-licking drips of juice will ooze out of the sides a little bit, for the most part, everything stays neatly compact inside the biscuit.
Instead of a steamed, square egg most often found in drive-thru breakfast sandwiches, we stuff the biscuit with the soft-scrambled eggs of my dreams, ever so gently cooked until they're almost custard-like in consistency.
Next, sausage. Of course it only makes sense to use a sausage patty as it mimics the same size and shape as a biscuit. And when it comes to sausage, we always use Jones Dairy. In this particular recipe we use their All Natural Chicken Sausage Patties but any of their round sausage patties will work in its place.
And to round out the filling? Melty cheddar cheese. Enough said, yes?
Yeast Biscuits
The biscuit of course is an essential element of the ensemble and this one may throw you for a loop (if you make homemade biscuits often). Due to a shortage of baking powder in my pantry and the refusal on my part to trek it to the grocery store, I played around with a yeast-based biscuit that may have me skipping traditional biscuits from here on out.
I was really nervous about the biscuit retaining its flakiness after the 20-minute rest period because what usually gives biscuits their flaky, tender texture is the cold butter that expands in the hot oven. Thankfully what emerged from the oven was a truly flaky, tender biscuit that rivals any biscuit made in a professional kitchen. I'm in love.
Aside from the rise time, these biscuits come together pretty quickly and while they rest you can throw together all the other components of the breakfast stuffed biscuits.
H
Here's what you'll need to make Breakfast Stuffed Biscuits
Flour. You don't need any special flour to make these stuffed biscuits, good ol' all purpose works great.
Yeast. As we mentioned before, instead of baking powder to make the biscuits rise, we use yeast. It's very important you grab quick-rise yeast and not active-dry.
Buttermilk. I always make my biscuits with buttermilk. It adds a tanginess you can't get with regular milk or cream.
Butter. You can use salted or unsalted butter, both will work. Just reduce the amount of salt in the biscuits by ½ teaspoon if you use salted butter. We also use a little bit of butter to scramble the eggs.
Eggs. Eggs are found in three spots in our breakfast stuffed biscuits. First and most obviously, in the scrambled eggs. Next, inside the biscuit dough and lastly on top of the stuffed biscuits as an egg wash.
Jones Dairy Sausage.
As we mentioned before, we are hardcore addicts of Jones Dairy Farm Sausage. It's been our go-to sausage for many years and I'm pretty passionate about it. Every single variety I've tried is delicious and I love that it's all natural with no nitrates, MSG or preservatives.
I also love that they have all varieties of protein when it comes to breakfast sausage – chicken, turkey and pork. For these stuffed biscuits we're using the chicken sausage to balance out some of the fat from the butter in the biscuits. Each chicken sausage patty has only five grams of fat and 70 calories which makes me feel a little bit better about eating a butter-filled biscuit.
Cheese. We keep things simple with a medium cheddar cheese but the cheese world is your oyster, use whatever you want!
Let's make Breakfast Stuffed Biscuits!
Grate the butter. Because we want the butter to stay cold, I grate the butter first and throw it in the freezer. The reason we grate the butter is so that it evenly distributes throughout the flour mixture without having to work it too much.
Mix the rest of the ingredients. While the butter chills, mix the flour, yeast and salt together in a large bowl. In a liquid measuring cup mix the buttermilk and the egg together.
Mix! Add the frozen butter to the dry ingredients and gently mix with a fork to combine. Make a well in the center and then pour in the egg and buttermilk. Use the fork to gently combine the mixture. Dump the mixture out on to a lightly floured surface and working quickly knead the dough until it comes together.
Rest. You'll need to let the dough rest for about 20 minutes. I use this time to make the eggs and get my baking sheet ready to go.
To form the biscuits:
Roll out the dough so it's about 1/3-inch thick. Use a three-inch biscuit cutter to make 10 round circles.
Place a defrosted sausage patty on five of the rounds, followed by a little bit of cheese and a scoop of eggs. Seal everything together.
Bake! Bake until golden brown and crusty.
Do I have to use yeast?
No. This recipe is almost exactly the same as all my other biscuits recipes. Instead of yeast, you can also use one tablespoon of baking powder. However, I really recommend trying out the yeast version.
Can I use store-bought biscuits?
I don't think so. If you do want to use a store-bought dough you can use pizza dough or bread dough.
Substitutions and Tips and Tricks for Recipe Success
Don't overwork the biscuit dough. You will need to knead it a little bit but try to work as quickly as possibly when making the biscuits. The less you work it, the less dense they will be.
Don't be tempted to overcook your eggs. They should be custard-like and slightly wet.
Be sure you don't use raw sausage patties, this works because Jones Dairy Farm Chicken Sausages are fully cooked already, they just need to be defrosted.
Don't forget to season your eggs!
Be sure you use a large enough baking sheet. These stuffed biscuits do expand quite a bit.
Breakfast Stuffed Biscuits
Breakfast stuffed biscuits are cute little packages of salty sausage, soft-scrambled eggs and melty cheddar cheese.
Ingredients
2 1/2

cups

all purpose flour

3/4

tsp

kosher salt

1

package instant yeast (2 1/4 teaspoons)

8

tbsp

unsalted butter, grated

1 1/2

cups

cold buttermilk

5

large

eggs, divided

5

Jones DairyFarm Chicken Patties, defrosted

1/2

cup

shredded sharp cheddar cheese
Equipment
baking sheet

Mixing bowl

Skillet
Instructions
Preheat oven to 400 degrees. Line a large baking sheet with parchment paper.

Grate butter on the large grates of a cheese grater.Transfer to a plate and place in the freezer while you prepare the rest of the ingredients.

Add flour, salt and yeast to a large bowl. Whisk to combine.

Add buttermilk to a liquid measuring cup or small bowl. Add egg next (do not add egg first or you won't get the right amount of liquid). Whisk to combine.

Add the frozen butter to the flour and yeast mixture.Use a fork to combine. Make a well in the center of the mixture. Pour the buttermilk and egg mixture into the middle. Use the fork to combine the dry ingredients into the wet. The dough will be slightly shaggy.

Pour the dough out on to a lightly floured surface and knead a few times to get the dough to come together completely. Form into a loose ball. Place back in the bowl and let it rest for 20 minutes.

Prepare the eggs while the dough rest. Add eggs to a medium bowl. Season with a little bit of salt and pepper. Heat a small non-stick skillet to a medium-low heat. Add one teaspoon butter. Pour the eggs in. Use a spatula to slow-scramble the eggs until they are just set but still wet. Remove from the heat.

After the dough has rested for 20 minutes, remove the dough from the pan. Dust a little bit of flour on the same flat surface you kneaded the dough on. Dust a rolling pin with a little more flour. Roll out the dough to be a little under 1/2 -inch thick. Use a 3-inch biscuit cutter to cut10 circles. If needed, reform the dough and roll out again to equal 10 circles.

Slightly roll out each circle so it's a little bit bigger than the sausage patties.

Place a sausage patty on five of the dough circles.Place about a tablespoon of cheese on top. Top with a packed tablespoon of scrambled egg. Cover each sausage, egg and cheese circle with another dough circle. Pinch the edges together to enclose the sausage, egg and cheese. Form back into a biscuit.

Mix egg and water together. Place stuffed biscuits on prepared baking sheet. Brush with egg wash. Sprinkle with flaked salt and black pepper.

Bake in the oven 18-22 minutes until biscuits have risen and are golden brown and crisp. Rotate the pan 180 degrees halfway through baking.

Let the biscuits rest for 3-4 minutes before digging in!
Nutrition Information