It's day six of my, no white flour diet, and shockingly I'm doing pretty well. It's not nearly as hard as I thought, although sadly, that's most likely attributed to my sneaky substitutions and not my fierce willpower. For example, last Friday we went to dinner with our friends and proceeded to order spinach dip with chips – because I can have corn chips if there's no flour, right? I also opted out of the low-fat couscous salad for a side, and instead ordered french fries – again, because there was no flour. My practicality is mind-blowing, isn't it? And while these "substitutions" may be legal in the eyes of lent, it still kind of feels like cheating to me.

Which is why now, I'm taking the, no white flour, mantra, a bit further by cutting back on those so called "substitutions", especially ones that include the word, "chips" and "fried". In all honesty,
I think I was probably making myself fatter instead of skinnier; it's astonishing how easily I can convince myself oil-laden foods are a good thing to eat.
So from now on…
No more fries.


No more chips.
No more excuses.
BUT! Contrary to what these pictures infer, these biscuits and gravy are actually a substitution that doesn't make me feel like a cheater. They're low in fat, 100% whole-wheat, full of flavor and a fraction of the fat and calories my typical biscuits and sausage gravy has.


I was actually hesitant to even share these today because, well, they're biscuits and gravy, and aren't exactly as glamorous or as beautiful as some of the other recipes I've got tucked up my sleeve. BUT these are very near and dear to my heart, biscuits and gravy is what I grew up eating, and is actually one of the very first meals I learned to make as a kid. I guess you could say it's been a part of my culinary journey, and aside from Egg's Benedict, it's my absolute favorite breakfast meal by far.
So here we go.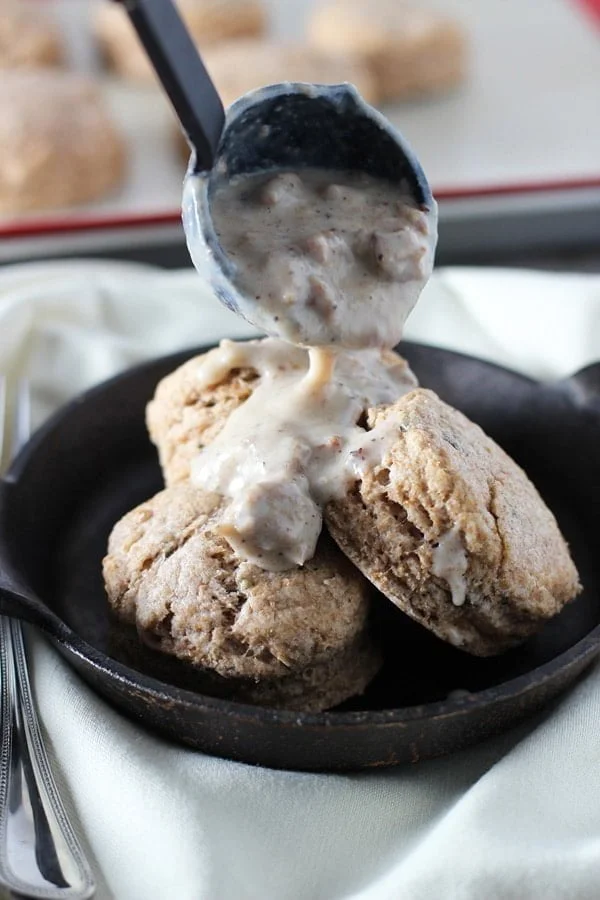 The biscuits are made with whole-wheat flour, chopped sage for a little herbaceous flavor, a smidge of butter and shortening, (I find that you can't omit the fat completely), and buttermilk for a light crumb. And of course we can't forget, baking powder and baking soda, without those, we'd have sad hockey pucks. Trust me, I know.
The gravy is made the old-fashioned way by first browning up the turkey sausage, followed by a sprinkling of whole-wheat flour, and a slow and steady stream of hot milk. The mixture is brought to a boil (watch it!) and then reduced to a simmer until thickened. I always make sure to add in plenty of salt and loads of black pepper – some people prefer cayenne, but I love the heat of the black pepper here.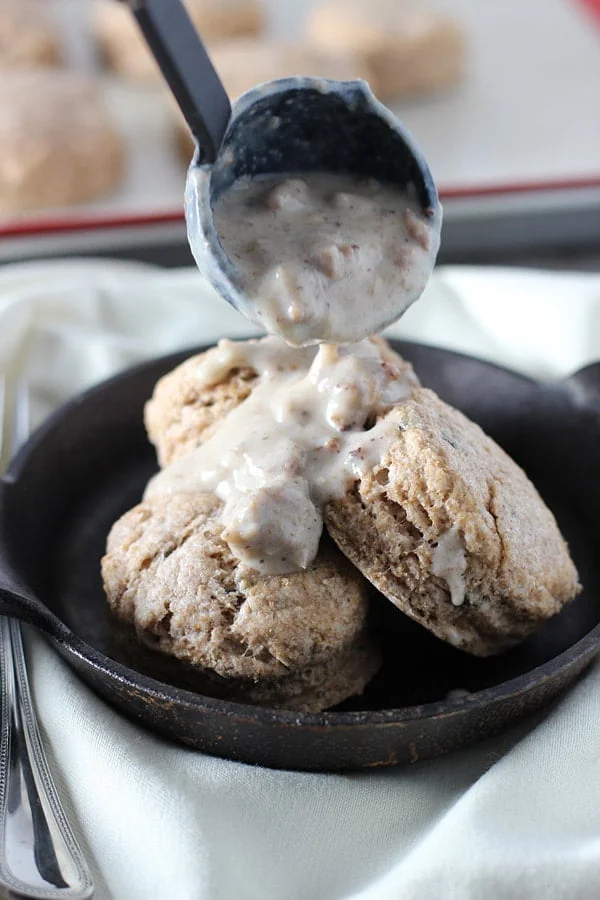 This method is tradition. It's the way my Mom made biscuits and gravy growing up, it's the way my grandmother made it, and now it's the way I make – but of course every tradition needs a little update….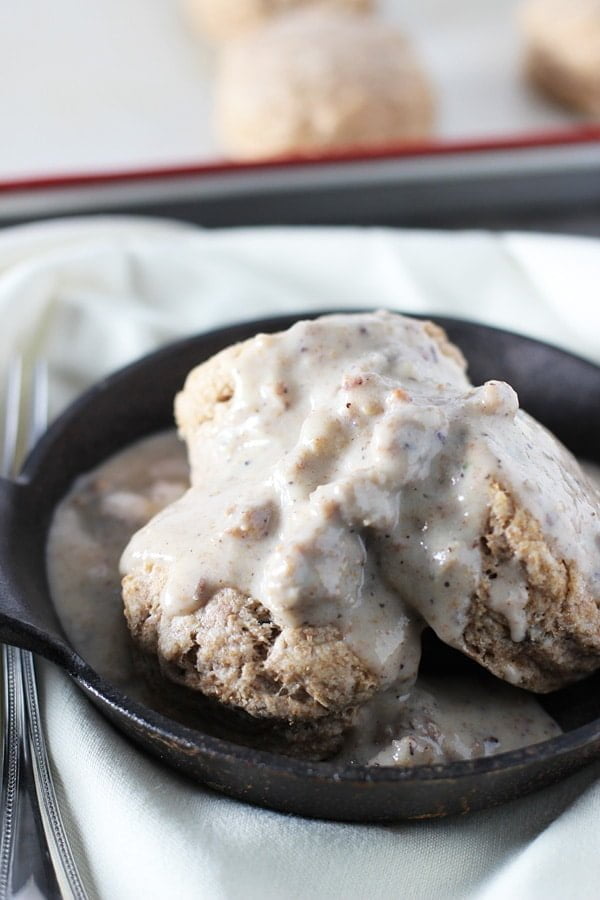 Skinny Biscuits and Gravy with Whole-Wheat Sage Biscuits
Author:
Nicole ~ Cooking for Keeps
Ingredients
Biscuits
2 cups whole-wheat flour
2 tablespoons chopped fresh sage
1 teaspoon salt
3 teaspoons baking powder
¼ teaspoon baking soda
1 tablespoon cold butter cut into cubes
2 tablespoon shortening
1 cup cold buttermilk
1 egg + 1 tablespoon water whisked together.
Gravy:
8 ounces bulk turkey sausage
2 teaspoon olive oil
¼ cup whole-wheat flour
2 ½ cups hot 1% milk
¼ teaspoon black pepper
1 teaspoon salt
Instructions
For the biscuits: Preheat oven to 425 degrees.
In a medium bowl, whisk flour, sage, salt, baking powder and baking soda. Using a pastry blender or fork, cut butter and shortening into the flour mixture until it resembles coarse meal.
Stir in buttermilk until just combined.
Pour dough onto lightly floured surface, and knead slightly until the dough comes together.
Using a rolling pin, roll dough out to a 1 inch thickness.
Cut into biscuits using a 2 inch biscuit butter.
Place on a baking sheet lines with parchment paper or silt pad. Brush with egg wash. Bake for 12-14 minutes until golden grown and cooked through.
For gravy:
In a large sauté pan, brown turkey sausage in olive oil. Once sausage is brown, stir in flour. Cook one minute,
Slowly whisk in hot milk. Add salt and black pepper. Bring to a boil and reduce to a simmer until thickened, about ten minutes.
Season to taste with salt and pepper.