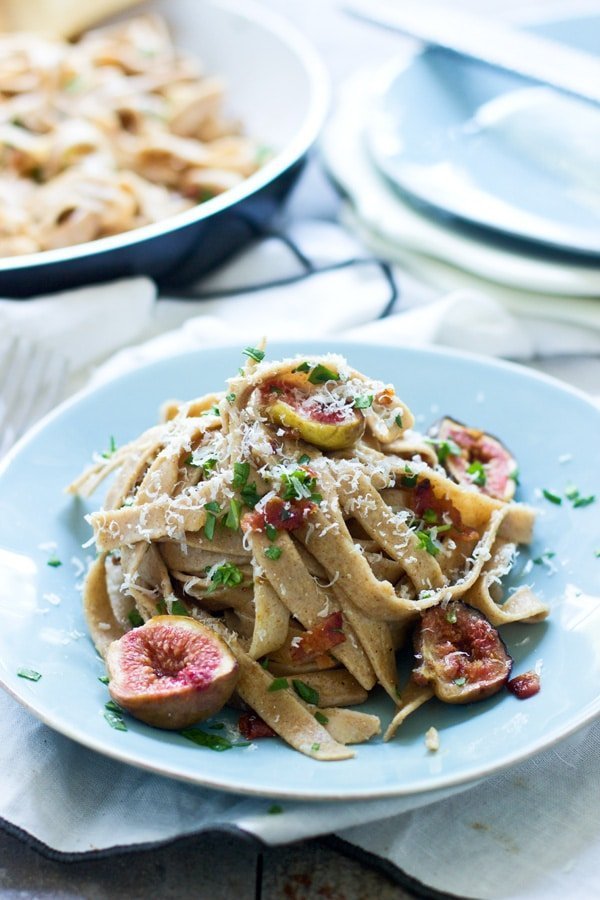 I'm having a moment with figs. The fact that they're gracing pretty much every grocery store within a five-mile radius of my house has me not only purchasing them non-stop, but also has me hightailing it to the nearest supplier the second the last one disappears from my fridge. Just like summer, fig season is quickly fleeting and I want to make sure I get my fill of them before I have to wait three more seasons to get my hands on the little gems.
I feel like figs are typically served in sweet form or simply in salads, but I happen to love throwing them into savory situations – like this polenta, these tartines or these pastry bites – more often than not. There's just something about the mildly sweet flavor that pairs so perfectly with savory foods, plus I just adore a good sweet/salty combination, don't' you?
Here, I used the figs to put a sort of sweet spin on one of my very favorite pasta dishes – spaghetti carbonara. While I'm typically drawn the classic version of carbonara for quick I've-got-nothing-in-the-pantry dinners, I also like taking the base of the sauce – egg yolks, cheese and cream – and contorting it into something completely different and a little more weekend or company-worthy.
First off, the figs. For hot dishes, I find it best to roast the figs to bring out their juices a little bit. Normally I'd just toss them in a little bit of olive oil, salt and pepper, but in this instance I wanted them to caramelize just a little bit and enhance their innate sweetness, so I dusted them with just a touch of brown sugar and popped them into the oven until they were slightly roasted.
Next deviation, brown butter – because it makes everything better. Instead of tossing the cooked noodles in bacon grease as I normally would, I instead, baked the bacon off in the oven and browned up a couple tablespoons of butter before adding whole-wheat fettuccine to the mix. Once the pasta soaks up the butter, I take it off the heat, and add in a mixture of egg yolks, plenty of parmesan cheese, a touch of cinnamon and just a couple splashes of cream. What I really love about this is that it's super forgiving, if the sauce isn't loose enough, a couple splashes of starchy cooking liquid get ladled in, and if the sauce is too loose, a little bit more parmesan cheese is tossed in – easy peasy.
At the last minute the roasted figs and crumbled bacon is tossed with the noodles, it's garnished with more parmesan cheese, a little bit of fresh flat-leaf parsley, and you're done.
A super simple meal that's easy enough for a weeknight night, but fancy enough for the weekend – totally my kind of dinner.
Brown Butter Carbonara with Brown Sugar Roasted Figs and Whole-Wheat Fettuccine
A classic carbonara gets a spin with sweet roasted figs and warm cinnamon for the perfect dinner worthy of guests.
Author:
Nicole - Cooking for Keeps
Ingredients
10 figs, halved
2 teaspoons olive oil
1 teaspoon brown sugar
1 pound whole-wheat fettuccine
1 teaspoon salt
¾ teaspoon cinnamon
3 egg yolks
½ cup parmesan, plus more for garnish
2 tablespoons cream
3 tablespoons butter
½ cup chopped onion
1 large garlic clove, minced
5 slices cooked bacon, chopped
Instructions
Preheat oven to 375 degrees. Toss halved figs with olive oil and brown sugar. Sprinkle with salt. Roast for 10-12 minutes or until slightly caramelized.
Bring a large pot of boiling water to a rolling boil. Season with salt. It should taste as salty as the sea.
Cook pasta until aldente. Reserve 1 cup or so of the starchy cooking liquid.
In a small bowl, whisk salt, cinnamon, egg yolks and parmesan cheese. Set aside.
In a large non-stick skillet, add butter. Turn the heat on medium-high and let the butter melt. Once the butter begins to turn brown, swirl the pan. Keep swirling the pan until the butter turns a chestnut brown and smells very nutty. Be careful not to burn. Reduce the heat to medium and add onions and garlic. Cook until soft and translucent, about 2-3 minutes. Reduce heat to medium-low.
Add fettuccine. Toss to coat in brown butter. Reduce heat to low and add cream, egg and cheese mixture. Toss to coat. Keep tossing the fettuccine until the egg mixture is hot, you want to cook the eggs, but not curdle them. Add figs and chopped bacon. Toss to combine. If needed, add some starchy cooking liquid to loosen the sauce up. Season with salt and pepper.