When it comes to food, Kevin likes to joke that I can't leave a good thing alone. While I like to argue the contrary, today's Brown Butter Rice Krispie Treats only solidify his argument.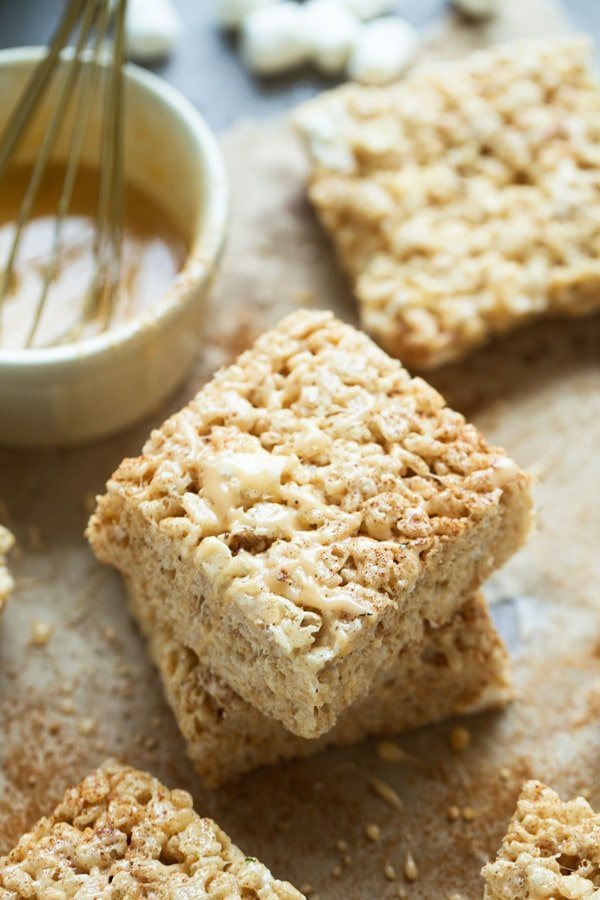 Let's be honest, classic Rice Krispie Treats as is, are pretty near perfect. But because I like to put a little twist on just about everything, I've turned the classic recipe into an easy fall version that may just leave the original in the dust…for now.
Like I mentioned here, unlike a lot of people, I don't really get on the pumpkin bandwagon when it comes to fall. I'll make a few recipes here and there, but for the most part, I keep my fall flavors pretty balanced, except when it comes to brown butter, which I find utterly irresistible.
This time of year, I find it almost impossible to use butter in its original state. The nuttiness and rich flavor brown butter has just screams fall to me, and I throw it in everything from sauces to dips to green beans and beyond. I just can't get enough of the stuff.
Rice Krispie treats offer the perfect vessel to infuse yet another item with the chestnut-flecked liquid gold, and man do they ever. But that's just the start. In addition to the brown butter and marshmallows, a handful of white chocolate is added in for a little extra sweetness, as well as a splash of vanilla extract.
To make them reflect fall even more, I threw in a little bit of ground cinnamon and nutmeg for some spice, and then at the last minute adding a teaspoon of flaked sea salt, which in my opinion, brings out the brown butter even more.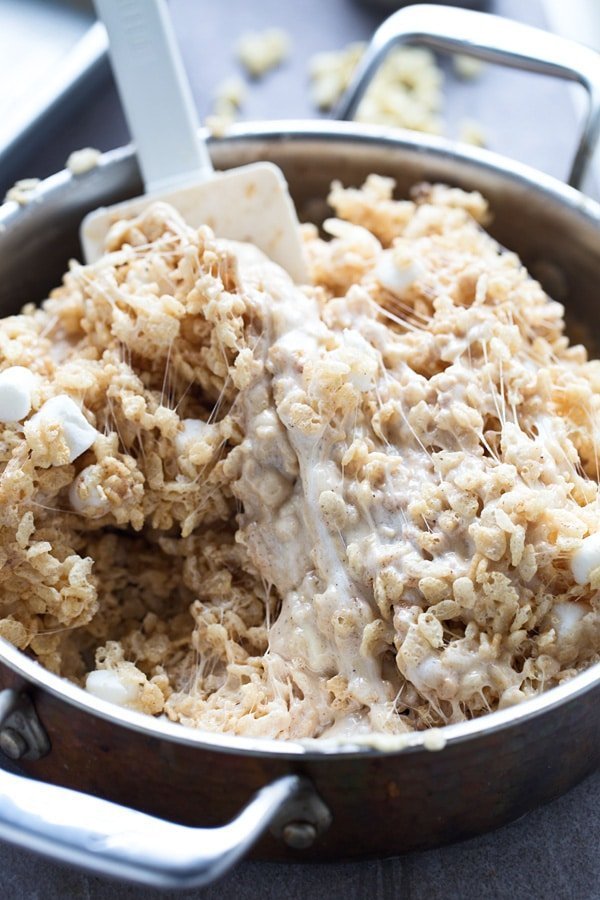 Like every other Rice Krispie treat recipe out there, these guys aren't light, but they're so worth it. I made them in a 9×9 square pan for maximum height, but you could also make them in a 9×12 baking dish for standard-sized treats that will be a bit less fattening.
After the Rice Krispie treats come together and rest for a bit, I invert them onto a platter, cut them into nine squares and then drizzle them with a super easy two-ingredient pumpkin glaze – a recommended, but not necessary step.
For the glaze I just mixed a few teaspoons of pumpkin spice creamer with some powdered sugar, and that's it. I used Trader Joe's version, but really any brand will work.
Pumpkin glaze or not, these gooey, crunchy babies are the perfect fall treat.
Brown Butter Rice Krispie Treats
These Brown Butter Rice Krispie Treats pack plenty of fall flavor with white chocolate, hints of cinnamon, nutmeg and flaked sea salt. They're drizzled with a pumpkin glaze and ready for hungry eaters.
Ingredients
5

tbsp

unsalted butter

1/2

cup

white chocolate chips

5

cups

miniature marshmallows, divided

1/2

tsp

vanilla extract

1

tsp

ground cinnamon

1/4

tsp

ground nutmeg

5

cups

rice krispie treat cereal

1/2

tsp

flaked sea salt

2

tsp

pumpkin spice creamer

1/4

cup + 1/8 cup

powdered sugar
Instructions
Grease a 9x9 squash pan with non-stick spray.

Add butter to a large skillet. Turn the heat on medium-high. Once the butter melts and starts to brown, swirl pan until butter smells nutty and is a deep golden brown, about 2-3 minutes.

Reduce the heat on low and add white chocolate, marshmallows, cinnamon and nutmeg. Stir with a wooden spoon or spatula until marshmallows and chocolate are melted, about 2-3 minutes.

Turn the heat off and add cereal and salt. Stir until combined. Press into prepared pan. Let set for 5 minutes. Cut into nine squares.

Whisk pumpkin creamer and powdered sugar together. Drizzle over treats.