This Easy Apple Cobbler with Sweet Cream has a apple pie filling but uses flaky cinnamon biscuits instead of a crumble topping – a twist on a classic!
We all hear it, we all know it. Pumpkin reigns supreme when it comes to fall.
There are of course, the ever-present pumpkin spice lattes, pumpkin muffins, there's even pumpkin soup and (my favorite) pumpkin beer cheese fondue. We find ways to sneak it into potatoes, our breakfast pastries, and even into our smoothies.
Pumpkin is basically shoved down our throats like it's the only vegetable that can signify fall, but I bed to differ. While I contribute to this fallacy in my own ways (see above), there's another fall produce I want to shine some light on – the apple.
Why does the apple so often get forgotten and left in the dust??
This year I made a promise to all those forgotten apples, and let them be the star of the show. After coming home from the apple orchard last weekend with over 10 pounds of apples, this Easy Apple Cobbler with Sweet Cream was the first baked goodie to come out of my kitchen.
Despite the lack of apple recipes in the Cooking for Keeps archives, the fall dessert I make more than any other is some variation on a apple pie. Although surprisingly enough, I don't typically ever make a classic apple pie, instead it usually comes in the form of a crisp or easy tart.
Since I had such wonderful luck with this chicken pot pie topped with biscuits, I wondered if I could apply the same concept to an apple pie. What resulted was a sort of hybrid between pie, cobbler and shortcakes, which if you can imagine, is delightful.
Here's how it went down:
Classic apple pie filling, which for me consists of sliced granny smith apples, brown sugar, granulated sugar, cinnamon, salt, lemon juice and flour, is poured into a casserole dish, covered and baked until the apples are soft. During the cooking process, the apples and the sauce surrounding it create an almost caramel-like taste and consistency, which I adore.
To make the biscuits:
While the apples do their thing, the biscuits get put together very similarly to the biscuits here, sans the cheese and chives. Just like before, the dough is folded over itself several times to create layers within the biscuits, except here, a generous sprinkling of cinnamon sugar is dusted on in between each layer. The end result is a cinnamon and sugar-laced biscuit that would be just as delicious on its own.
Once the apples are done cooking, the biscuits are nestled on top, brushed with a little bit of cream and popped back into the oven until they're golden brown.
Once everything comes out, the "cobbler" is scooped into bowls and drizzled with warm sweet cream.
I'm partial to the warm cream, but ice cream would also be delicious.
For more easy apple recipes, check out these posts:
Easy Apple Cobbler with Sweet Cream
This Easy Apple Cobbler with Sweet Cream has a apple pie filling but uses flaky cinnamon biscuits instead of a crumble topping - a twist on a classic!
Ingredients
6

granny smith apples, peeled and sliced

1/2

cup

brown sugar

1/4

cup + 2 tbsp

sugar

1 1/2

tsp

ground cinnamon

1/4

tsp

salt

1/4

cup

all-purpose flour

1

tbsp

lemon juice

1/2

cup

heavy cream
Biscuits
2

cups

all-purpose flour

3

tsp

baking powder

1/2

tsp

baking soda

1/4

tsp

salt

1/4 cup + 3

tbsp

sugar

4

tbsp

cold butter, cut into cubes

4

tbsp

vegetable shortening

1

cup

buttermilk

1 1/2

tsp

cinnamon
Instructions
Preheat oven to 375 degrees. Grease a 9x12 baking dish.

Add apples, brown sugar, 1/4 cup granulated sugar, cinnamon, salt, flour and lemon juice to a large bowl. Toss until combined and apples are evenly coated. Cover with foil and place in the oven. Bake for 45 minutes. Raise the temperature to 400 degrees.
Biscuits:
While the apples bake, make the biscuits. Whisk flour, baking powder, baking soda, salt and 3 tablespoons sugar together in a medium bowl. Add in cubed butter and shortening. Use a pastry cutter or fork to cut the fat in to the flour mixture. It shouldn't take long, you want there to be small, pea-sized chunks of fat distributed throughout the flour.

Once the fat is cut in, add half of the buttermilk. Use your fork to gently toss until evenly coated. Add the other half of the buttermilk and continue to stir until incorporated. DO NOT OVER MIX!


In a small bowl, mix together remaining sugar and cinnamon

Dump dough out on to a floured surface and use a rolling pin to gently form it into a (approximately) 6x8 rectangle. Sprinkle with a 1/3 of the cinnamon sugar mixture. Fold the dough in half over itself and roll or press into another rectangle the same size. Sprinkle with another 1/3 of sugar. Fold over again and sprinkle with remaining sugar. Fold once more time and then roll the dough out so it's about 1/4 inch inch tall.


Use a 2 1/2-inch biscuit cutter to cut 12 biscuits. If needed, reform scraps of dough to make all 12. Make sure you don't twist the biscuit cutter into the dough, just go straight down forcefully and straight back up. To prevent the cutter from sticking, dip in flour before you make each biscuit. Place the biscuits on a small baking sheet and place in the freezer until the filling is complete.


Once the apples have cooked for 45 minutes, remove foil and gently nestle biscuits on top. Brush with 1/4 cup of heavy cream. Bake in the oven for 12-15 minutes or until biscuits are golden brown and cooked.

While the biscuits cook, add remaining heavy cream and sugar to a small saucepan. Heat just until the sugar melts and keep warm over a low heat.

To serve: Scoop out apples and biscuits, then drizzle with warm sweet cream. (You could also serve with ice cream!)
Nutrition Facts
Easy Apple Cobbler with Sweet Cream
Amount Per Serving
Calories 430
* Percent Daily Values are based on a 2000 calorie diet.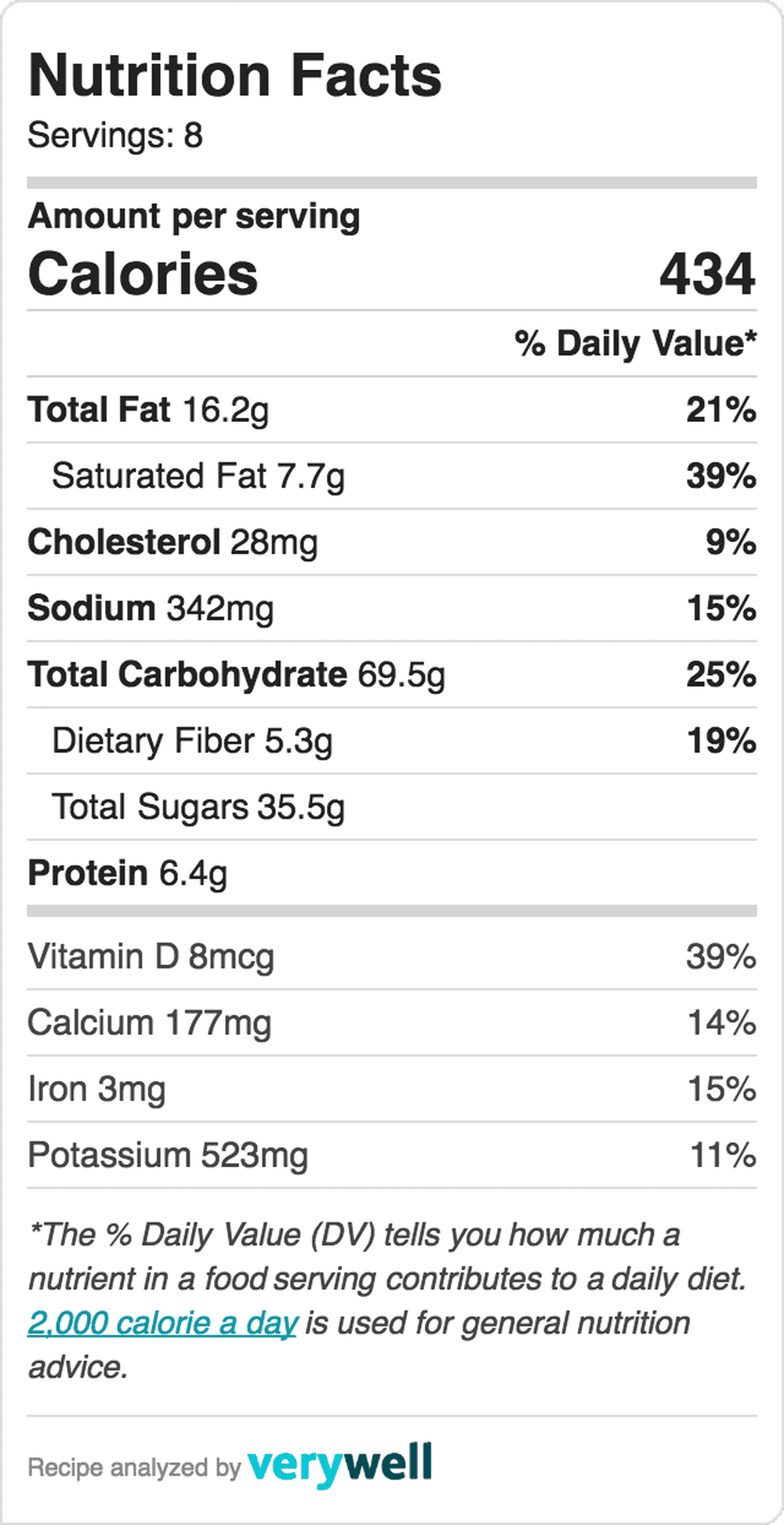 (Visited 2,261 times, 1 visits today)