Since it's Monday, I'm providing you with the requisite healthy meal to recover from the weekend. Because if your weekend was anything like mine, it was filled with indulgent brunches (eggs benny Saturday and waffles Sunday), brats, plenty of pasta and a copious amount of sweets, so I'm in serious need of something a little bit lighter, but still filling and of course, still full of flavor.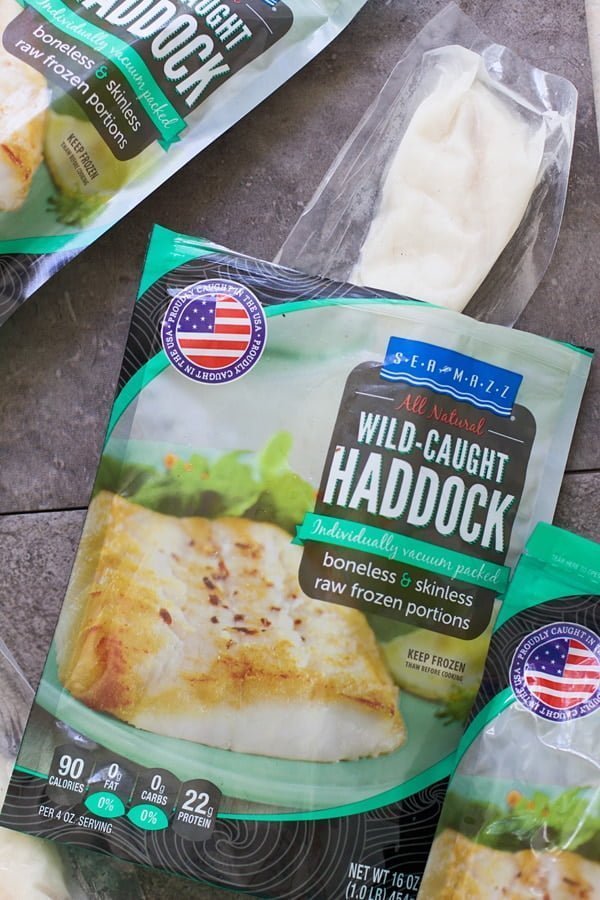 We're a big fan of seafood in our household (noted by my plethora of seafood recipes), so when Chris at Mazzetta Company, a family owned seafood company, offered to send me some of their haddock products, I literally jumped at the opportunity. Haddock isn't something you find in a lot of markets around Kansas City, and this flaky, but hearty white fish is exactly the kind of seafood both Kevin and I love.
While this dish is healthy, at first glance, some of the indulgent ingredients – butter and cream to be specific –might make you think otherwise, but I promise, each one is used in moderation and is an essential part of the finished product, so don't leave them out.
We begin with brown butter, which happens to be one of my favorite ways to cook pretty much anything from veggies to proteins, but I especially love to sauté my seafood in this nutty equivalent to liquid gold. If you haven't used it before, I promise, it's one of the easiest ways to add another element of flavor to your food without adding a ton of extra ingredients. All you have to do is heat the butter up over a relatively high heat, and once the butter starts to brown on the edges, you take your pan and swirl it around until it turns this dark, chestnut-hued color and the nutty smell becomes almost intoxicating – and I mean it, the smell is literally intoxicating.
Once the butter browns up, the heat is turned down just a tab and the haddock filets (seasoned with salt and pepper) get gently nestled into the pan to cook up, which happens pretty quickly, about one to two minutes per side, depending on how big they are.
After the fish is cooked through, it's transferred to a plate and covered with a little bit of foil to be kept warm and the remnants of the brown butter and fish become the base of the sauce.
Let's talk about the sauce for a quick second. Super simple in its ingredient list and preparation, this seriously flavorful sauce comes together in just a couple of minutes and happens to be one of my favorite things I've made all month – and as you can imagine I've made a lot of recipes this month. A little bit of minced shallot are softened in the leftover brown butter, and then tossed with a good-quality stone ground mustard. Now, the mustard is important, it HAS to be stone ground, a deli mustard will absolutely not work, Dijon possibly would, but I would imagine that it would change flavor of the dish, so try to stick with stone ground.
After the mustard is tossed in, a little bit of heavy cream is poured in, the brown bits from the bottom are scraped up and the mixture is brought to a simmer and then reduced until it's super thick, which pretty much happens instantaneously. A quick seasoning of salt and pepper to taste finish the sauce off.
I like to serve the finished product with some sautéed green beans and cremini mushrooms, but you can pretty much use whatever veggies you have on hand. A roast fingerling potato or crusty heel of baguette would also be perfect to soak up some of that sauce, but as aforementioned, I was trying to stay a little bit healthier here, so carbs were a no-go for me this time.
Again, this dish is so simple and ridiculously easy to throw together, but the flavor packs a serious punch and will probably become one of your new favorite ways to cook seafood. Plus, everything comes together in under 30 minutes – what more could you ask for in a weeknight dinner??
Brown Butter Seared Haddock with Mustard Cream Sauce
This super easy dinner comes together in under 30 minutes, and couldn't be more delicious....
Author:
Nicole ~ Cooking for Keeps
Ingredients
2 haddock filets
1 tablespoon unsalted butter
1 tablespoon finely chopped shallot
2 teaspoons whole-grain mustard
¼ cup + ⅛ cup heavy cream
¼ tsp. salt
Mushrooms and Green Beans
2 teaspoons olive oil
1½ cups quartered cremini mushrooms
1 large garlic clove, minced
1½ cups trimmed fresh green beans
½ tsp. salt
Instructions
Season haddock filets with salt and pepper.
Heat a medium saute pan to a medium-high heat. Add fish. Sear until golden brown, about 3-4 minutes, flip and brown on the other side, another 3 minutes.
Remove the fish from the pan and set aside. Add shallot to the pan. Saute for 2 minutes or until softened. Add the mustard, heavy cream, and salt, bring to a simmer. Add the fish back to the pan and simmer the sauce until thickened, about 1-2 minutes. Season sauce with salt and pepper.
For the Mushrooms and green beans.
Heat a medium saute pan to a medium-high heat. Add olive oil. Add mushrooms. Cook 2-3 minutes or until mushrooms are brown. Add garlic, green beans and salt. Saute until green beans are bright green and slightly softened, but still have a bite to them. Season with salt and pepper.
Serve fish with veggies. Spoon sauce on top.
Thank you so much to Mazzetta Company for sponsoring this post, and thank YOU for supporting the brands we love and that keep this space moving!