For some odd reason, anytime I picture myself eating peaches, I'm always barefoot in the midst of a scorching hot August day, taking a bite ever-so-carefully to avoid that juice down the face, juice down the arm drip that perfectly ripe peaches tend to do. It doesn't usually happen that way, but one or two times per summer, I'm pleasantly surprised when the juiciest of juicy peaches finds their way into my kitchen. These few and far between kind of peaches don't need to be thrown into a pie, they don't need copious amounts of butter or sugar to enhance their natural sweetness, and they definitely don't require you to nearly break off a tooth by merely taking a bite.
When I saw my first obscenely large display of cheap peaches last weekend, my on-a-mission, stop-for-nothing mantra switched gears. I stopped, and was hopeful that these peaches, were the peaches that would require me to flip off my shoes and brace for the drip.
These were not those peaches. Goshdarnit!
Instead of sulking and cursing myself for buying pounds of inedible fruit, I decided to make the best of it, and what better way to make the best of it, than grill 'em up and serve them with loads of creamy ricotta, sweet honey and salty crispy prosciutto?
If you can believe it, this was my first time to actually fully pit a peach, usually I just bite right in or cut the cheeks off because I'm eternally lazy when it comes to preparing foods as they should be. I even had to Google how to do it, because when I first tried, I completely butchered the poor guy, apparently the trick is to cut down the indented line and twist like an avocado. Worked like a charm.
After I successfully wrestled the pits out of the flesh, I doused them with fruity olive oil, a liberal sprinkling of salt and then covered them in brown sugar. I let them sit for just a few minutes, until the sugar basically turned to liquid and then grilled them until they had distinct grill marks. The heat from the grill combined with the brown sugar transform the previously rock hard flesh to a soft, seriously juicy state.
The final touch is to fill the gap where the pit once was with soft ricotta (an idea I swiped from Giada), drizzle with plenty of warm honey and sprinkle with lots of prosciutto I crisped up in a little bit of olive oil


Dessert doesn't get any simpler and summery than that.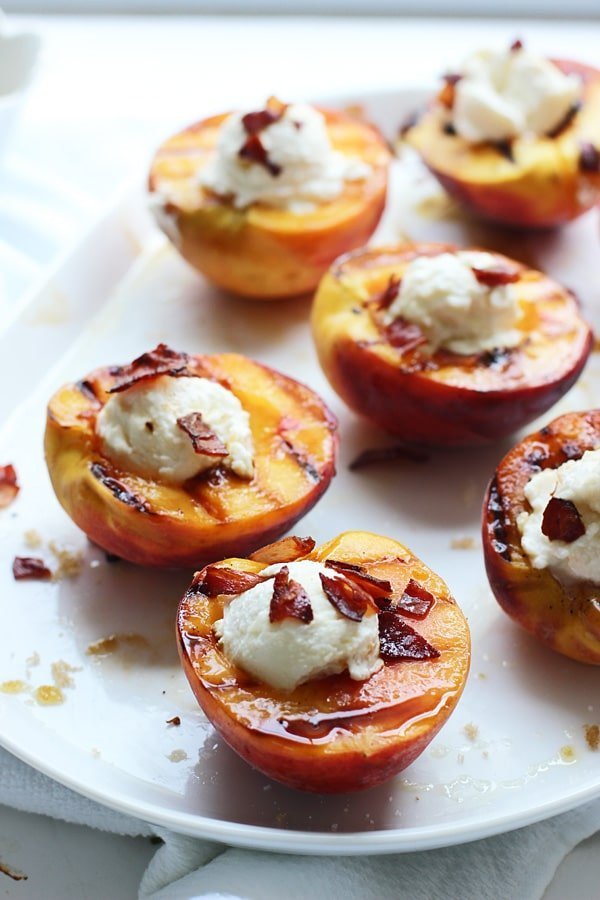 Brown Sugar Grilled Peaches with Ricotta, Honey and Crispy Prosciutto
Brown sugar grilled peaches are stuffed with creamy ricotta, drizzled with honey and sprinkled with salty, crispy prosciutto for an easy summer dessert that will blow guests away.
Ingredients
Brown Sugar Grilled Peaches with Ricotta, Honey and Crispy Proscuitto
4 large peaches, halves and pitted
2 tablespoons + 1 teaspoons olive oil
3 tablespoons brown sugar
¾ cup whole milk ricotta
3 tablespoons honey
2 slices prosciutto, chopped
Salt and pepper to taste
Instructions
Heat a small non-stick sauté pan to a medium heat. Add chopped prosciutto, cook until crispy, stirring occasionally, about five minutes. Set aside.
Heat a grill or grill pan to a high heat. Brush peaches with olive oil. Season with plenty of salt and pepper and then sprinkle with brown sugar.
Grill peaches until they have distinct grill marks, about 1-2 minutes.
Remove and spoon ricotta where pit indentation was.
Drizzle with honey and sprinkle with prosciutto.
Nutrition Information
Serving size:
2 peach halves