It doesn't take much to lift me from an all out feel-sorry-for-me-I've-had-a-rough-day kind of mood, and yesterday when I was having one of those days, this Butternut Spaghetti Carbonara instantly plucked me out of my self-pity and straight on to a cloud of bliss. Seriously, sometimes all it takes is a cute picture of puppies (how can that NOT lift anyone's mood), a trashy magazine or an oversized bowl of warm pasta to bring me back. Seeing as pasta is something that makes me happy AND provides dinner at the same time, nine times out of ten I go with pasta.
It doesn't have to complicated or have a million ingredients. It doesn't have to be comprised of freshly made noodles or be of an artisan variety. And it certainly doesn't have to take the better part of an hour to get from the stove to the table. If you dropped a bowl of perfectly buttered al dente noodles, dusted with a touch of parmesan cheese in front of me, my sprits would be instantaneously lifted.
It's almost like there's teeny tiny happy endorphins built within the mixture of egg and flour; with each bite, I can feel myself slowly emerging from a once terrible mood, to my normal, happy-go-lucky self. Some people workout to get those happy endorphins swimming about, I, eat. Although, if I tried the working out thing, I'd be a whole lot skinnier…so there might be something to that…
Carbonara is one of my go-to pastas not only when I'm feeling a little blue, but when I'm teetering on the edge of a completely empty fridge. The foundation of carbonara – eggs, pasta, parmesan and bacon – are all ingredients I keep plentiful in my fridge. In fact, at this very moment I have no less than two dozen eggs, ¼ pound of Parmigiano-Reggiano, five varieties of dried pasta and four packages of frozen bacon (scored for $2.99 nonetheless) at my fingertips.
It's one of those meals that comes together so effortlessly, I could almost make it with my eyes closed. Depending on the contents of my fridge, I might add in a little bit of cream for a more luxurious sauce, mushrooms for heartiness, chicken for added protein, or in this case, butternut squash for a more fall-like feel.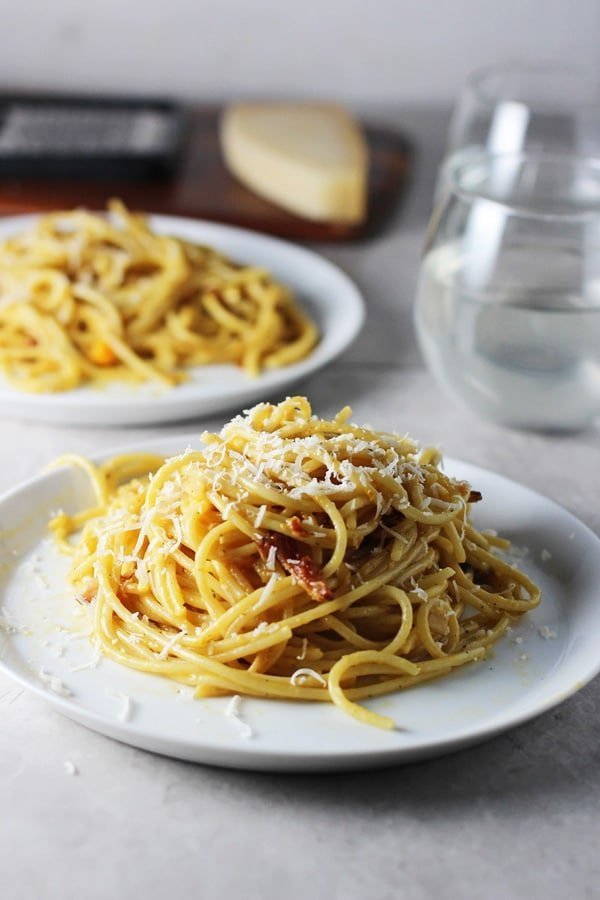 he squash is gently roasted with just a touch of olive oil, salt and pepper until it's soft, but not browned. It's then pureed in the blender along with some starchy, salty pasta water and set aside until the pasta is ready.
Everything else remains constant. Slightly undercooked (even less than al dente) spaghetti noodles are tossed in a mixture of bacon fat, onion and garlic. The heat is turned off, but while the noodles are still radiating heat, they get tossed in the pureed roasted squash, egg yolks, a touch of ½ and ½ and a handful of parmesan cheese. Everything is tossed together, adding a ladle-full of pasta water if needed (I used about a ladle and half) and salt and pepper to taste. Oh! And we can't forget the cooked bacon, very important in carbonara…at least in my house.
The addition of squash is a subtle, welcomed change, but still radiates carbonara with each bite. The perfect twist, on a comforting classic.
P.S. Orange food is hard to photograph…

Butternut Spaghetti Carbonara
Classic carbonara gets a fall makeover with the addition of butternut squash - so creamy!
Author:
Nicole ~ Cooking for Keeps
Ingredients
1 ½ cup chopped butternut squash
1 tablespoon olive oil
10 ounces spaghetti
2 slices bacon
½ cup chopped onion
2 garlic cloves, minced
2 egg yolks
2 tablespoons ½ and ½, milk or cream
½ cup grated Parmigiano-Reggiano cheese
¼ teaspoon salt
⅛ teaspoon freshly cracked black pepper
Instructions
Preheat oven to 375 degrees. On a baking sheet toss squash with olive oil. Season liberally with salt and pepper. Bake until soft, about 15 minutes.
In a small bowl, whisk egg yolks, ½ and ½ and salt together.
Bring a large pot of water to a rolling boil. Add a generous handful of salt. The pasta water should taste like sea water. Cook pasta until al dente. Reserve cooking liquid.
When squash is soft transfer to a blender along with ¼ cup of the starchy cooking liquid from the pasta. Blend until smooth.
In a large skillet cook bacon until crisp over a medium heat. Remove and drain on paper towel. Add chopped onion and garlic. Cook until soft, about 2-3 minutes.
Add hot pasta to the onion and garlic mixture, along with pureed squash, egg/parmesan mixture and reserved bacon. Toss until combined.
If necessary, ladle in enough cooking liquid to loosen the sauce up. Season to taste with salt and pepper.
Nutrition Information
Serving size:
5 ounces pasta