I've been eating my words lately.
I said, I wasn't a baker, and then I break out dishes like this crumble, this pie or this cake.
I said I wasn't really into desserts, but then I go and shove this, this and this into my face.
I take it all back. I love to bake and I love desserts.
It's something that snuck up on me slowly, but steadily over the years, but lately it's come on with vengeance. I can't go one meal without some sort of sweet treat afterwards and don't even get me started on the bakery isle at the grocery store – it's like a landmine filled with little dessert "traps" all over the place. I have to physically steer my cart away from the doughnuts and brownies and towards the produce so I don't end up snatching enough sweets to feed a family of 10.
Don't get me wrong, savory still has my heart, if I had to choose between a bowl of mac and cheese and a gooey brownie, hands down I'm grabbing a fork and plowing into that bowl of cheesy carbs. I guess now I've just welcomed all the foods into my daily diet, which isn't going to be great for my waistline, but eh, what can you do?
I've wanted to make a variation of an apple fritter for years now, but the thought of breaking out the fryer was eternally unappealing to me, so I never got around to it, although the craving for them never really disappeared. The other day when day dreams of them crossed my mind for what must have been the hundredth time and then my Mom, minutes later called and coincidentally asked me to a bring a dessert for Sunday dinner, I knew what had to be done. Fritters for all!
For some the apple fritter is merely an apple ring dipped in batter and then deep-fried, but I grew up with the kind of apple fritters that resemble doughnut holes, except instead of perfectly rounded balls of dough, the edges were jagged and each fritter had it's own unique shape. They were crispy on the outside, soft and chewy with chunks of apples on the inside, and pure heaven.
My Mom would break out her tall, black "fry daddy" and while I can remember helping mix the batter myself, I left the frying up to her. I remember watching as the raw batter would quickly sink to the bottom of the oil and then rise to the top, turning a deep, golden brown and then flipping itself over to finish cooking on the outside. Immediately after they were done frying we'd sprinkle them with an obscene amount of powdered sugar and then dig in.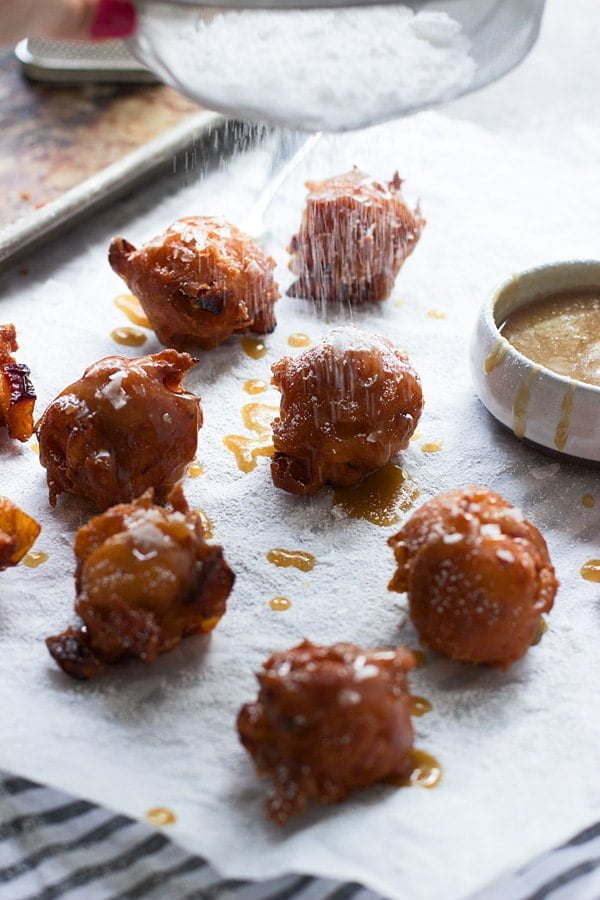 For today's fritters, I wanted to stay seasonal, so instead of apples I went with some local fresh peaches. For different levels of texture, I ended up cooking half of the chopped peaches in a little bit of butter and brown sugar for an almost caramelized taste and then left the other half of the peaches raw for a bit of a bite.
While some fritter recipes require a yeast base, this one couldn't be easier or quicker to throw together simply with flour, baking powder, salt and sugar making up the dry ingredients and then milk, eggs and vanilla making up the wet ingredients. Both wet and dry ingredients are whisked just until they come together and then the raw and cooked peaches doused in caramel sauce are gently folded into the batter. Like any bread-based recipe, the less you mix, the better, you want fritters to be light and airy, not dense and hard as rocks.
The batter is then spooned into the hot oil by the tablespoon and just as the fritters cooked years ago, the batter will first sink to the bottom and then slowly rise to the top once they start to cook. The bottom side will turn a golden brown, and typically will flip itself over once it's ready to turn, but if it doesn't, just gently take a spoon and coerce it along.
If you don't have a fryer, no problem, I don't have one either. I just a fill a deep pot up with about three inches of oil and heat it to 375 degrees, it's best to use a thermometer to monitor the temperature, but I'm lazy and I just do a couple of test batches to make sure the oil is perfect. If the fritters brown up right away, the oil is too hot, if they take five minutes to brown on one side, the oil is too cool. You want to make sure the batter gets cooked on the inside, so a gradual color on the fritters is what you want, it should take about three, maybe four minutes per side.
Of course, they're delicious straight out of the fryer and simply dusted with a touch of powdered sugar, but I love the idea of smothering them in a "glaze" of sorts. The glaze here just consisting of a super simple caramel sauce made up of a little bit of butter, brown sugar, heavy cream and flaked sea salt. Once the fritters are all cooked, I let them cool just a touch and then drizzle them in the quick caramel, dust them with powdered sugar and then sprinkle each once with a pinch or two of flaked sea salt.
If you can't serve these right away or want to make them for a party, you can make all of the fritters up ahead of time, store them on an uncovered baking sheet and then just pop them into a 375 degree oven for five minutes or so until they crisp up again. I did this, and they reheated beautifully.
I'm pretty sure I've never seen a prettier sight….
Caramel Peach Fritters with Salted Caramel Sauce
Ingredients
1 tablespoon butter
2½ tablespoons brown sugar divided
3 cups roughly chopped peaches, divided
1½ cups + 3 tablespoons flour
2 teaspoons baking powder
½ teaspoon salt
2 teaspoons sugar
⅔ cup milk
2 eggs
2 teaspoons vanilla
Caramel Sauce
4 tablespoons butter
½ cup packed brown sugar
⅓ cup heavy cream
1 teaspoon flaked sea salt
Canola oil for frying
Instructions
In a medium saute pan, melt butter over a medium heat. Add 1½ tablespoons of brown sugar. Whisk together. Add in half of the peaches. Cook until sugar has dissolved and peaches are softened, about 4-5 minutes. Transfer to a bowl or plate to cool.
In a large bowl, whisk together, remaining brown sugar, flour, baking powder, salt and sugar.
Measure milk in a liquid measuring cup, add eggs and vanilla. Whisk until combined. Add to flour mixture, whisk just until combined.
Add cooled peaches along with any juices and caramel that have accumulated and raw peaches to batter. Gently fold until combined. Do not over mix!
Heat a medium, deep pot with 3 inches of canola oil. Heat to 375 degrees.
Using a tablespoon ice cream scooper or tablespoon, scoop batter into oil. Do not overcrowd.
Fry until golden brown on all sides, about 3 minutes per side. If your fritters get brown too fast, turn the heat down a few degrees.
Drain on paper towels.
Drizzle with caramel sauce, dust with powdered sugar and sprinkle with flaked sea salt.
For the caramel sauce:
In a small non-stick skillet, melt the butter and brown sugar over a medium heat. When the butter melts and sugar has dissolved, add in heavy cream. Turn the heat down to low and stir until combined. Take off the heat and let cool slightly before serving.
Notes
Fritters can be made a few hours ahead of time, but do not cover them. Pop into a 375 degree oven for five minutes to crisp up.