One of my biggest character flaws is the ability to find blame on someone other than myself, no matter what. Kevin receives the brunt of all the displaced blame, and it's become quite the ongoing joke in our relationship, so much so, that whenever anything goes awry, Kevin will immediately ask how we can trace fault back to him. Luckily, I've realized this shortcoming in myself, and I'm happy to report that I'll now accept at least twenty percent of the blame…
One thing I know I can absolutely blame on Kevin, is my unwavering sweet tooth. Before he came along, I could pass up any cookie, piece of candy, or chocolate that came my way, and now, I'm like a weak five year old who can't keep her hands out of the cookie jar. Pregnancy only accelerated my love of all things sweet, and I indulged in one of my very favorite confections – an oatmeal cream pie – at our neighborhood bakery at least once a week.
Even with my absent sweet tooth as a kid, I was always a sucker for an oatmeal cream pie. Back then, it was the Little Debbie packaged variety, which I was totally content with up until I had the real deal at my girlfriend's wedding last year – now, I'm never going back.
At $3.95 a pop, my bi-weekly oatmeal cream pie habit, has become quite an expense in this budget-minded gal, so I set out to make my own version at home. Plus, why have two oatmeal cream pies a week when I can have a dozen at my disposal??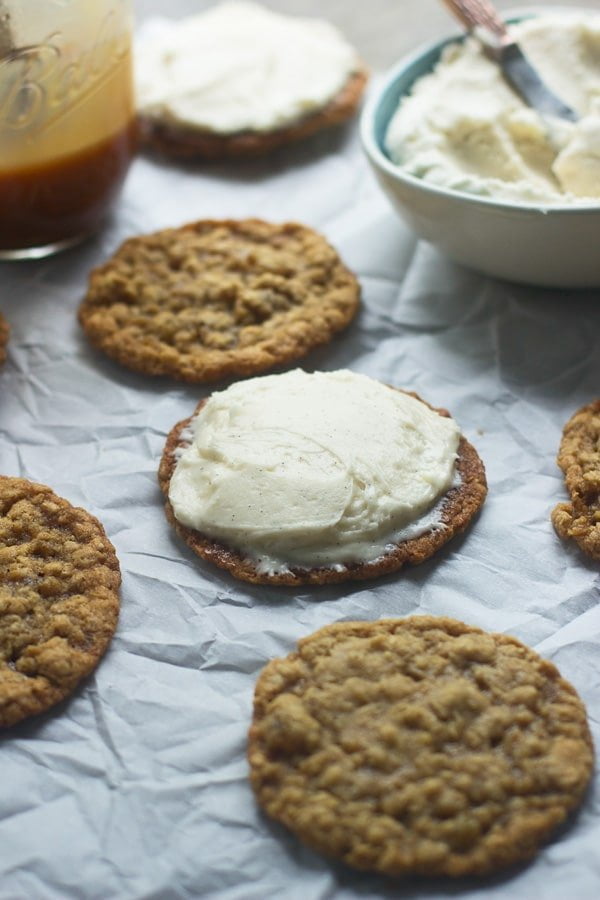 Now, I'll level with you, this is not an easy recipe. This is not a quick recipe. There are three components; the cookie, the frosting, and the salted caramel. All made from scratch, all essential to the final product.
The cookie recipe is surprisingly enough, a VERY liberal adaptation of the recipe on the back of the oatmeal container – since I'm not an avid baker, I used the recipe as a subtle guideline on measurements. I added in some molasses since I was using light brown sugar, some instant pudding for softness, and shortening, because, frankly, I was curious how it would change the texture.
Luckily, my curiosity paid off, because the end cookie is chewy in the middle, super crisp on the outside, and the perfect thickness to encase a sweet and salty cream cheese and salted caramel filling.
A few notes about the cookies. You MUST chill the dough, this is essential, the cookies are already on the thin side, and if you don't chill the dough, they will just spread and melt on to the pan. I'd suggest forming them and then chilling them overnight, but you can also pop them in the freezer for 45 minutes if you're in a hurry.
The filling is a super easy cream cheese frosting you can throw together in under ten minutes. You just whip up a little bit of softened cream cheese and butter, then slowly add in your vanilla and powdered sugar.
For the salted caramel…I know, making homemade caramel can be daunting, BUT it's really super easy. Add your sugar to a cold pan, then turn the heat on a medium-low, once the sugar begins to caramelize on the edges and melts, I start to stir. When all of the sugar melts and is an amber color, I add in my butter, stir until it's completely melted, and then take it off the heat and add in the cream. The mixture will sputter and boil, just keep stirring and it will eventually settle down and come together.
All that's left is to assemble – one cookie gets slathered with cream cheese frosting, then drizzled with the homemade caramel, and topped with another cookie.
If you don't eat them all right away (you probably will), keep them chilled in the fridge in an airtight container and bring them out about 30 minutes before you serve them.
Homemade Salted Caramel Oatmeal Cream Pies
Chewy, crispy oatmeal cookies are stuffed with cream cheese frosting and homemade salted caramel - a childhood classic, updated!
Author:
Nicole ~ Cooking for Keeps
Ingredients
Oatmeal Cookies
¾ c. unsalted butter, softened (1½ sticks)
¼ c. (4 Tlbs.) vegetable shortening
1¼ c. light brown packed brown sugar
¾ c. white sugar
2 eggs
2 tsp. vanilla bean paste (or extract)
1 Tlbs. dark molasses
1¼ c. all-purpose flour
2½ c. quick cooking oats
2 Tlbs. instant vanilla pudding mix
1 tsp. baking soda
¼ tsp. baking powder
½ tsp. cinnamon
¼ tsp. kosher salt
½ cup golden raisins
Cream Cheese Frosting
¼ c. unsalted butter, softened
¼ c. cream cheese, softened (you can use ⅓ reduced fat)
2 tsp. vanilla bean paste (or extract if you can't find paste)
2½ c. powdered sugar
Caramel
½ c. white sugar
2½ Tlbs butter
½ c. heavy cream
Kosher salt
Instructions
Cookies:
In the bottom of a stand mixer, add butter, shortening, brown sugar, and white sugar. Beat until light and fluffy, about 2 minutes. Add in egg, vanilla and molasses, beat another minute until smooth. If needed, scrape down sides with spatula, beat again until smooth.
Add in flour, oatmeal, instant pudding mix, baking powder, baking soda, cinnamon, salt, and raisins. Mix just until combined.
Form dough into 2 tablespoon balls, place on a greased baking sheet (you do not need to space them since they will be transferred to a container), and VERY slightly flatten top. Chill until firm. Transfer to an airtight container and chill for 24 hours.
Preheat oven to 350 degrees. After dough has chilled grease a baking sheet with non-stick cooking spray or line with a silpat. Cook six cookies at a time (cookies will spread), for 11 minutes (no more), cookies will not look done, but they will be. Cool on baking sheet for 2 minutes, then CAREFULLY use a spatula, to transfer to a cooling rack. Repeat with remaining cookies. Cool completely before assembling.
Frosting
Beat butter, cream cheese, and vanilla together until light and fluffy. Add in powdered sugar, ½ cup at a time until smooth.
Caramel
Add sugar to the bottom of a medium saucepan. Turn the heat on medium-low and wait for the sugar to start melt. Once the sugar starts to turn an amber color or the edges and begins to melt, stir with a metal spoon. Continue to stir every 10-15 seconds until al the sugar is melted and an amber color. Once all the sugar has melted, add in butter, stir until combined. Turn the heat off, and add in cream. The mixture will sputter and boil, just continue to stir until the cream is incorporated. Transfer to a mason jar, and cool completely.
To assemble:
Spread 2-3 tablespoons of frosting on one cookie. Drizzle with caramel, sprinkle with kosher salt, and top with anther cookie.
Serve immediately, or store in an airtight container in the fridge. Let them come to room temperature before serving.