When it comes to desserts, there's nothing in this world I love more than a coconut cream pie. Even in the days when dessert was just an afterthought, at most, coconut cream pie was still something I couldn't resist. I had always been hesitant to make my own because my very favorite version from a local restaurant, was so good, I was afraid mine wouldn't come even close, and really, what's the point of making something almost as good, when you can just hop in the car and go get perfection in a mere five minutes? So! Instead of making traditional coconut cream pies, I've settled on making variations of the classic, so I'm not quietly crying myself to sleep over my failures.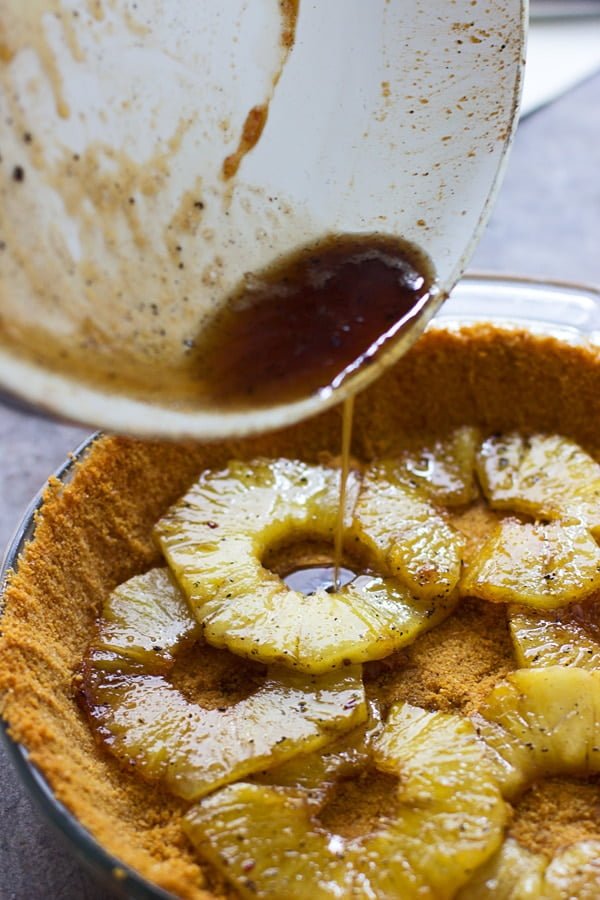 In the past, I've made a pumpkin version for fall (which people go CRAZY for), coconut cream pie in cupcake form, peanut butter coconut cream pie, and a white chocolate version – all delicious, and all so different from the traditional version that they can't be compared.
Since summer is coming to an end sooner, rather than later, I deemed it necessary to come up with a version fit for the warmer months. I was brainstorming different flavors that would be perfect for summer, and despite the plethora of summer berries available now, the one I kept coming back to was a tropical version of sorts. Which I'm thinking is most likely due to the fact that I've been craving a tropical frozen drink something fierce lately.
This "tropical" coconut cream pie is sort of the pie version of a classic piña colada. The custard is made very similarly to the classic with eggs, half and half, vanilla, and coconut, but the addition of coconut milk and crushed pineapple emulate that distinct piña colada taste, which I adore.
In between the custard and a traditional graham cracker crust is a layer of CARAMELIZED BROWN BUTTER PINEAPPLE, which not only makes the pie, but is pretty much the only way I can eat pineapple from now on. I know it sounds like an added, super annoying step, but all you have to do is brown the butter, add brown sugar, let the pineapple caramelize. Done.
If you're being a super overachiever, you can whip up your own whipped cream, and make your own caramel sauce to drizzle over the finished product, or, you can buy Cool Whip (like I did), and use a premade caramel sauce (I did not). I'm going to link up to a whipped cream recipe and a salted caramel recipe below in case you're interested in either of the aforementioned.
We've been nose-deep in this every.single.night this week. It's
Nicole ~ Cooking for Keeps
A pineapple and coconut-laced custard is layered between a buttery graham cracker crust, caramelized brown butter pineapple, and whipped cream for a pina colada turned pie!
Ingredients
1¼ cup graham cracker crumbs
½ cup + 2 Tlbs. sugar, divided
6 Tlbs. butter melted and divided
Pinch of salt
1½ cups half and half
1 (14 oz) can coconut milk
8 oz. crushed pineapple
3 egg yolks
¼ cup cornstarch
1 tsp. vanilla extract
1 cup shredded sweetened coconut
2 cups whipped cream or cool whip
½ cup salted caramel sauce
Instructions
Preheat oven to 325 degrees. Grease a round pie pan.
In a medium bowl, mix graham cracker crumbs, 2 tablespoons sugar, 5 tablespoons melted butter, and a pinch of salt. Pour mixture into pan, and use fingers to press the crust into the bottom and sides of pan. Bake for 10 minutes or until crust is golden brown. Cool completely.
Add all but ¼ cup of half and half to a medium sauce pan, along with coconut milk, remaining sugar, and crushed pineapple. Bring a simmer.
In another small bowl, whisk egg yolks together. Slowly whisk in some of the hot milk mixture, about a ¼ cup at a time, until the eggs are brought up to temperature, it should take about ½ to ¾ cup. Whisk the eggs and milk mixture back into the saucepan. Simmer while stirring frequently for another 1-2 minutes.
Add corn starch to another small bowl (or the same one you mixed the eggs and milk mixture in.), whisk in reserved half and half until smooth. Slowly whisk the corn starch mixture back into the half and half, coconut milk and eggs. Simmer the mixture until it thickens significantly, about 3-4 minutes.
Stir in vanilla and coconut. Cool while you make the pineapple.
Add remaining butter to a large, non-stick skillet. Turn the heat on medium-high. Let butter melt and cook until it begins to brown. Once it starts to brown swirl the pan until it's a deep golden brown and smells nutty, about 1 minute. Reduce heat to medium and quickly add brown sugar and pineapple. The mixture will sputter and spit, that's ok. Cook until brown sugar is melted, and pineapple is caramelized, about 2-3 minutes. Cool slightly.
Layer pineapple slices on top of crust. Pour custard on top. Cover with plastic wrap and let chill for at least two hours.
Once pie is chilled, cover with whipped cream and drizzle with caramel sauce.