Juicy marinated chicken, crispy potatoes and a finger licking garlicky yogurt sauce are the makings of our epically delicious Chicken Shawarma Wraps.
While tex-mex and Italian-inspired recipes seem to run the gamut here, Mediterranean food comes in at a close second. Variations on gyros have made the rounds plenty in past years but now it's time to move on to my favorite middle eastern and mediterranean poultry dish – chicken shawarma.
This spice-heavy lemony marinated chicken dish is typically roasted rotisserie-style on a spit but seeing as the majority of home cooks – including myself – don't have access to this type of cooking method, we crank up the temperature in our oven and cook the chicken quickly to ensure the meat stays just as tender and moist as it would on the spit.
We roast the chicken alongside some crispy baby potatoes, nestle everything in to spinach tortillas and then smother them with a finger-licking feta Greek yogurt sauce, plenty of shredded lettuce and tomato (if you choose).
What results is a myriad of simpatico flavors all neatly compiled in one pretty little package. And I'm here for it. Let's get started!
Ingredients in Chicken Shawarma Wraps
Chicken. Even though personally I love chicken thighs, my family prefers chicken breast so that's what we went with. Marinating the chicken and cooking it quickly at a high temperature ensures it stays tender and juicy.
Spices. The key to a good chicken shawarma is in the spices. We rely heavily on garlic, paprika, tumeric, cumin and ground cloves for a hint of warmth.
Olive oil. No Mediterranean chicken is complete without at least a drizzle of olive oil.
Lemon juice. Another staple ingredients in Middle Eastern/Mediterranean cuisine and chicken shawarma.
Potatoes. I love to use buttery yukon gold potatoes here but anything you have on hand works.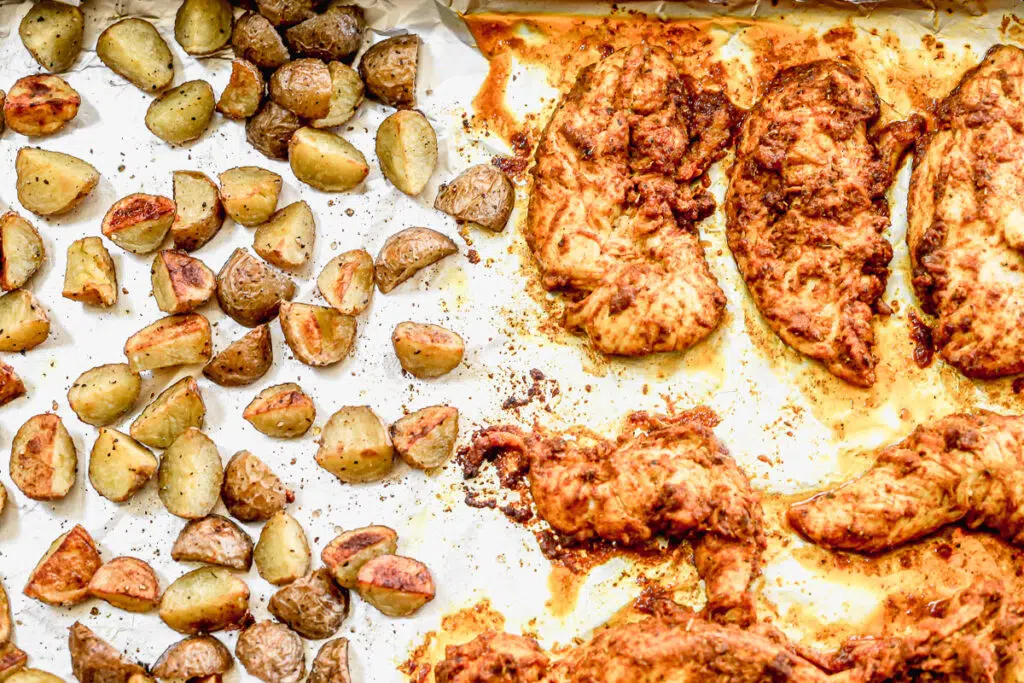 The sauce
I can't even count how many times we've used Greek yogurt sauces in our (many) recipes and I don't mind one bit. This version is basically a whipped feta with a little bit of greek yogurt to achieve an ultra creamy sauce. Here's what you'll need:
feta
Greek yogurt
dried rosemary
lemon juice
salt
Everything else
Tortillas. I use giant spinach tortillas but any large tortilla or flatbread will work great.
Lettuce. I simply dress torn butter lettuce in olive oil, lemon, salt and pepper.
Tomatoes. Totally optional but if they're in season, throw them in.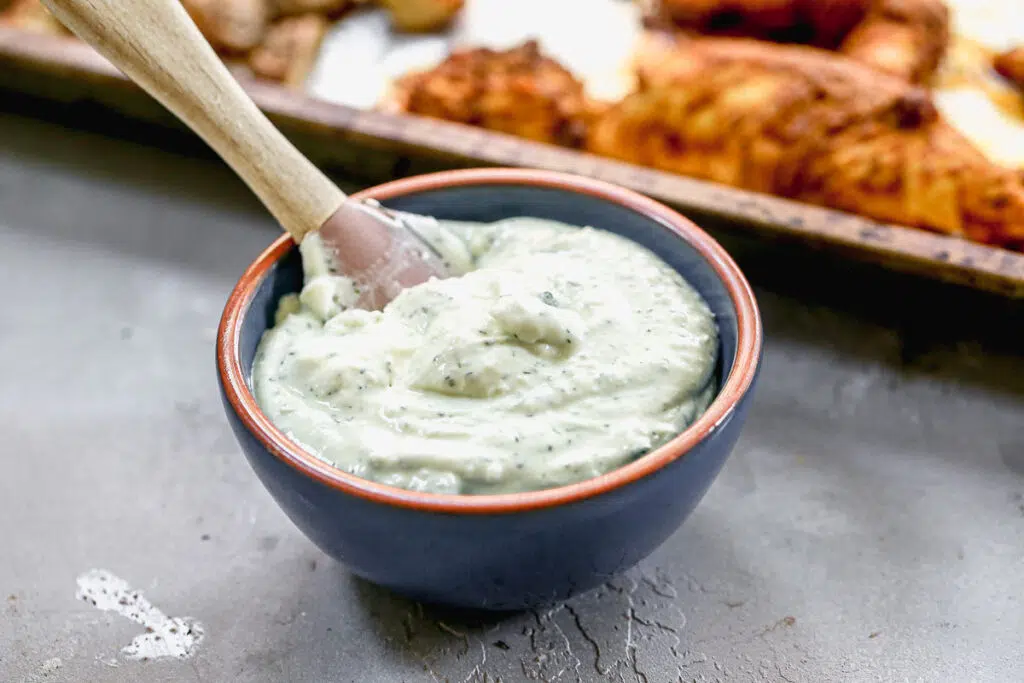 Can I make Chicken Shawarma Wraps in Advance?
While you really only NEED 30 minutes of marinating, I highly encourage you to marinate the chicken in the morning or at least three hours ahead of time. Because there is quite a bit of lemon juice in the chicken, marinating overnight will be too long resulting in partially cooked chicken.
You can however, cook everything the day before and assemble the day you eat or make them from start to finish and enjoy cold or room temperature.
Substitutions
Use boneless skinless chicken thighs instead of breasts
Swap out romaine lettuce for butter lettuce
Use tomatoes, kalamata olives or even capers.
Use whole-wheat, regular or sun-dried tomato tortilla
Tips and Tricks for Recipe Success
Don't marinate overnight UNLESS you leave out the lemon juice. Pour the lemon juice in in the morning, massage and continue to marinate.
Don't overcrowd the potatoes and chicken on the pan. You want them to roast not steam. If needed use two pans.
To avoid a mess, make sure to line your baking sheet with foil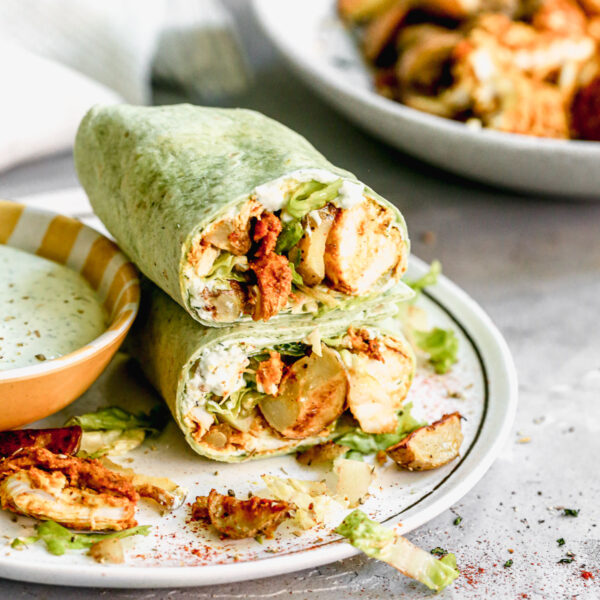 Juicy marinated chicken, crispy potatoes and a finger licking feta yogurt sauce are the makings of our epically delicious Chicken Shawarma Wraps.
Ingredients
1/4

cup + 2 1/2 tbsp

olive oil, divided

2

tbsp

lemon juice

4

garlic cloves, grated

1 1/4

tsp

oregano, divided

2

tsp

paprika

1 1/2

tsp

garlic powder, divided

1

tsp

tumeric

1/4

tsp

ground cloves

1 1/2

tsp

cumin

2

tsp

brown sugar

1 1/4

tsp

kosher salt, divided

1

lb

chicken tenders

1

lb

yukon gold potatoes, quartered

4

oz

feta

3

tbsp

greek yogurt

3/4

tsp

dried rosemary

2

cups

butter lettuce, torn

1/2

cup

diced tomato

2

tsp

red wine vinegar or lemon juice

6

large spinach tortillas (or any kind of tortilla
Equipment
1 baking sheet

1 Food processor
Instructions
Preheat oven to 425 degrees. Line a large baking sheet with foil.

Add 1/4 cup olive oil, garlic, 1 tsp oregano, paprika, 1 tsp garlic powder, turmeric, cloves, cumin, brown sugar and 1 teaspoon salt together in a shallow dish. Whisk to combine. Add chicken tenders. Use tongs or hands to massage the marinade into the chicken. Set aside and marinate 30 minutes (at room temperature) and up to four hours (refrigerated) while you get the potatoes ready.

Add potatoes to the sheet pan or a medium bowl. Drizzle with one tablespoon olive oil. Toss with remaining 1/4 teaspoon salt, 1/2 teaspoon garlic powder and a little bit of freshly cracked pepper. Pop in the oven and cook for 15 minutes

Pull the potatoes out at 15 minutes and move to one side of the pan. Add the marinated chicken tenders. Place the pan back in the oven and bake until potatoes are crispy and chicken is cooked through, about 15 more minutes.

While the chicken and potatoes finish cooking, make the whipped feta. Add the feta, greek yogurt, and rosemary to a mini food processor. Blend until smooth. Season to taste with salt and pepper. Alternatively you could also, chop the feta very fine and combine everything by hand. It won't be smooth but will be delicious!

Add butter lettuce, tomatoes, 1/2 tbsp olive oil, 2 tsp red wine vinegar, 1/4 tsp oregano and 1/4 salt to a bowl. Toss to combine.

Spread the feta on the bottom of each tortilla. Top with chicken and potatoes. Sprinkle with salad. Wrap and serve.
Nutrition Information
Serving:
1
wraps
,
Calories:
514
kcal
(26%)
,
Carbohydrates:
54
g
(18%)
,
Protein:
28
g
(56%)
,
Fat:
21
g
(32%)
,
Saturated Fat:
6
g
(38%)
,
Polyunsaturated Fat:
2
g
,
Monounsaturated Fat:
9
g
,
Trans Fat:
0.01
g
,
Cholesterol:
66
mg
(22%)
,
Sodium:
1239
mg
(54%)
,
Potassium:
707
mg
(20%)
,
Fiber:
5
g
(21%)
,
Sugar:
5
g
(6%)
,
Vitamin A:
563
IU
(11%)
,
Vitamin C:
20
mg
(24%)
,
Calcium:
283
mg
(28%)
,
Iron:
6
mg
(33%)